RobertStJohn.com
Shrimp Tarts with Dirty Rice Pie Crust
The crust takes a little work, but it's worth every minute spent preparing it. A perfect use for leftover dirty rice. The crust also freezes well, so make extra.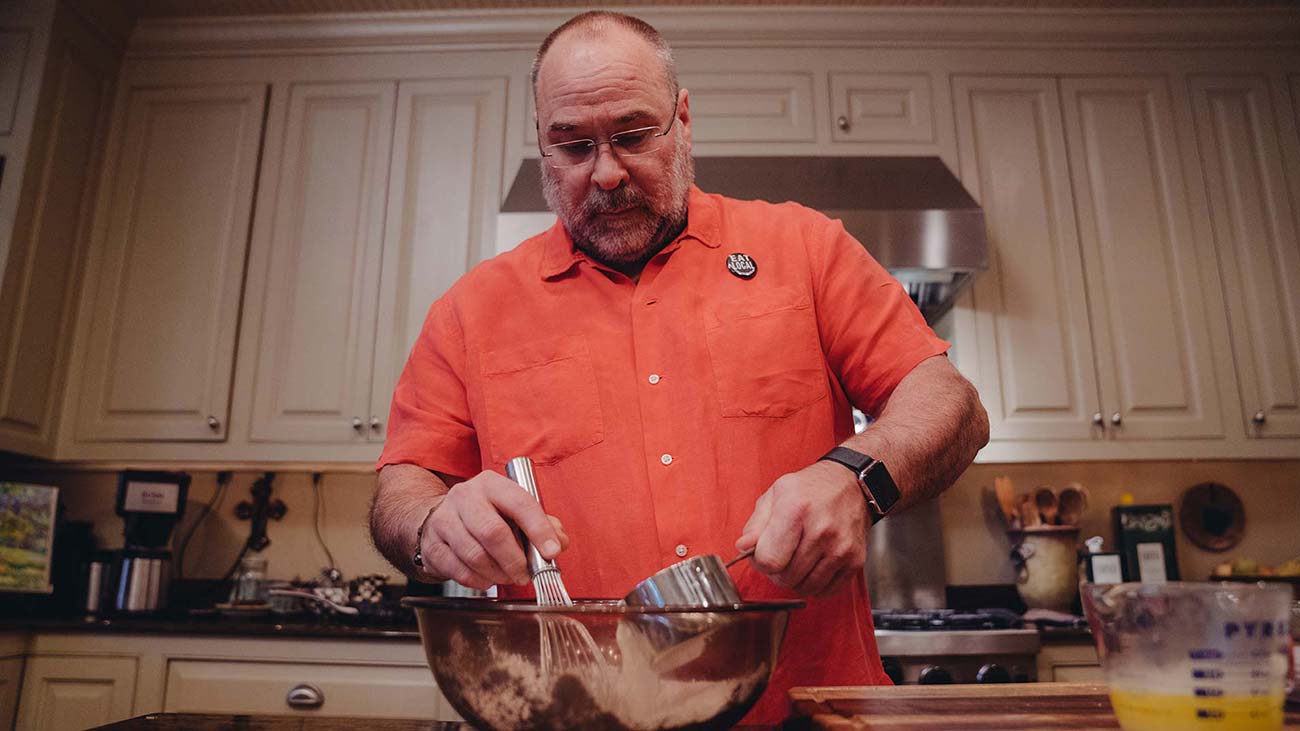 Ingredients
1 Tbsp butter
1 /4  cup onion, minced
1 /2 pound shrimp, cleaned
1 tsp old bay seasoning
1 /4 tsp black pepper
1 /4 tsp salt
1 tsp minced garlic
1 /4 cup white wine
Dirty Rice Crust
2 1/2 cups flour
1 /2 cup shortening
3 /4 cup dirty rice, cooked
1 /4 tsp salt
1 egg
1 /4 cup buttermilk
1 /4 cup cream cheese, softened
1 /4 cup parmesan cheese, grated
1 egg
2 Tbsp sour cream
1 tsp creole seasoning
1 /8 tsp cayenne pepper
2 tsp Worcestershire Sauce
2 Tbsp green onions, chopped
2 tsp red bell peppers, finely chopped
Instructions
Preheat oven to 350.
Heat butter over medium heat in a large sauté pan. Add onions, shrimp with, Old Bay, black pepper, and salt and cook until shrimp are thoroughly cooked. Add garlic and white wine, and cook until the wine has completely evaporated. Remove from the heat and cool completely.
Place all ingredients, except the shrimp mixture, peppers and green onions into a food processor and puree until smooth. Add the shrimp mixture and pulse to roughly chop the shrimp. Gently fold in the green onions and peppers by hand, scraping sides.
Roll out crust into a rectangular shape (approximately 18"x12"). The dough should be   1/8 inch thick. Cut dough into three-inch squares. Place one tablespoon of filling onto the center of each square. Fold the four corners into the center of the filling and pinch corners together.
Place on an ungreased baking sheet and refrigerate for 30 minutes. Bake for 15-18 minutes.
Dirty Rice Crust
Blend the first three ingredients together with a pastry cutter or a fork. Add the rice, and blend once more. Beat egg and buttermilk together. Slowly add egg mixture to flour mixture, one tablespoon at a time until pie dough becomes moist and forms a ball. Wrap and refrigerate one hour before rolling. Roll out on a floured surface (If dough is stiff and very cold, let stand until dough is cool but malleable).
© Copyright 2023 unless otherwise noted. New South Restaurant Group • 3904 Hardy St Hattiesburg MS 39402 • 601.264.0657