RobertStJohn.com
Sweet Potato Pancakes
I ate my first sweet potato pancake during my only visit to Gatlinburg, Tennessee. My family, along with another couple and their young children rented a cabin in the mountains during spring break. I woke every morning and headed into town for breakfast. I would imagine Gatlinburg has more pancake houses per capita than any place on the planet. My problem is that I never found a good-tasting pancake until I happened across sweet potato pancakes at one of the pancake houses. We serve a version of this recipe at The Midtowner. The Cinnamon Cream Syrup is a must.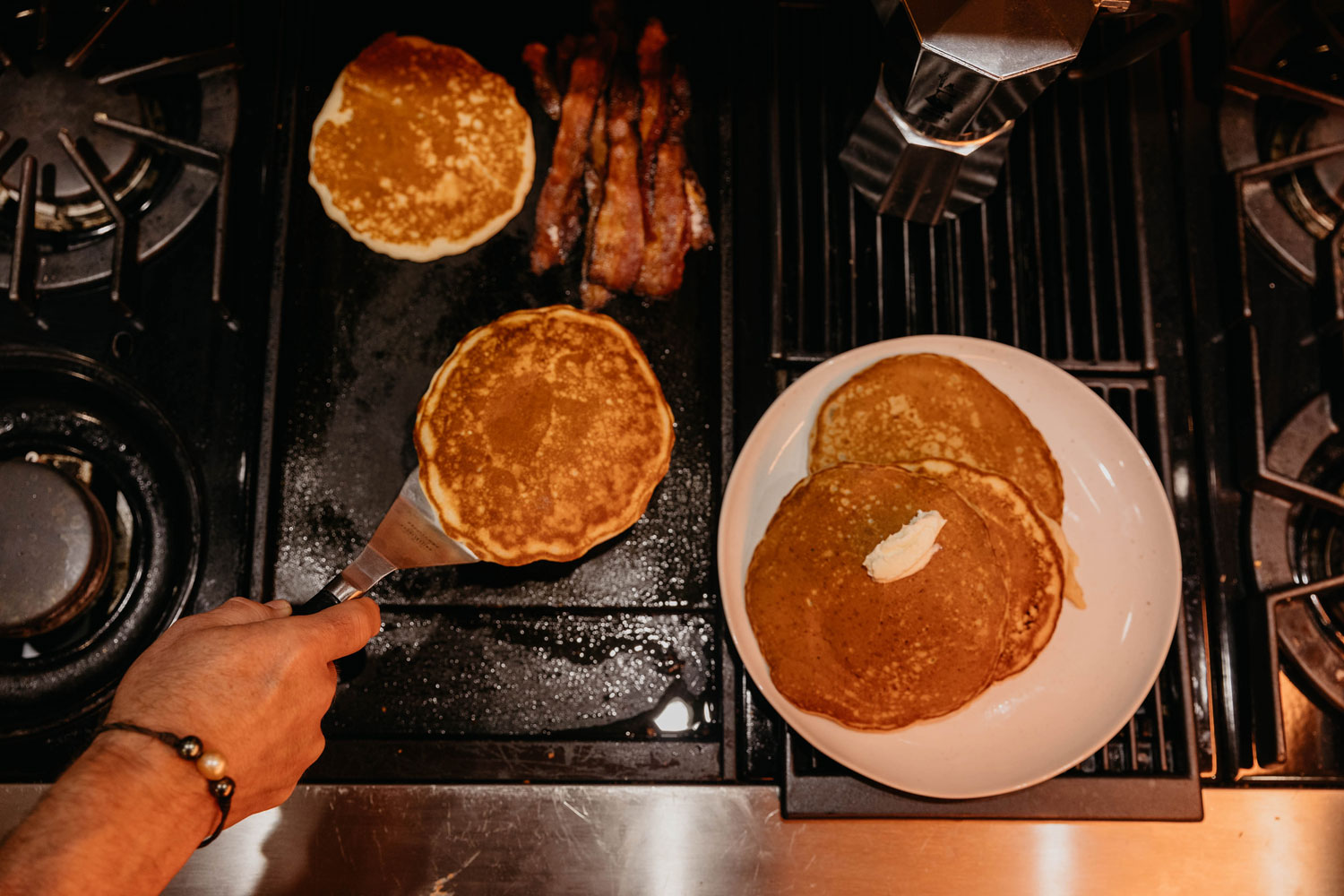 Ingredients
1 2/3  cups All Purpose Flour
1 TBSP Baking Powder
½ tsp Baking Soda
½ tsp Kosher Salt
½ tsp Nutmeg
1 ½ tsp Cinnamon
1 ½ cups Cooked and mashed sweet potato (approximately two medium sweet potatoes)
3 Large Eggs
¼ cup Sour Cream
1 ½ cups Milk
¼ cup Maple Syrup
¼ cup Unsalted Butter, melted
1 TBSP Pure Vanilla Extract
Melted butter or non-stick spray for cooking
Instructions
Yield: 10-14 pancakes
Preheat oven to 200 degrees for holding pancakes
Combine flour, baking powder, baking soda, salt, nutmeg and cinnamon in a medium sized bowl. In a separate mixing bowl whisk together the sweet potato puree eggs, sour cream, milk, maple syrup, melted butter and vanilla extract. Whisk the sweet potato mixture into the flour mixture, do not overmix. A few lumps is fine.
Allow batter to sit 10-15 minutes before cooking pancakes.
To cook the pancakes, heat a non-stick griddle to 325-350 degrees (models vary, so test your griddle with a small bit of batter to assure you have the heat adjusted correctly). Brush griddle with melted butter or spray with non-stick spray. Form pancakes by using a one-third cup measuring cup. Cook until surface of pancakes has some bubbles and a few have burst, 1 to 2 minutes. Flip pancakes and cook for an additional two minutes. If holding pancakes in oven before serving, place them on a wire rack in preheated oven.
Serve with Cinnamon Cream Syrup.
© Copyright 2023 unless otherwise noted. New South Restaurant Group • 3904 Hardy St Hattiesburg MS 39402 • 601.264.0657