RobertStJohn.com
Dirty Rice Cakes with Crawfish Mardi Gras Mix
The rice cakes can be made two days in advance, the topping one day in advance. After you have browned the dirty rice cakes, you can hold them in the refrigerator for up to two days.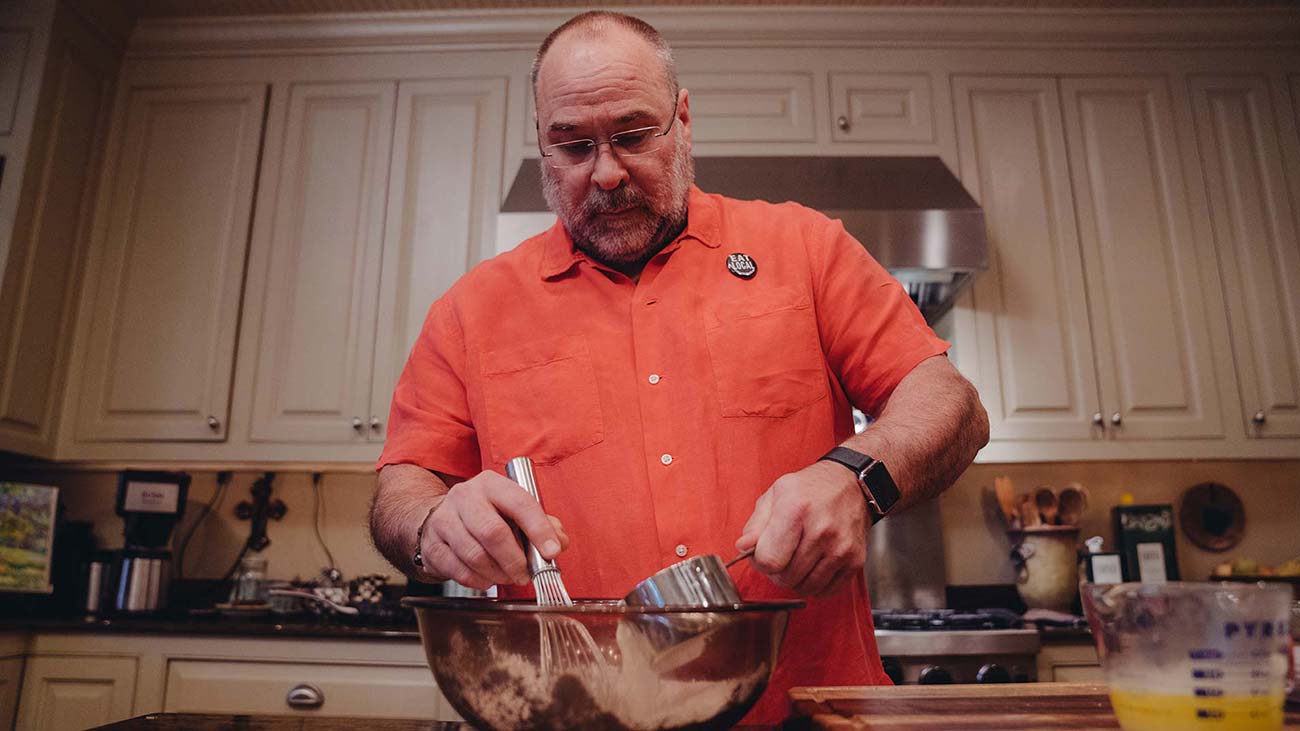 Ingredients
3 cups dirty rice, cooled
¼ cup green onion, chopped
2 Tbsp parsley, chopped
2 eggs, beaten
¼ cup coarse bread crumbs
1 cup Italian bread crumbs
¼ cup unsalted butter
Crawfish Mardi Gras Mix
1 Tbsp olive oil
½ cup red onion, minced
¼ cup red pepper, diced
¼ cup green pepper, diced
1 tsp garlic, minced
1 tsp salt
1 tsp creole seasoning
¼ pound cleaned crawfish tails, chopped fine
2 Tbsp sour cream
1 Tbsp parmesan cheese
Instructions
Preheat oven to 350.
In a food processor, pulse 1 1 /2  cups of the dirty rice (Do not make a paste, the rice should just begin to resemble coarse bread crumbs).
Place pureed rice in a mixing bowl with the remaining rice, green onions, parsley, eggs and plain bread crumbs crumbs. Mix well.
Form into 1 1 /2-inch round patties approximately 3 /4-inch thick. Gently bread the cakes using the Italian bread crumbs.
In a large sauté pan, melt butter over medium heat and brown cakes on both sides. Place browned cakes on a baking sheet.
Bake the cakes for 8-10 minutes.
Top warm rice cakes with crawfish mixture and heat for 5 more minutes.
Place on serving dish and top with a small dollop of red-pepper aioli.
Yield: 20 cakes
Crawfish Mardi Gras Mix
Heat olive oil in a medium-sized skillet over medium-high heat. Add onion, peppers, garlic, salt, and creole seasoning and cook 4-5 minutes. Let cool. Combine cooled vegetables, crawfish, sour cream and parmesan cheese.
© Copyright 2023 unless otherwise noted. New South Restaurant Group • 3904 Hardy St Hattiesburg MS 39402 • 601.264.0657