RobertStJohn.com
Crabmeat Wontons with a Sweet Chili Pepper Dipping Sauce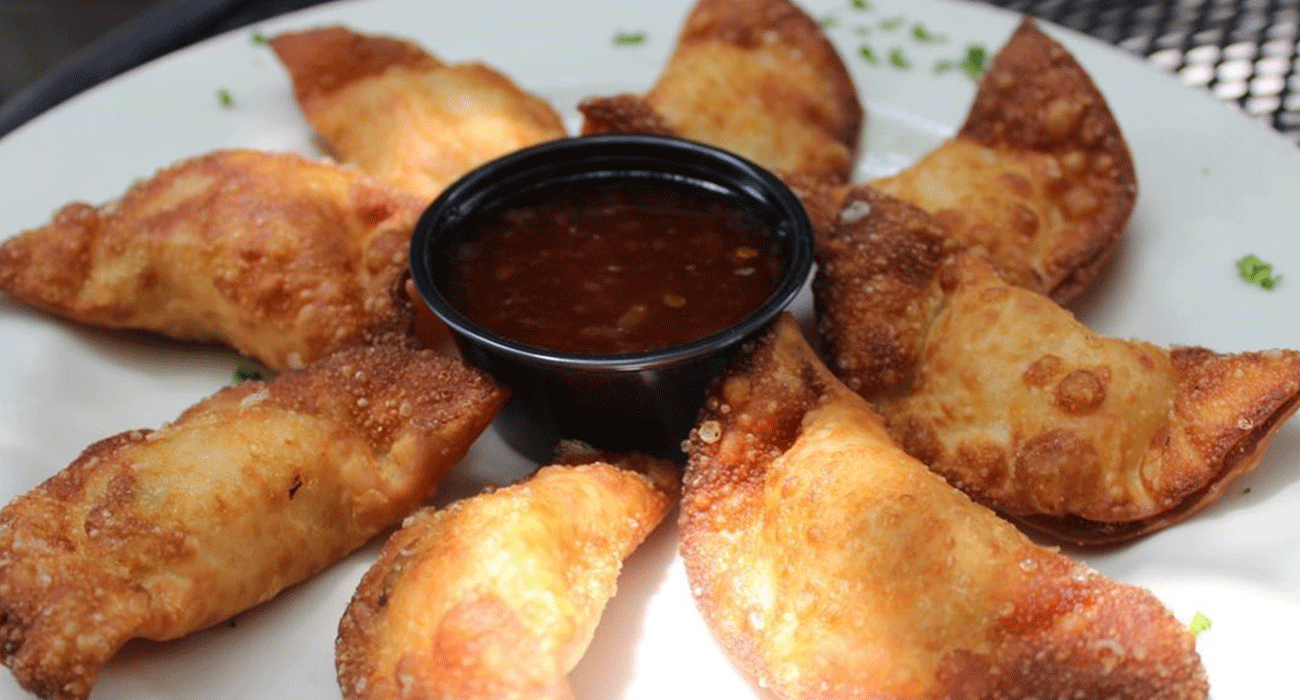 Ingredients
1/2 pound cream cheese, softened
1 tsp soy sauce
1 tsp hot sauce
1/8 tsp fresh ginger, finely minced
1 tsp creole seasoning
2 Tbl green onions, very thinly sliced
1/2 pound fresh lump crab meat
32-39 Wonton Skins
1-2 quarts vegetable oil for frying
Sweet Chili Pepper Dipping Sauce
1 /4 cup red chili pepper flakes
1 cup water
1 large red bell pepper, seeds removed
1 Tbl garlic, minced
1 Tbl fresh ginger, minced
1 /2 cup rice vinegar
1 cup white wine vinegar
3 /4 cup corn syrup
1 cup sugar
2 Tbl water
2 Tbl cornstarch
Instructions
Using the paddle attachment on an electric mixer, whip the cream cheese until light and fluffy, scraping the sides and bottom of the bowl several times to make sure all of the cream cheese gets whipped. Turn off the mixer and add soy sauce, hot sauce, ginger and Creole seasoning. Mix on medium speed until all ingredients are well blended, again, scraping down the sides of the bowl several times. Remove the paddle attachment  and gently fold in the green onions and crab meat. Refrigerate the mixture for at least two hours before filling wontons. The filling may be made a day in advance.
To fill the wontons:
Spread 10-12 wonton skins on a flat surface, place 2-3 tsp of filling in the center of each wrapper. Using a pastry brush, slightly dampen the outer edges of the wrapper, but do not soak them. Firmly seal the outer edges together to form a semicircle. Place the finished wontons on a baking sheet lined with waxed paper. Continue this process until all wrappers have been filled. Place the finished wontons in the freezer until they become firm.
To fry:
Preheat oven to 200 degrees and line a baking sheet with paper towels.
Heat the oil to 350 degrees in a 8-10 quart heavy duty sauce pot, or a large cast iron skillet. Gently place 10-12 wontons in the oil. Using a large slotted spoon, turn the wontons over to make sure both sides are browned. Cook wontons for approx. 5-7 minutes, or until both sides are golden brown. Remove the wontons using a slotted spoon and place on the towel lined baking sheet. Hold the cooked wontons in the warm oven and continue cooking the remaining wontons.
Wontons may be made up to two weeks in advance and stored frozen. If freezing for a period of time, first allow the wontons to freeze uncovered on a baking sheet, when they are completely frozen, you may place them in an airtight container.
Yield 30-36 Wontons
Sweet Chili Pepper Dipping Sauce
Bring one cup of water to a boil in a small sauce pot. Stir in chili flakes and simmer five minutes. Strain flakes, set aside, and discard water.
Place red bell pepper, garlic and ginger in a small stainless steel sauce pot with vinegars and simmer 5-6 minutes. Allow mixture to cool slightly, then puree in a blender. Return pureed mixture to the stainless steel pot and add sugar and corn syrup Bring the mixture back to a simmer.
Dissolve corn starch in the water and blend into the red pepper mixture. Once it returns to a simmer, remove from heat. Stir in the red pepper flakes and chill.
May be made one week in advance.
Yield: 3 cups
© Copyright 2023 unless otherwise noted. New South Restaurant Group • 3904 Hardy St Hattiesburg MS 39402 • 601.264.0657