RobertStJohn.com
Whole Grilled Tenderloin with Chive-Tarragon Mayonnaise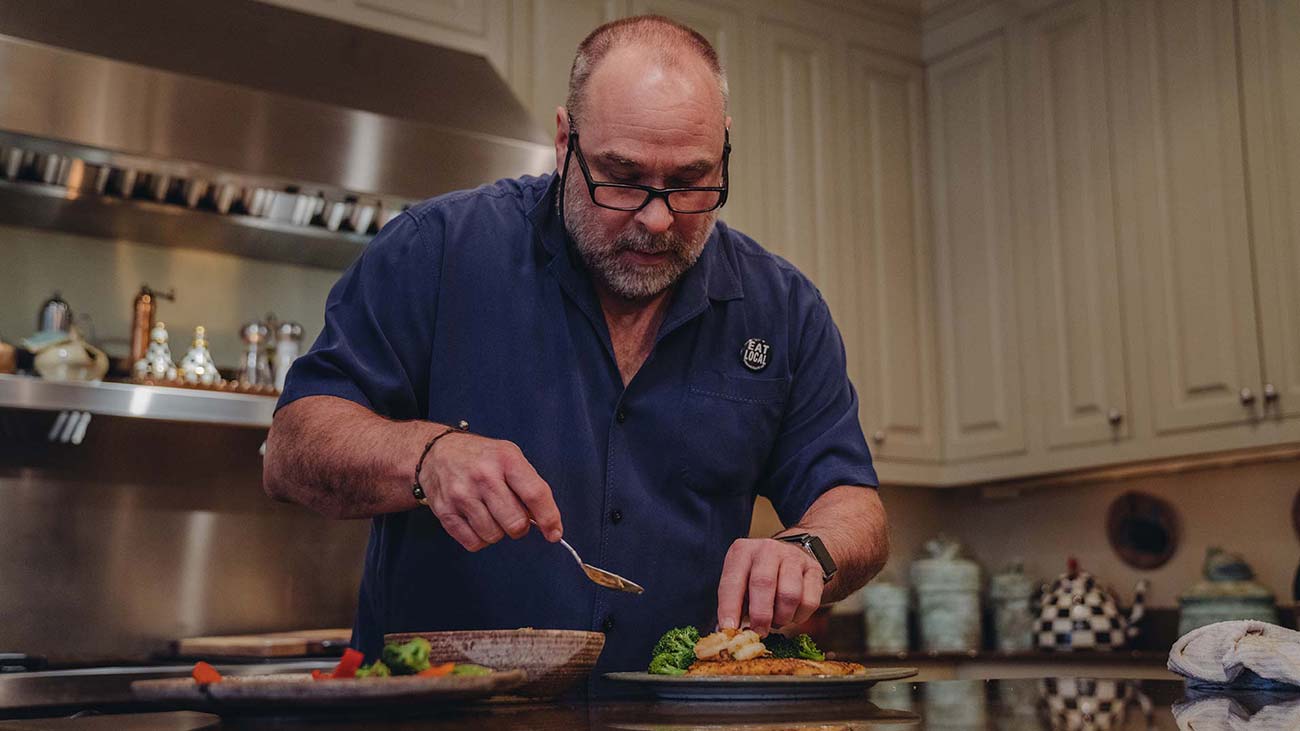 Ingredients
Center Cut Beef Tenderloin- 3 1/2-4  pounds
1 1/2 Tbl steak seasoning
2 Tbl fresh ground black pepper, cracked
Chive Tarragon Mayonnaise
1/2 cup red wine vinegar
1/2 cup white wine
2 Tbl orange juice
3 Tbl shallot, minced
1 tsp fresh garlic, minced
3 Tbl dried tarragon
2 Egg Yolks
2 tsp Dijon mustard
1 tsp kosher salt
1 1/2 cup canola oil
Warm water as needed
1/2 tsp fresh ground black pepper
1/4 cup fresh chives, slice thin
Instructions
Coat the surface of the tenderloin with the steak seasoning and cracked black pepper. Allow seasoned tenderloin to sit at room temperature one hour before grilling.
Sear tenderloin over medium direct heat until it is well marked, about 15 minutes, turning one quarter of a turn every 4-5 minutes. Continue cooking over medium indirect heat until desired doneness is reached, about 15-20 minutes for medium rare.
Remove from the grill and allow tenderloin to rest for 6-7 minutes before slicing.
Slice the tenderloin into 1/2 inch thick slices and serve with the chive tarragon mayonnaise on the side.
To prepare mayonnaise:
Place vinegar, wine, orange juice, shallot, garlic and tarragon in a small sauté pan. Simmer over medium heat until mixture has reduced by 75 percent. Remove from the heat and cool.
Place the egg yolks, mustard, and salt in a stainless steel mixing bowl. Beat with a wire whip for 2-3 minutes.  Add in half of the tarragon reduction and slowly begin drizzling in the oil, constantly whipping the mixture. As the mayonnaise begins to thicken, add the remaining tarragon reduction and then continue to whisk in the oil. If the mixture becomes too thick, add 1-2 teaspoons of warm water.
Add pepper and chives and store refrigerated until needed.
Yield: 4-6 servings
The chive and tarragon mayo is an excellent condiment with burgers and roast beef sandwiches.
To crack black peppercorns, place peppercorns on a cutting board and place the palm of your hand in the bottom of a small skillet. Move the skillet bottom back and forth over the peppercorns to break them into tiny, irregular pieces.
© Copyright 2023 unless otherwise noted. New South Restaurant Group • 3904 Hardy St Hattiesburg MS 39402 • 601.264.0657