RobertStJohn.com
Three Layered Grilled Shrimp Caesar Salad
This dish can be served on a platter or in a trifle dish to show off the layers.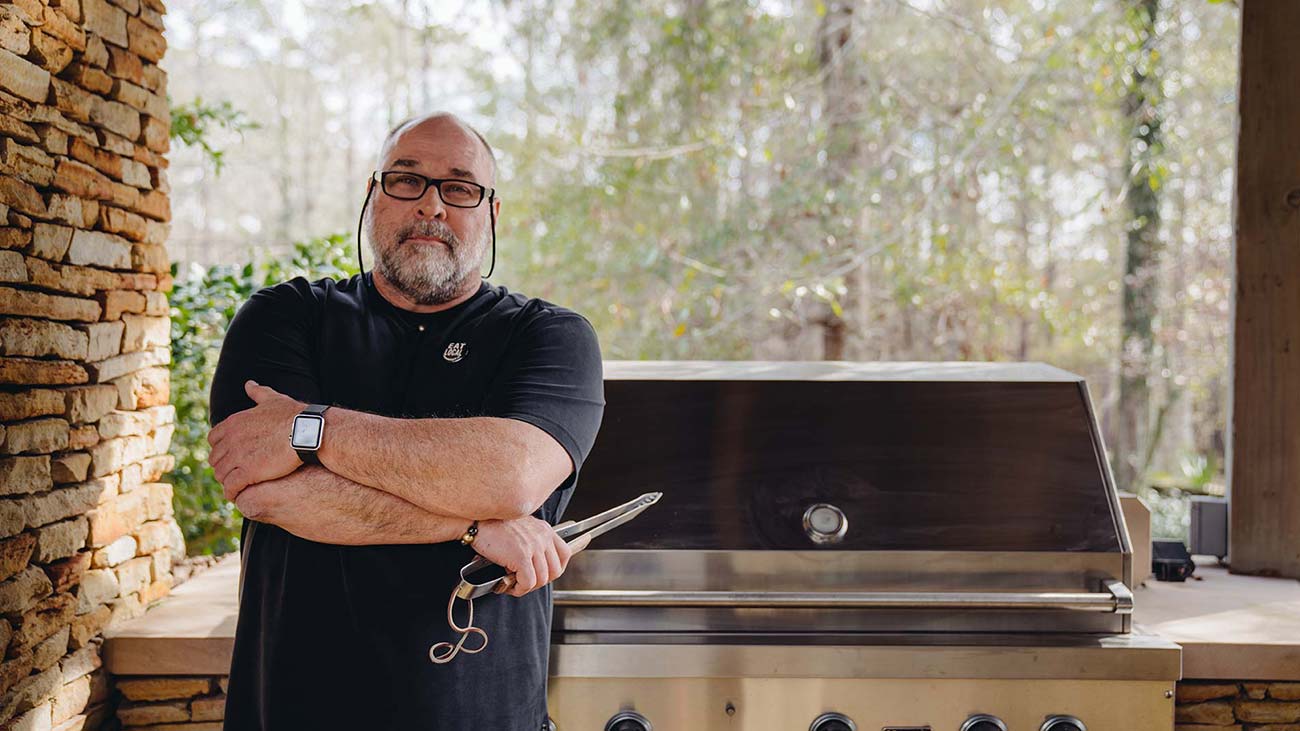 Ingredients
Caesar Salad Dressing
2 egg yolks
1/4 cup fresh lemon juice
2 Tbl garlic, minced
3 anchovies
2 Tbl red wine vinegar
1 Tbl Worcestershire Sauce
2 Tbl Dijon mustard
1 cup light olive oil
Garlic Croutons
2 cups French bread, cut into 1/2-inch cubes
3 Tbl olive oil
2 tsp garlic powder
1/2 tsp kosher salt
For the Salad:
3 romaine hearts or 1 large head of romaine (outer leaves discarded)
2 cups garlic croutons
1 1/2 cups Caesar Salad dressing
Tobacco onions (page xxx)
1/2 cup parmesan cheese, freshly grated
Pasta Salad
1/2 pound rotini pasta
1 1/2 cup fresh tomato, small dice
3/4 cup sliced black olives
1/2 cup green onions, sliced thin
Dressing
1/2 cup fresh pesto
1/4 cup sour cream
1/2 cup mayonnaise
1/4 cup half and half
1/2 tsp poultry seasoning
1 tsp fresh ground black pepper
1/2 tsp kosher salt
For the Shrimp:
2 pounds small shrimp
1/3 cup shrimp non-stick marinade
1 tsp Old Bay seasoning
1 tsp fresh ground black pepper
Instructions
Caesar Salad Dressing
Combine egg yolks, lemon juice, garlic, anchovies, vinegar, Worcestershire sauce and Dijon mustard in a food processor. Puree for 1-2 minutes. With processor running, slowly drizzle in olive oil. If the mixture becomes too thick, add a 1-2 Tbl of warm water, and continue to add the oil. Store refrigerated until ready to use.
For the Salad:
Cut the lettuce into bite size pieces. Wash and dry the lettuce well. Place lettuce in a large mixing bowl add croutons and just enough dressing to wet and mix well.
Dressing
Cook the pasta, following the manufacturer's directions on the package. Once cooked, cool the pasta thoroughly by soaking in ice water. Add tomato, black olives and green onions to the pasta. Prepare the dressing by combining all ingredients and mixing well. Toss chilled pasta with the salad dressing.
For the Shrimp:
Use a grill screen so that the shrimp don't fall right through grill.
Coat shrimp with the marinade and refrigerate one hour.
Sprinkle shrimp with black pepper and old bay.
Prepare the grill for direct high heat cooking. Place grill screen on the prepared grill. Spread shrimp evenly on the screen and cook 5-7 minutes, turning once.
To assemble:
Arrange the prepared Caesar salad on a serving platter. Next, place the pasta salad atop the Caesar salad. Finally, top the pasta with the grilled shrimp and serve immediately.
Yield: 6 servings
© Copyright 2023 unless otherwise noted. New South Restaurant Group • 3904 Hardy St Hattiesburg MS 39402 • 601.264.0657