RobertStJohn.com
Tasso and Smoked Cheddar Cheesecake
One of the best tasting, and most versatile, recipes in this book. This can be made four or five days in advance. Beautiful on a sideboard for a cocktail party, perfect with a salad for lunch, an excellent side item with an entrée for dinner. Country ham, chopped bacon, or cooked sausage can be substituted for the Tasso (Cajun-spiced ham).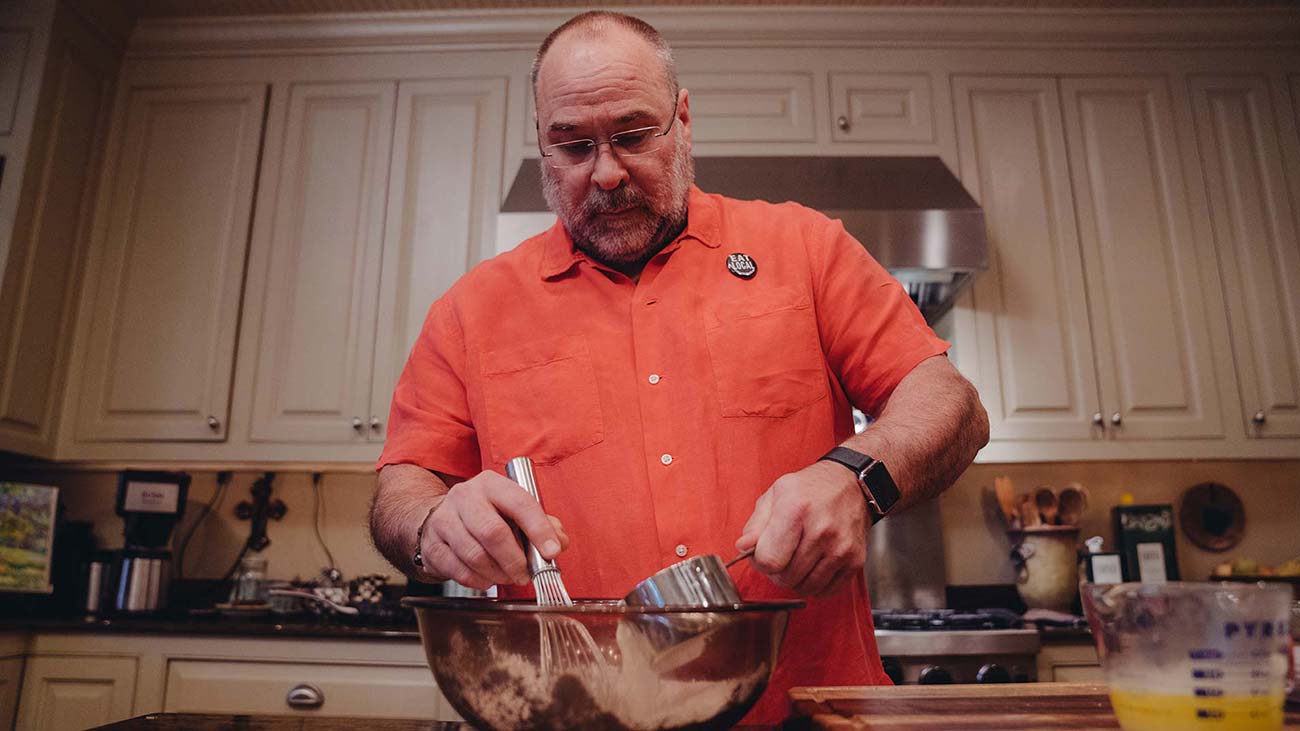 Ingredients
Crust
2 cup Japanese breadcrumbs
1 cup parmesan cheese
1 Tbsp Fresh thyme
1 Tbsp parsley
1 /2 cup melted butter
1 tsp. black pepper
Filling
1 Tbsp butter
1 1 /2  cup tasso, diced
1 /2 cup onion, minced
1 Tbsp garlic, minced
1 /2  pound cream cheese, softened.
1 /2  pound smoked cheddar cheese, finely grated
3 eggs + 2 yolks
1 /4 cup sour cream
1 /2  tsp salt
1 tsp creole seasoning
1 /4 tsp black pepper
1 /4  tsp cayenne pepper
1 Tbsp Worcestershire Sauce
1 /2  cup chopped green onions
2 Tbsp finely chopped red bell peppers
Instructions
Crust
Preheat oven to 275
Combine all ingredients.
Press into a 9-10 inch spring-form pan, covering the bottom completely and bringing the crust 1 1 /2 inches up the sides. Bake crust five minutes and allow to cool.
Filling
In a medium sized sauté pan, melt butter and cook tasso, onions and garlic for 3-4 minutes. Allow to cool.
While tasso mixture is cooling, beat the cheeses together until soft in a mixing bowl. Add eggs, one at a time allowing them to incorporate. Add remaining ingredients, and cooled tasso mixture.
Pour filling into par-baked crust and bake45-60 minutes.
Let cheesecake cool completely before cutting. Dip a clean knife into hot water to cut, wiping knife clean, and re-dipping into water after every slice.
Can be made two days in advance. Remove from refrigerator 1-2 hours before serving.
Serves: 10-12
© Copyright 2023 unless otherwise noted. New South Restaurant Group • 3904 Hardy St Hattiesburg MS 39402 • 601.264.0657