RobertStJohn.com
Skewered Scallops over Mushroom Risotto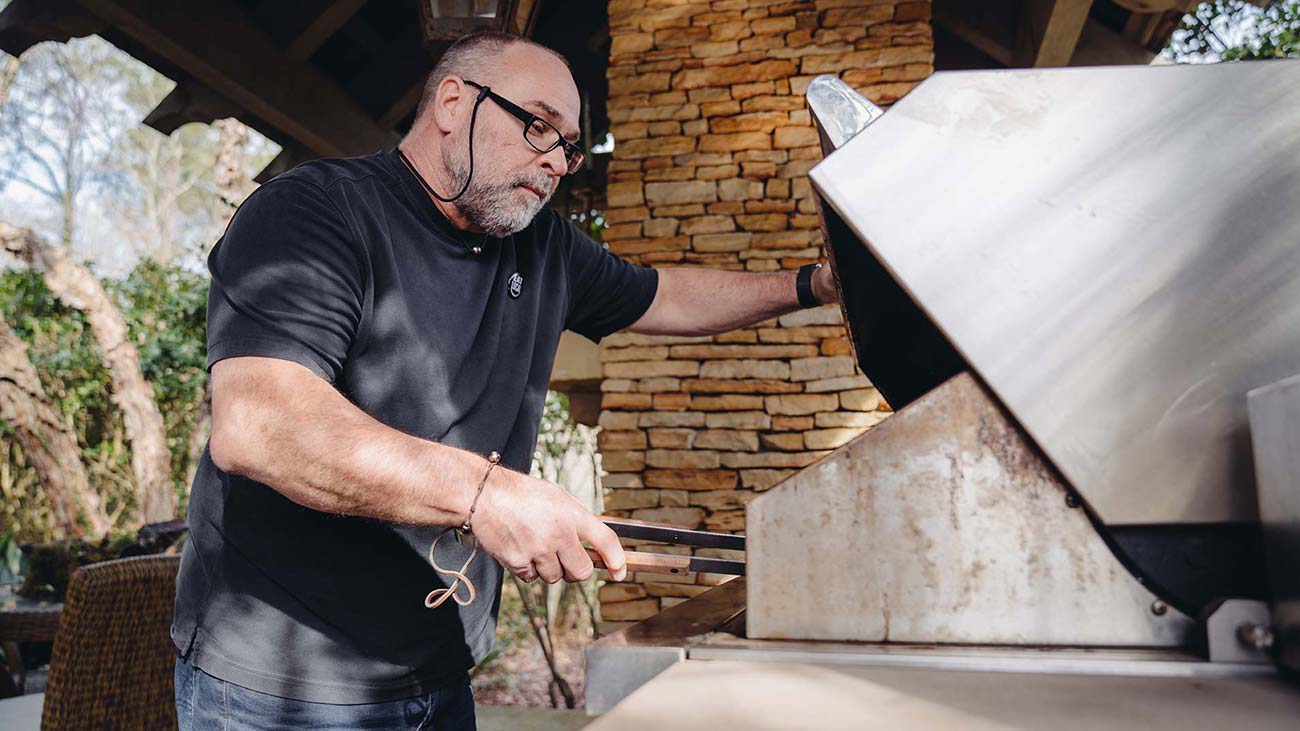 Ingredients
2 1/2-3 pounds Large Sea Scallops
1/2 cup No-Stick Grilling Marinade for Seafood
2 tsp Kosher salt
1 tsp Black Pepper, freshly ground
6 long metal skewers
Mushroom Risotto
3 Tbl + 2 Tbl unsalted butter
2 cups Aborio rice
3 Tbl shallots, minced
4–6 cups chicken stock, heated
1 Tbl kosher salt, added to the chicken stock
3/4 pounds wild mushrooms (shiitakes, porcinis, morels, chanterelles, criminis, portobellos, oysters), cleaned and sliced
1 cup cream
1/2 cup Parmesan cheese, freshly grated
2 Tbl fresh parsley, chopped
2 tsp fresh thyme, chopped
1 tsp fresh ground black pepper
Instructions
Divide the scallops evenly onto the six skewers. Brush the scallops with the marinade and allow them to marinate at room temperature for 15 minutes. Sprinkle the scallops with the salt and pepper. Cook over direct high heat until the scallops are opaque in the center, about 5-7 minutes. Turn the scallops once while cooking.
Place the risotto on serving dishes and remove the scallops from the skewers. Place the scallops atop the risotto and serve.
Yield: 6 servings
Mushroom Risotto
In a very large skillet, heat 3 tablespoons of butter over medium heat and add shallots. Cook until onions become soft. Add rice. Stir constantly to prevent rice from browning. The grains of rice need to get hot. Add 1 1/2 cup of hot stock and lower heat until the stock is barely simmering. Continue to stir constantly.
As the stock is absorbed, add more stock in small amounts. Continue this process until the rice has become slightly tender. In a separate skillet, place the other 2 tablespoons of butter over medium heat. Add cleaned, sliced mushrooms and sauté until soft. Add the mushrooms to the risotto. When rice is almost completely cooked, add cream and stir slowly until absorbed. Remove from heat and stir in cheese, pepper, and fresh herbs. Serve immediately.
Yield: 6–8 servings
© Copyright 2023 unless otherwise noted. New South Restaurant Group • 3904 Hardy St Hattiesburg MS 39402 • 601.264.0657