RobertStJohn.com
Seafood Nachos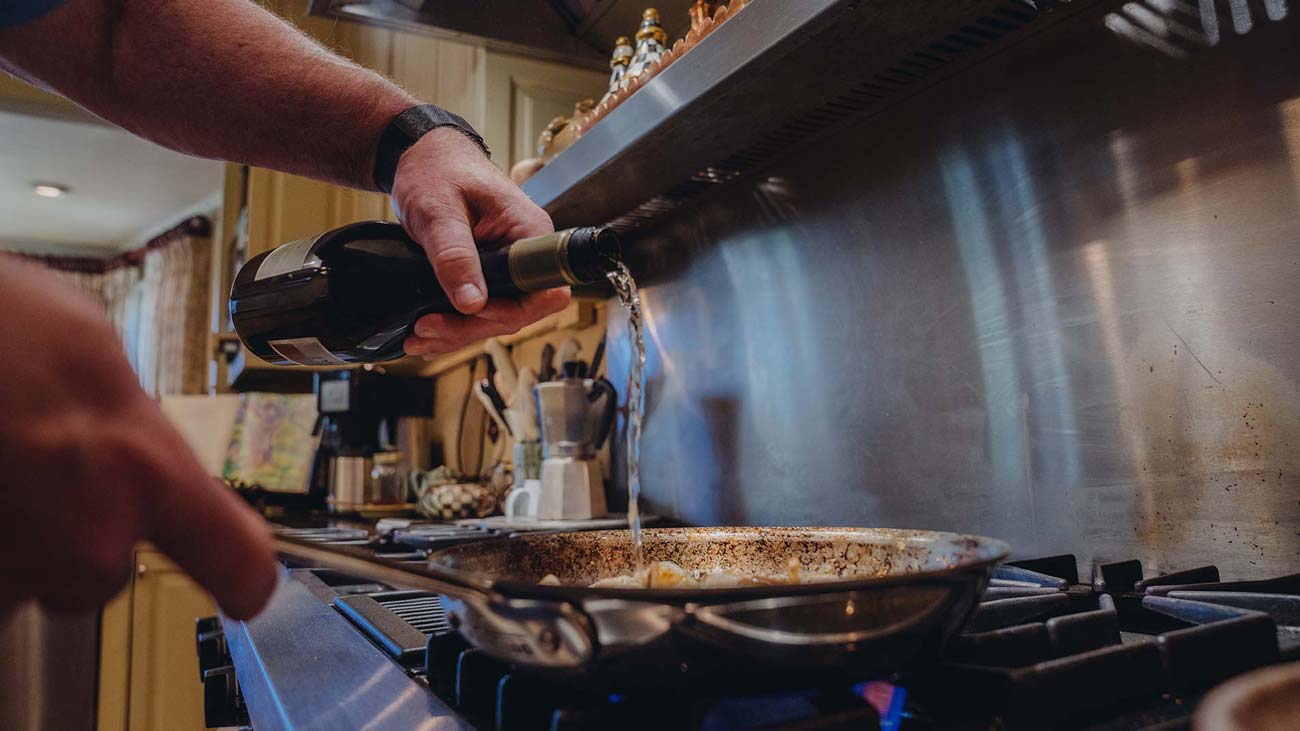 Ingredients
2 Tbs Olive Oil
1 lb. small shrimp, roughly chopped
1/4 cup yellow onion, small dice
2 Tbs green bell pepper, small dice
2 tsp fresh garlic, minced
2 tsp Creole seasoning
1/2 tsp salt
2 tsp hot sauce
1/2 lb small shrimp
1/2 lb crawfish tails
1 cup sliced jalapeños
1 Egg
2 cups Buttermilk
2 cups Corn flour
1 Tbs Salt
2 Tbs Creole Seasoning
Oil for frying
3/4 cup half and half
1/2 lb Velveeta
1 lb cream cheese, softened
1/2 lb cheddar cheese, grated
1/2 lb. lump crab meat
2 tsp lemon juice
1 large bag (1 pound bag) of your favorite tortilla chips, a large chip is best
Instructions
Heat the oil in a medium sauce pot over medium heat. Cook the shrimp, onion, peppers, garlic, Creole seasoning and salt for 7-8 minutes. Add the hot sauce and half and half and bring to a simmer. Lower the heat and add the Velveeta and cream cheese. Stir until the cheese has melted and remove from the heat. Add in the shredded cheddar and mix until the cheese is melted. Fold in the crab and lemon juice.
Preheat oven to 225
Heat oil to 340 degrees in a large cast iron skillet. Beat together the buttermilk and egg. Combine corn flour, salt and Creole seasoning. Dip shrimp, crawfish and jalapeños into buttermilk mixture and dredge corn flour mix. Shake off excess corn flour. Fry 1/3-1/2 of the mixture for 5-6 minutes, until golden. Remove using a slotted spoon and drain on a paper towel-lined baking sheet, place the cooked items in oven. Repeat the process until everything is fried.
To assemble, place about 1/3 of the chips on a large serving platter, ladle 1/3 of the cheese sauce over the chips. Repeat this process until sauce is completely used. Top the nachos with the fried mixture and serve immediately.
Yield: 6-8 servings
© Copyright 2023 unless otherwise noted. New South Restaurant Group • 3904 Hardy St Hattiesburg MS 39402 • 601.264.0657