RobertStJohn.com
RSJ's Vegetable Beef Soup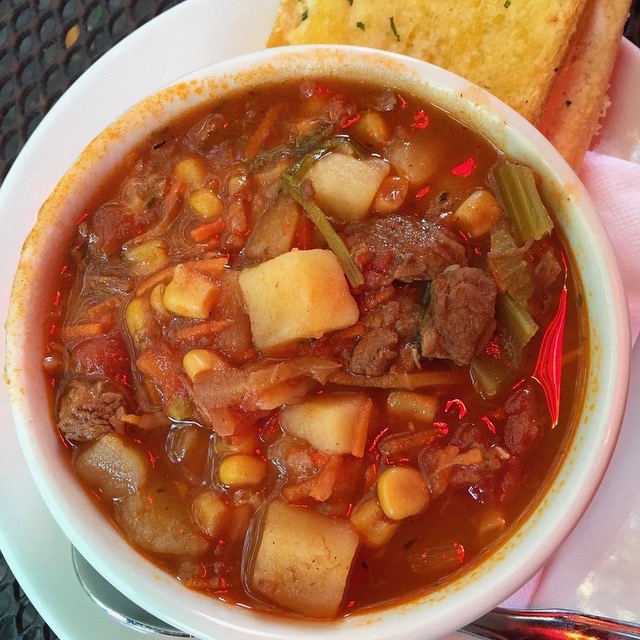 Ingredients
3 Tbl Olive oil
1 1 /2 lbs Filet mignon scraps or ribeye steak trimmings (cut into 3/4-inch cubes) beef shoulder can be used
1 1 /2 tsp Salt
1 tsp Pepper
1 cup Onion, small dice
1 cup Carrot, small dice
1 cup Celery, small dice
1 Tbl Garlic, minced
1 /2 tsp Dried Thyme
2 tsp Steak Seasoning
1 Bay leaf
15 oz can Tomato, diced
1 1 /2 quart Beef stock
1 cup Corn, fresh, scraped from the cob
1 cup Potato, peeled and diced to ¾" cubes
1 cup Zing-Zang Bloody Mary Mix
1 Tbl Kitchen Bouquet
1 Tbl Worcestershire sauce
Instructions
Heat 1 tablespoon of oil over high heat in a large skillet. Season the meat with half of the salt and pepper. Brown the meat in olive oil. Do not overload the skillet. Over loading the skillet will cause the beef to steam instead of brown. Brown meat in batches, add more oil when necessary then place cooked meat in a large stockpot.
Add one tablespoon of oil to skillet and sauté the onions, carrots, celery and garlic for five minutes over medium heat. Add thyme, steak seasoning and bay leaf. Deglaze the pan by adding the canned tomatoes (with the juice) using a wooden spoon to remove any stuck-on proteins. Cook five minutes on high, and add to the meat in the stockpot. Place beef broth in the stockpot and cook over low heat. The soup should just barely simmer. After 1 hour, add Zing Zang, corn and potatoes.
Continue cooking another 45 minutes. Remove from heat and stir in remaining salt, pepper, Worcestershire, and Kitchen Bouquet.
Yield: approximately one gallon
© Copyright 2023 unless otherwise noted. New South Restaurant Group • 3904 Hardy St Hattiesburg MS 39402 • 601.264.0657