RobertStJohn.com
RSJ's Mississippi Pot Roast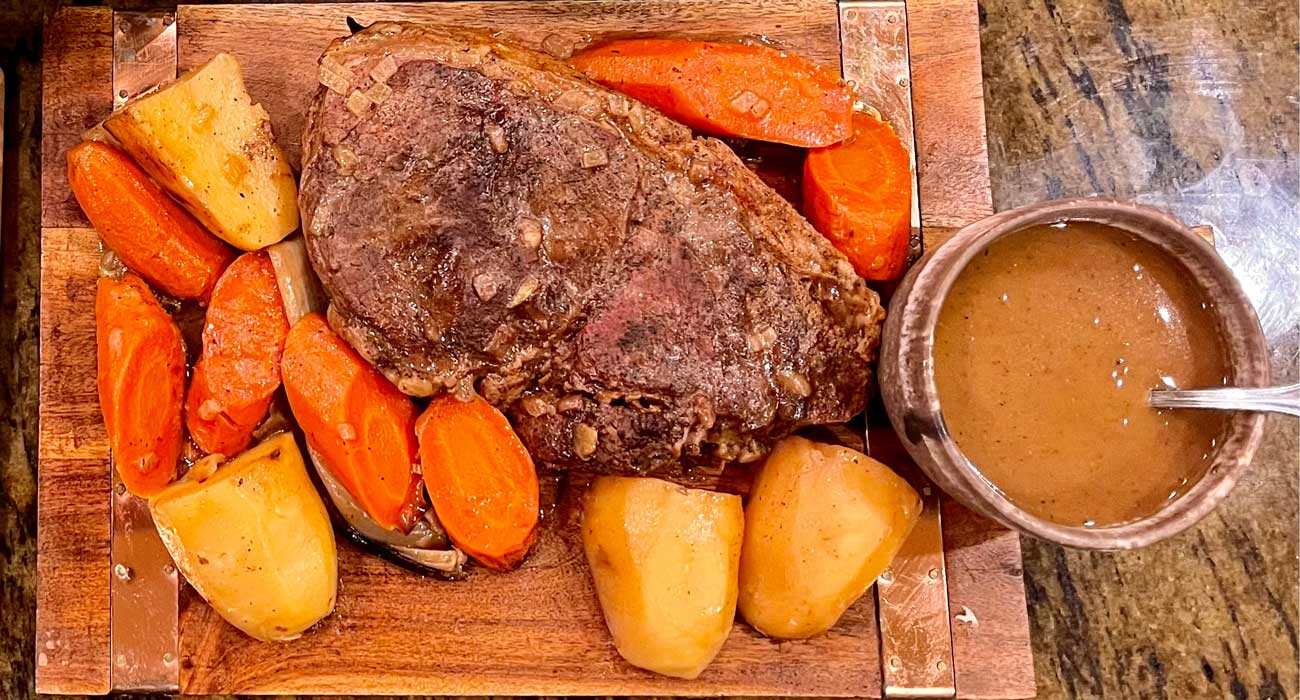 Ingredients
2½ -3 pounds Beef shoulder roast
1 Tbsp Kosher salt
2 tsp Black pepper
1 Tbsp teak Seasoning
¼ cup Bacon grease (or canola oil)
¼ cup Olive oil
½ cup Flour
2 cups Onion, diced
1 Large onion, cut into wedges
3 cups Beef broth, hot
2 large Idaho potatoes, peeled and cut into quarters
3 Carrots, peeled and cut into quarters
¼ tsp Thyme
2 tsp Worcestershire sauce
1 tsp Salt
1 tsp Black pepper
Instructions
Preheat oven to 275 degrees.
Season the beef with Kosher salt, pepper, and steak seasoning. In a large heavy-duty skillet, heat the bacon grease over high heat. Brown roast on all sides and place in a roasting pan.
Lower heat on the skillet and add olive oil and flour to make a peanut butter-colored roux. Add diced onions and thyme and continue to cook for four to five minutes. Add hot beef broth, Worcestershire sauce, salt, pepper and stir until smooth.
Pour liquid into roasting pan with the pot roast. Cover with foil and place in oven. Cook two hours. Remove foil and add carrots and onions.
Return to oven and cook uncovered for another hour. Remove, add potatoes and cook for one more hour.
Yield: 8 servings
© Copyright 2023 unless otherwise noted. New South Restaurant Group • 3904 Hardy St Hattiesburg MS 39402 • 601.264.0657