RobertStJohn.com
Regina Charboneau's Biscuits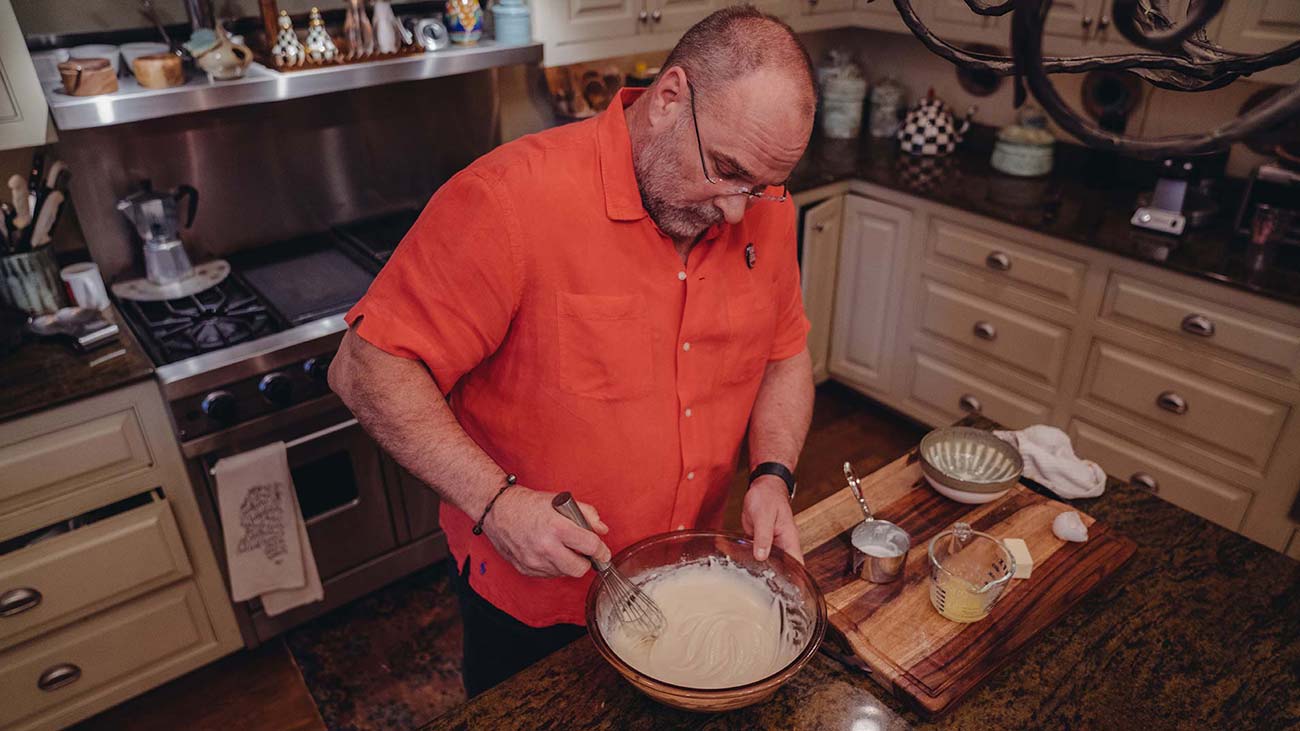 Ingredients
4 cups all-purpose flour
¼ cup baking powder
¼ cup sugar
½ cup (1 stick) salted butter, chilled and cut into 1-inch cubes
1 ½ cups (3 sticks) salted margarine, chilled and cut into 2-inch cubes
¾ cups buttermilk, chilled
Instructions
Put flour, baking powder and sugar in the bowl of a stand mixer with a paddle attachment. Turn the machine on low and blend for 15 seconds. Add the butter, margarine and buttermilk to flour mixture before turning mixer back on. Turn mixer on medium and count to 10. This goes very quickly; the key is to not overmix the dough. There will be large chunks of butter and margarine, the size of quarters, in the dough.
Scrape dough from the bowl onto a generously floured work surface or tea towel and shape into a long vertical rectangle about 2 inches thick. The dough will seem rough and messy. Using the edges of the towel, fold the lower part of the dough (about one-third) toward the center, then fold the top portion down. With a rolling pin, roll dough out to a 2-inch thickness. Fold the two ends in again, lifting the edges of the towel to help move the dough. Give dough a one-quarter turn, and roll it out again to a 2-inch thickness. Continue folding, turning and rolling dough until it is smooth, with noticeable yellow ribbons of butter and margarine throughout.
Roll dough to 1 1/2-inch thickness. Using a 2-inch biscuit cutter, cut dough into rounds. Punch cutter into dough cleanly, without twisting. When refolding and rerolling the dough, gently stack it to retain the layers. Do not overwork.
Place biscuits on a baking sheet and freeze. Once they are frozen, transfer biscuits to plastic bags. The unbaked biscuits can be frozen for 2 months.
To bake, heat oven to 350 degrees. Place frozen biscuits in the cups of muffin tins. Let thaw in the refrigerator for 20 minutes. Bake until golden brown, 23 to 25 minutes.
© Copyright 2023 unless otherwise noted. New South Restaurant Group • 3904 Hardy St Hattiesburg MS 39402 • 601.264.0657