RobertStJohn.com
Pork Tenderloin Wrapped in Bacon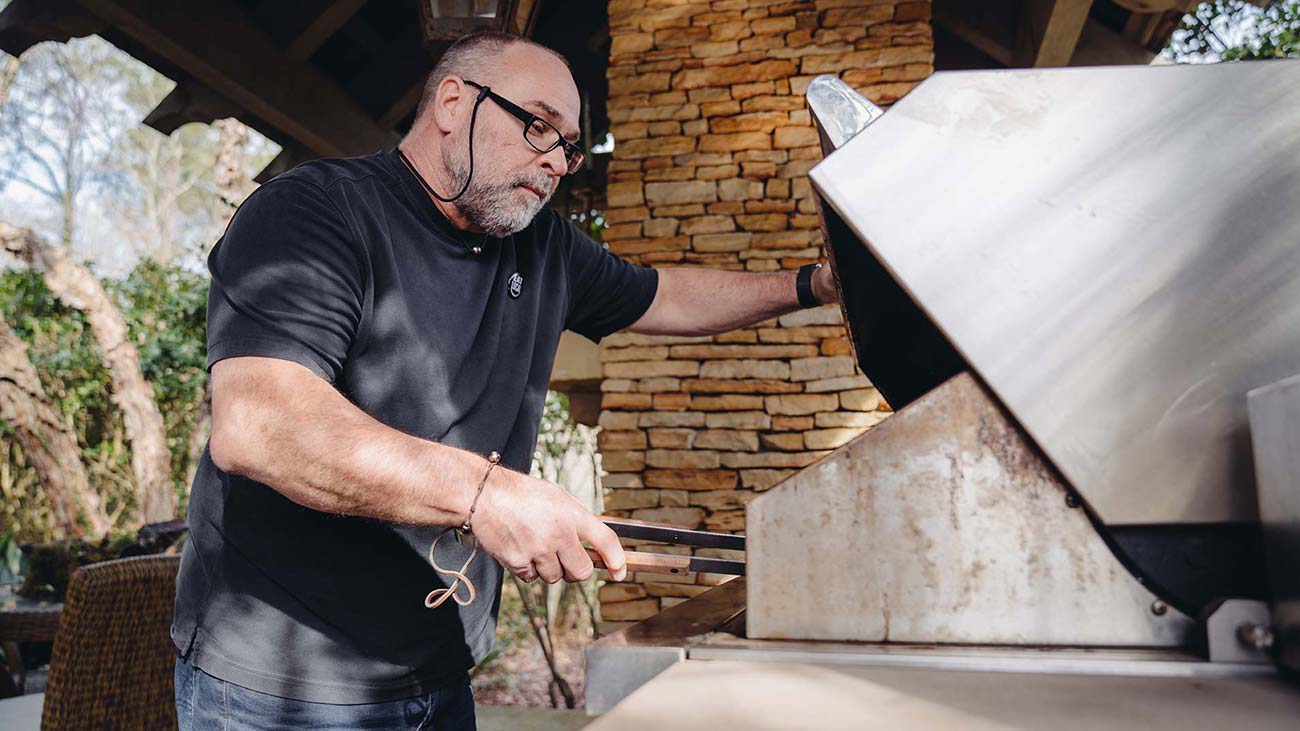 Ingredients
1 cup apple juice
1 Tbl balsamic vinegar
1 bay leaf
2 Tbl brown sugar
1/8 tsp cinnamon
1/4 tsp fresh ground black pepper
1 tsp kosher salt
2 whole pork tenderloins, cleaned and trimmed
8-10 slices thin cut bacon
Blackberry Chutney
1 cup shallot, chopped fine
1 cup onion, medium dice
1 Tbl unsalted butter
2 cups Blackberries
1 /4  cup sugar
1 /2 cup blackberry preserves
2 tablespoon cider vinegar
1 Tbl cracked black pepper
1 Tbl ginger, minced
1 cinnamon stick
1 /2 tsp creole seasoning
Instructions
Combine the apple juice, vinegar, bay leaf, brown sugar, cinnamon, pepper and salt in a small sauce pot and heat just long enough to melt the sugar. Allow to cool.
Place the tenderloins in a zip lock bag and pour the cooled marinade over the pork. Close the bag and marinate the pork 2-3 hours, turning several times to ensure that all surfaces are covered.
Remove the pork from the marinade and pat dry. Starting at one end of the tenderloin, firmly wrap the bacon around the meat in a spiral direction, making sure to cover all surface areas of the pork.
Prepare the grill. Sear the pork for 8 minutes over medium-direct heat, turning it one-quarter turn every 2-3 minutes. Continue cooking with medium indirect heat until the pork reaches an internal temperature of 165 degrees, approximately 15-20 minutes.
Remove the pork from the grill and let rest 5 minutes. Slice the pork on a slight angle into one-inch thick slices and serve with Blackberry Chutney
Blackberry Chutney
In a 1 1 /2-quart heavy-duty saucepan, cook shallot and onion in butter over moderate heat, stirring occasionally, until golden, 3 to 5 minutes. Stir in remaining ingredients and simmer, uncovered, stirring occasionally, until berries burst and chutney is thickened, approximately 20 minutes. Strain through a fine mesh sieve to remove seeds.
Cool to room temperature.
Note: Chutney can be made 1 week ahead and chilled, covered
Yield: 2 cups
© Copyright 2023 unless otherwise noted. New South Restaurant Group • 3904 Hardy St Hattiesburg MS 39402 • 601.264.0657