RobertStJohn.com
Pesto Pasta with Roasted Portabella Mushroom Strips and Asparagus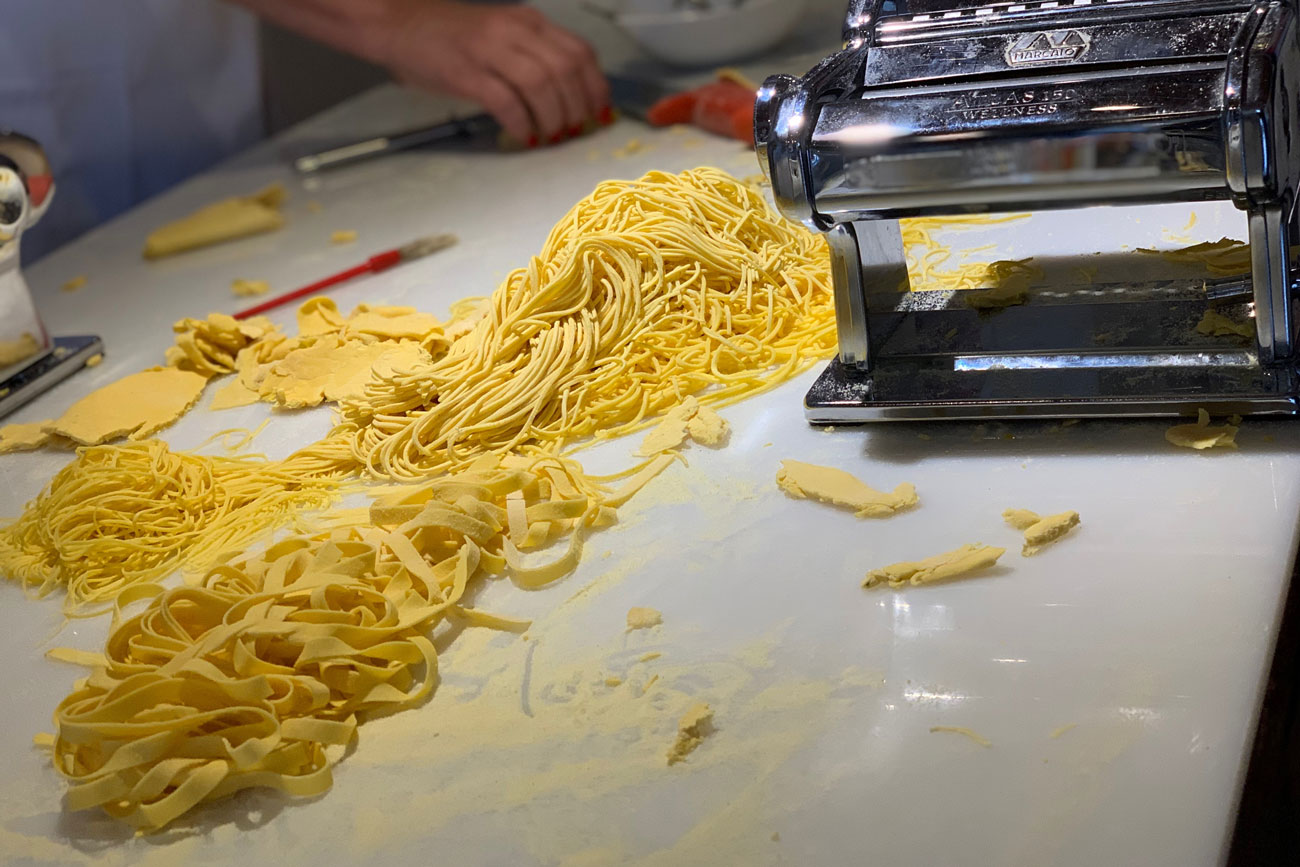 Ingredients
Portabella
1 cup Creamy balsamic dressing
2 tsp Minced garlic
1/2 cup Vegetable broth
2 tsp Creole mustard
1 tsp Hot sauce
2 tsp Creole seasoning
1 tsp Black pepper, freshly ground
2 tsp Worcestershire sauce
5-6 fresh Portabella mushrooms, stems and gills removed*
Asparagus
1 pound Asparagus, fresh
2 Tbsp Olive oil
1 tsp Salt
1/2 tsp Pepper
Pesto
3 cups Loosely packed basil leaves, washed and dried very well
1/3 cup Pinenuts
1/4 cup Parmesan cheese, freshly grated
1 Tbsp Garlic, minced
1 tsp Kosher salt1/2 cup extra virgin olive oil
Pasta
1 pound Bowtie pasta
2 Tbsp Unsalted butter
1/4 cup Chicken or vegetable broth
3/4 cup Fresh pesto
1/2 tsp Salt
1/4 tsp Black pepper, freshly ground
3/4 cup Romano cheese, coarsely grated
Instructions
Portabella
5-6 fresh portabella mushrooms, stems and gills removed*
Combine the first 8 ingredients in a mixing bowl. Dip each portabella mushroom in the mixture to coat them completely. Refrigerate for 1 hour.
Preheat oven to 350 degrees.
After the mushroom have marinated, place them on a baking sheet with the top side down. Cover the baking sheet completely with aluminum foil and bake for 7 minutes. Remove the foil and bake for 5 more minutes. Allow the mushrooms to cool, then cut them into 3/4 inch wide strips.
Asparagus
Preheat oven to 350 degrees.
Toss the asparagus with olive oil, salt and pepper. Place on baking sheet lined with wax paper. Bake 12 minutes. Remove from oven and sprinkle the almonds over the asparagus.
Pesto
In a food processor, combine the basil, pine nuts, cheese, garlic and salt and puree. With the processor still running, slowly drizzle in the olive oil. Remove the lid and scrape down the sides of the processor to make sure there are no large pieces of basil, puree for another 30-40 seconds. Use immediately or refrigerate covered with plastic for up to 4 days. The plastic wrap should be placed directly on the surface of the pesto to prevent discoloration. Pesto make also be frozen in an airtight container and held for one month.
Pasta
Cook the pasta according to the directions on the package, drain and rinse with hot water.
In a large sauté pan, melt the butter over medium heat. Place the cooked mushrooms in the pan and heat for 3-4 minutes. Add in the broth, pesto, salt and pepper. Add the cooked pasta to the pan and mix well so that the pasta is evenly coated with the pesto.
Divide the pasta onto serving dishes, and sprinkle the pasta with the shredded Romano cheese.
Divide the asparagus among the serving dishes and serve immediately.
* the gills are on the under side of the mushroom and become tough and bitter when cooked. They are easily removed by gently scraping the underside of the mushroom with a teaspoon.
© Copyright 2023 unless otherwise noted. New South Restaurant Group • 3904 Hardy St Hattiesburg MS 39402 • 601.264.0657