RobertStJohn.com
Peposa
I learned this dish from Giuliana at the Viola Club in Tavarnelle. The Viola Club is not even the name of this place, though that is what is on the sign outside. The sign refers to the Florence football team's colors— purple. We were given several answers on the name of the place, "Acli," "The Viola Bar," and other designations we couldn't understand. Most of the locals just call it "The Bar." We called it The Viola Club because that is what is on the sign. The Viola Club is the local hangout serving breakfast and lunch. It's run by a family— mom and wife in the kitchen, dad behind the bar, and son waiting tables. The food is good and unbelievably inexpensive. We ate there six times and they nailed the food every time. Paolo, the son, serves all of the tables. He is overworked and the service sometimes drags, but it's not because he's not working his tail off. Hiring two additional servers would be huge for this place, but I don't know if there are any more family members in the bullpen. I spent one morning in The Viola Club kitchen with Paolo's mom, Giuliana and his wife, Elizabeth. They cooked, I tried to decipher. It was a blast. The recipe I was researching was Peposo, which is basically Italian pot roast with a ton of pepper. I backed off of the pepper.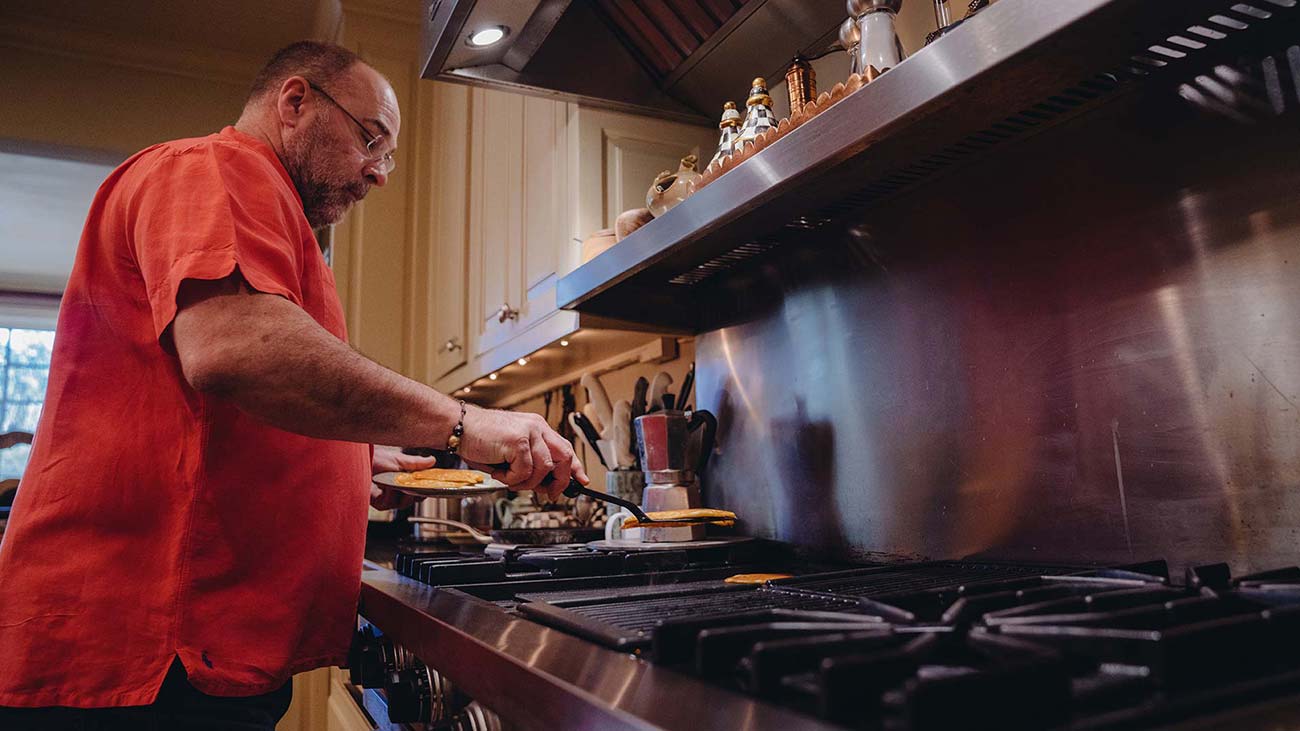 Ingredients
¼ cup Extra virgin olive oil
5 lbs. Beef top round or chuck roast, cut into 2 inch cubes
1 Tbl Kosher salt
2 Tbl Fresh ground black pepper
1 Tbl Garlic, minced
2 Tbl Shallot, minced
1 Tbl Fresh thyme, chopped
2 cups Dry red wine
1 each – 28 oz. can whole peeled tomatoes, crushed by hand
2 cups Chicken stock (see recipe)
1 recipe Polenta (see recipe)
Instructions
Preheat oven to 225.
Heat oil in a large roasting pan over high heat. Season the beef with the salt and pepper and sear, leaving space between each piece to allow proper browning. Work in small batches if necessary. Once all the beef has been browned, add the shallot, garlic and tomatoes and cook for 4-5 minutes, stirring frequently. Deglaze with the red wine and continue stirring until halfof the wine has evaporated. Add the chicken stock and bring to a simmer. Place in the oven and stir every 30 minutes until tender, about 3-4 hours.
It is best made a day ahead and reheated in the oven at 200. Serve over polenta.
Yield: 6-8 servings
© Copyright 2023 unless otherwise noted. New South Restaurant Group • 3904 Hardy St Hattiesburg MS 39402 • 601.264.0657