RobertStJohn.com
Oricchiette Ostuni
One of my favorite go-to pastas is oricchiette with pesto and tomatoes. Oricchiette in the Southern Italian vernacular means "little ear." I ate a dish similar to this in Ostuni, a beautiful old town just above the cobalt blue Mediterranean. The addition of pesto is all me. I love it.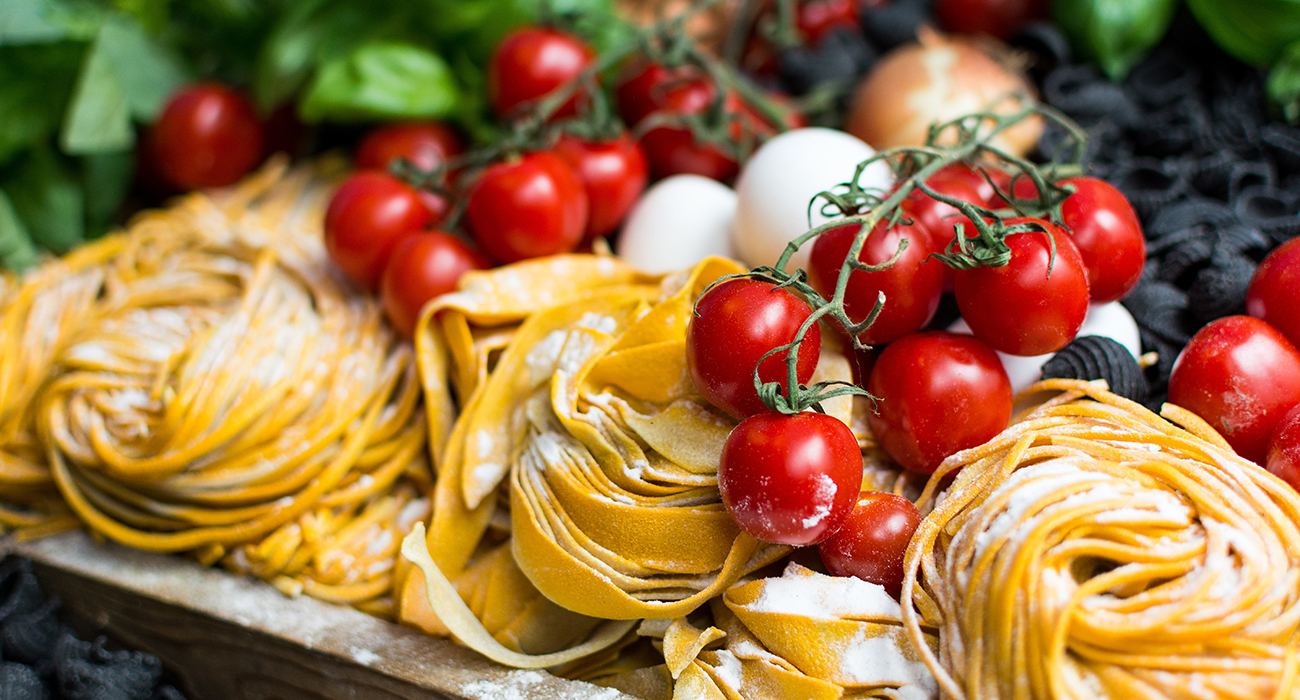 Ingredients
1 lb. Dry orichiette pasta
1 gallon Water
¼ cup Kosher salt
2 lbs. 21/25 count shrimp (optional), peeled, deveined, butterflied, tails removed (about 6-8 per person)
6 TB + 2 TB    Extra virgin olive oil
2 Tbl Dry white wine
1 TB + 2 tsp Kosher salt
1 tsp Fresh ground black pepper, divided
1 cup Pesto (see recipe)
1 cup Roma tomatoes, large dice, at room temperature
2 Tbl Reserved pasta water
¼ cup Parmigianino Reggiano, grated
Instructions
Bring the water and ¼ cup salt to a boil in a large stock pot. While you are waiting for the water to boil, prepare a large bowl of ice water. Add the dry pasta to the boiling water and stir frequently until pasta is tender but not mushy. Reserve 2 TB of the pasta water, strain and immediately transfer to the ice bath to stop the cooking process. Once pasta has cooled, remove from ice bath and reserve. When you are ready to make the pasta dish, bring another gallon of salted water to a simmer and add the chilled pasta just long enough to reheat it, about 3 minutes, and strain.
In a small mixing bowl, stir the pesto and 6 TB of the olive oil to thin the pesto slightly. Reserve.
Add the remaining 2 TB olive oil to a large skillet over medium heat. When oil is hot, add the shrimp, 2 tsp salt and ½ tsp black pepper. Stir frequently until shrimp are almost fully cooked, about 6-8 minutes. As they cook, the shrimp will turn from pink to white. This is the easiest way to see when the shrimp are almost fully cooked. They should be mostly white with just a hint of pink left. At this point, deglaze the pan with the white wine, stirring constantly until the wine has almost completely cooked out, about 2-3 minutes. The shrimp should be cooked at this point.
In a large mixing bowl, add the pesto and oil mixture, 1 TB salt, ½ tsp black pepper, tomatoes, grated cheese, reserved pasta water and the hot orichiette pasta and combine thoroughly.
Divide among 6-8 serving bowls and top with the cooked shrimp (optional).
© Copyright 2023 unless otherwise noted. New South Restaurant Group • 3904 Hardy St Hattiesburg MS 39402 • 601.264.0657