RobertStJohn.com
Miniature Shrimp and Grits
Shrimp and grits became popular in southern restaurants in the late 1980s. This is a preparation that allows them to be hand held.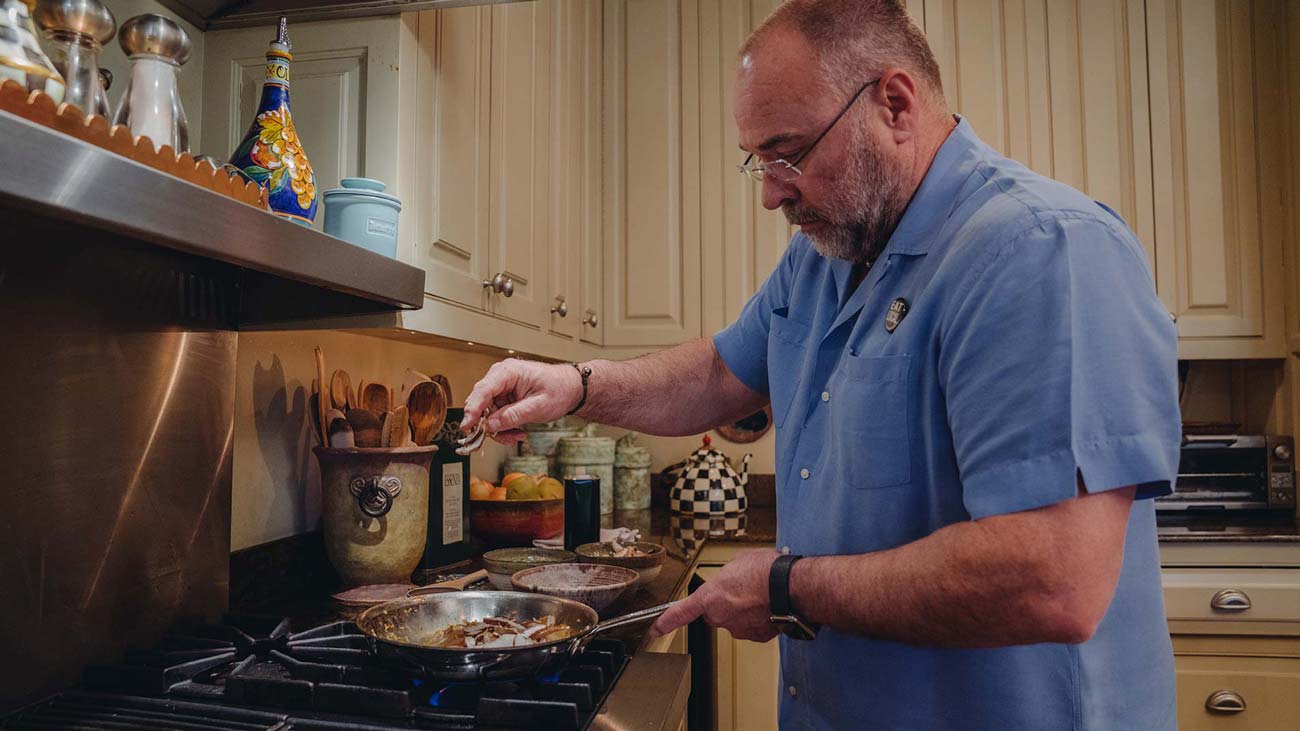 Ingredients
1 /4 cup quick grits
1 cup heavy cream
1 tsp salt
1 tsp creole seasoning
Grit Biscuits
1 1 /2  cups flour
1 Tbsp sugar
2 tsp baking soda
BBQ Shrimp
2 Tbsp clarified butter
20 large shrimp, peeled and split in half lengthwise
1 tsp cracked black peppercorns
3 /4 cup BBQ Shrimp Stock
1 tsp baking powder
2 tsp Salt
1 tsp fresh ground black pepper
1 /4 cup shortening
1 recipe grits
1 /2 cup buttermilk.
1 egg
BBQ Shrimp Stock
½  cups white wine
1 cup  Shrimp Stock
2 Tbsp Creole Seasoning
1 1 /2 Tbsp Worcestershire sauce
1 1 /2 Tbsp lemon juice
3 tsp paprika
2 tsp garlic, minced
2 tsp liquid crab boil
2 Tbsp creole mustard
1 bay leaves
1 tsp Crescent City Grill Hot Sauce
Instructions
Combine grits, cream and seasoning in a small covered baking dish and cook in a 300-degree oven for 45 minutes. Remove and cool slightly.
Grit Biscuits
Combine all dry ingredients and using a fork, blend shortening into the dry mixture.
Whip together the egg, buttermilk and grits. Fold wet ingredients into the dry ingredients and blend well. Do not overmix.
Roll out biscuits to 1 /2-inch thickness and cut 2-inch circles.
Bake at 375 degrees for 18 minutes.
Top each biscuit with one piece of the BBQ shrimp and serve
Yield: 16-20 grit cakes
BBQ Shrimp
Melt clarified butter in a skillet and add shrimp. Sauté for two minutes Add cracked black peppercorns and BBQ Shrimp Stock and cook until shrimp are just done. Make sure the cold BBQ shrimp stock is stirred vigorously before adding to skillet.
BBQ Shrimp Stock
Bring all ingredients to a boil, immediately remove from heat and cool (can be made 2–3 days ahead of time). adding it to the skillet.
Yield: 2 cups
© Copyright 2023 unless otherwise noted. New South Restaurant Group • 3904 Hardy St Hattiesburg MS 39402 • 601.264.0657