RobertStJohn.com
Marinated Beef and Chicken Fajitas with Smoky Fajita Sauce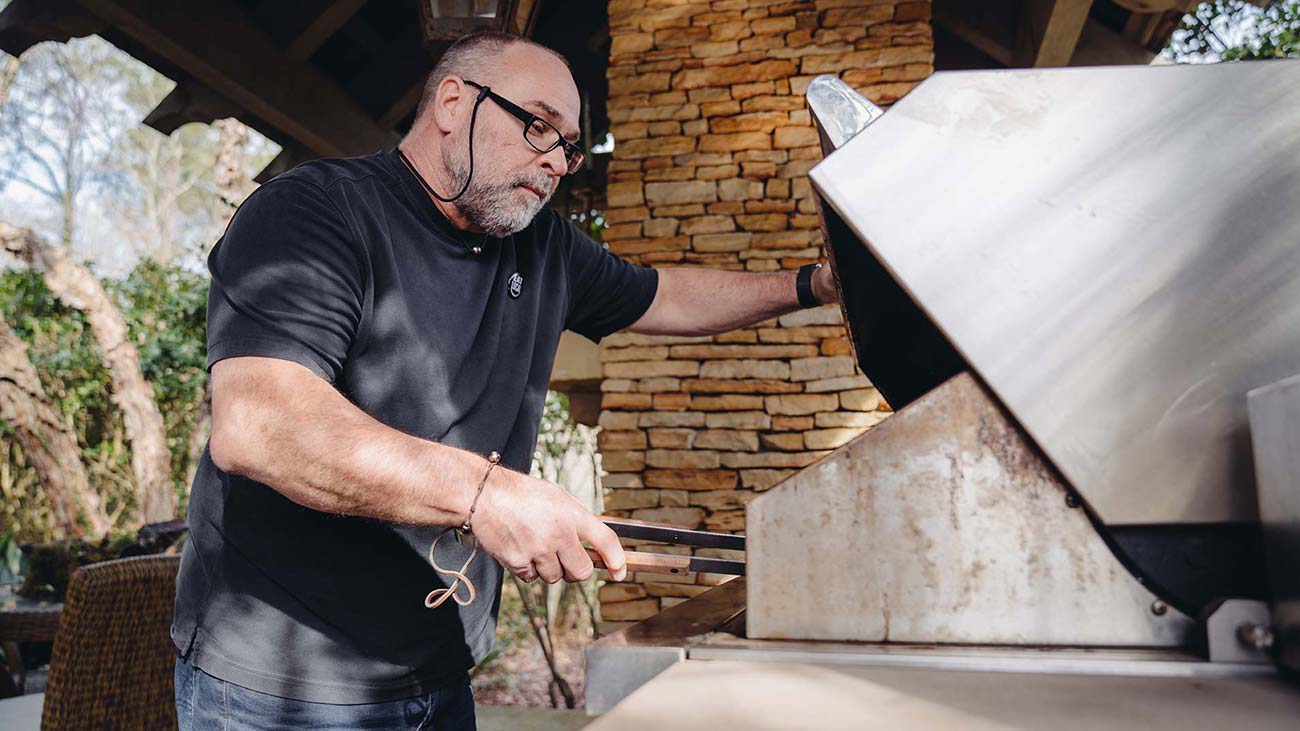 Ingredients
1 cup Soy Sauce
1 cup Pineapple Juice
1 Flank Steak, about 1 pound and 3/4 inch thick
1 pound, Chicken Breast, boneless and skinless
2 tsp Paprika
2 tsp Brown Sugar
3 tsp Chili Powder
1 tsp Cumin
1 tsp Dry Oregano
1 tsp Coriander
1/8 tsp Cinnamon
1 Tbl Kosher Salt
1 Tbl Black Pepper, freshly ground
1 Medium Red Onion, peeled and cut into 1/2" thick strips
1 Red Bell Pepper, seeds removed and julienned
2 Anaheim Chilis, seeds removed and julienned
2 Yellow Wax Peppers, seeds removed and julienned
2 Tbl Olive Oil
2 tsp Kosher Salt
18  6-inch flour tortillas
Smoky fajita sauce (see recipe)
1 cup Tomatoes, diced
2 cups lettuce, shredded
1/4 cup cilantro, chiffonade
1 cup salsa
Instructions
Combine the soy sauce and pineapple juice and divide the marinade between two gallon-size Ziploc bags. Place the flank steak in one bag, and the chicken in another. After 30 minutes, remove the steak and chicken from the marinade. Pat the surfaces of the meat dry.
Combine the paprika, brown sugar, chili powder, cumin, oregano, coriander, cinnamon, salt and pepper in a small dish. Use this mixture to liberally season the surface of the steak and chicken.
Prepare the grill. Cook both the steak and chicken over direct high heat for 8-10 minutes. Remove the meat from the grill and allow to rest for 8-10 minutes. While the meat is resting, toss the peppers and onions in the olive oil.
Place a grill screen on high heat and allow it to get very hot. Spread the pepper mixture onto the grill topper and sprinkle it with the kosher salt. Cook for 6-8 minutes, turning the vegetables once.
Wrap the tortillas— in packages of three— in aluminum foil. Place the wrapped tortillas over medium direct heat for 3-4 minutes, turning once. Hold the tortillas and vegetables in a warm place.
Use sharp knife to cut the flank steak, against the grain into 1/4-inch thick slices. Cut the chicken into 1/4" thick long strips.
Place the chicken, beef, and peppers on a serving dish and serve the tortillas on the side with smoky fajita sauce, shredded lettuce, chopped tomatoes, cilantro, and your favorite salsa.
Yield: 6-8 servings
We tested with Anaheim chilies; any mild-medium heat peppers may be substituted.
© Copyright 2023 unless otherwise noted. New South Restaurant Group • 3904 Hardy St Hattiesburg MS 39402 • 601.264.0657