RobertStJohn.com
Manicotti Gratinati
This is a recipe I created in the early days of our Italian restaurant, Tabella. Xxxxxx was a sous chef from Cuba. He and I worked this recipe up one morning and by the time we were finished, and had taken the first bite, we were high fiving each other in the prep area. It is definitely an Americanized version of an Italian dish— the first giveaway is the number of steps and ingredients. Most true Italian dishes use minimal ingredients and are prepared simply. Nevertheless, I believe this recipe is worth the time and effort and is perfect for a dinner party when paired with the Tabella House Salad (see recipe).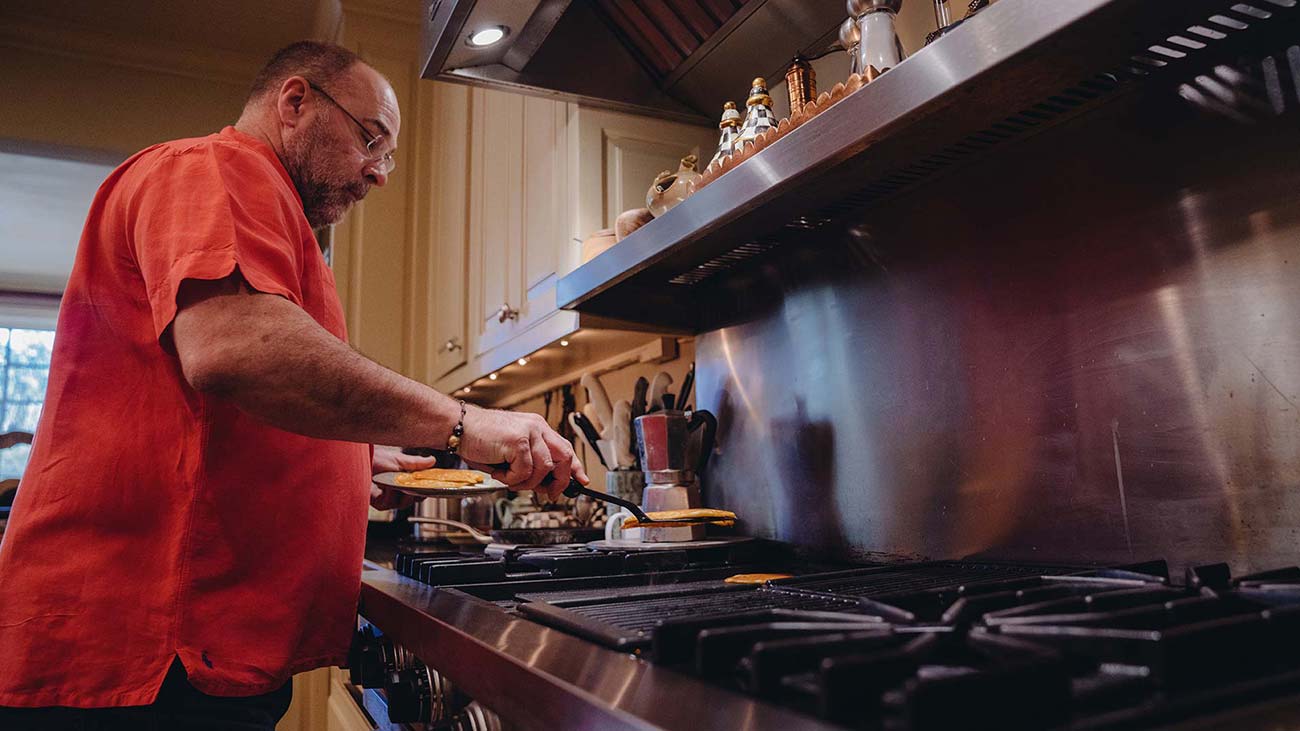 Ingredients
2 Tbl Olive oil
1 lb. Ground Italian sausage
2 Tbl White wine
2 Tbl Unsalted butter
¾ cup Onion, diced
1 Tbl House Herb Blend (recipe on page xxx)
1 Tbl Minced garlic
½ cup Celery, diced
½ cup Carrot, diced
1 Tbl Kosher salt
1 tsp Fresh ground black pepper
1 (10 oz.) Package frozen chopped spinach, thawed and drained well
1 ½ cups Grated Pecorino Romano cheese
1 ½ cup Chicken stock
1 recipe Veloute Sauce (recipe follows)
¾ cup Shredded Monterrey Jack cheese
¾ cup Heavy cream, warmed
2 Tbl Sherry
1 recipe Crepes (see recipe)
Veloute Sauce:
2 Tbl Butter
3 Tbl All-purpose flour
1 ½ cup Chicken stock, hot
Instructions
Preheat oven to 350.
To make Manicotti filling:
In a sauté pan over medium heat, combine the oil and sausage and cook until browned, but not thoroughly cooked. Drain fat, deglaze with wine and remove from heat and set aside.
In a separate sauce pan, combine butter, onion, house herb blend, garlic, celery and carrot over medium heat. Cook, stirring frequently, until vegetables are soft, about 8 minutes.
In a mixing bowl, combine spinach, cooked meat mixture, ¼ cup grated Romano, vegetable mixture and ¾ cup chicken stock. Place in a baking pan, cover and bake 15 minutes. Uncover and continue baking for 20 minutes, adding more chicken stock if it gets too dry. Stir occasionally. Remove from oven and keep warm.
To make Manicotti sauce:
In a saucepan, combine 1 cup of Manicotti filling, veloute sauce and ½ cup of chicken broth. Simmer for 5 minutes, stirring occasionally. Remove from heat and add the shredded Jack cheese. Stir until melted. Add the warm cream and sherry. Keep warm.
To assemble Manicotti:
Lay crepes on a flat surface and divide the remaining Manicotti filling evenly amongst them, about 2 TB each. Roll the crepes and place in a 9×13 casserole dish. Distribute the Manicotti sauce over the crepes. Sprinkle with remaining grated Romano cheese. Return to the oven, uncovered for 8-10 minutes.
Veloute Sauce:
In a small sauce pan, melt the butter over medium-low heat and stir in flour, blending well. Add hot stock gradually, about 1/3 cup at a time to the roux, stirring constantly. Simmer for 15-20 minutes. Remove from heat. This may be made up to 3 days ahead of time.
© Copyright 2023 unless otherwise noted. New South Restaurant Group • 3904 Hardy St Hattiesburg MS 39402 • 601.264.0657