RobertStJohn.com
Liver Pate
This recipe is inspired by Fabio Picchi, who is the creator of the finest liver pate I have ever eaten— anywhere on the planet. It's origins, though, are from Annagloria.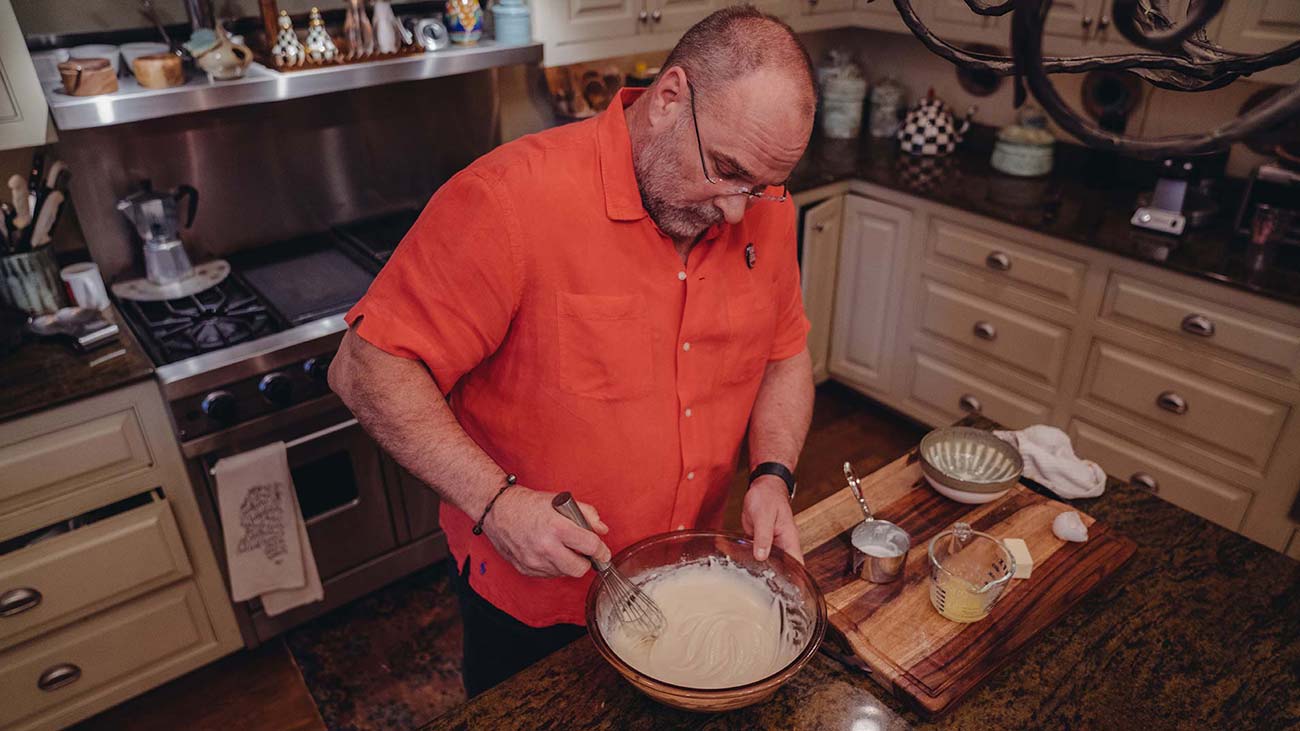 Ingredients
2 Tbl Extra virgin olive oil
2 cups Yellow onion, small diced
1 cup Carrot, small dice
½ cup Celery, small diced
1 cup Veal top round, chopped small
1 cup Pork or veal liver, chopped
1 cup Chicken liver, chopped
½ cup Prosciutto ham, chopped
1 Tbl Italian flat-leaf parsley, chopped
½ tsp Fresh oregano, chopped
½ tsp Fresh thyme, chopped
3 each Bay leaves
1 cup Marsala wine
2 tsp Kosher salt
1 tsp Fresh ground black pepper
½ lb. Butter, cut into 8 pieces
Instructions
Heat oil in a large skillet over medium heat. Add the onion, carrot and celery and cook for 3-4 minutes, stirring frequently. Add the bay leaves, pork/veal liver, chicken liver, veal top round, salt and pepper and continue cooking for another 5-6 minutes. Add the prosciutto, oregano, thyme and Marsala. Stir constantly until all the Marsala has evaporated. Remove from the heat and discard the bay leaves. Fold in the butter and stir until it is completely melted and incorporated. Transfer to the bowl of an electric mixer fitted with the paddle attachment. Add the parsley and mix on medium speed until  the mixture has a creamy texture, about 4-5 minutes. Reduce to low speed and continue to mix until the mixture has cooled. Pour into prepared terrine mold. Allow to set at least 4 hours, preferably overnight.
To serve, remove from the terrine mold by running a paring knife dipped in hot water around the edge. Turn upside down onto a cutting board and lightly tap the bottom of the terrine mold to release the pate. Slice ¼"- ½" thick with a sharp knife while still cold. Run the knife under hot water and wipe clean before each slice to ensure clean, smooth slices. Serve chilled or room temperature.
© Copyright 2023 unless otherwise noted. New South Restaurant Group • 3904 Hardy St Hattiesburg MS 39402 • 601.264.0657