RobertStJohn.com
Lamb Kabobs with Raspberry Mint Dipping Sauce
My favorite flavors to accompany lamb are raspberry and mint. This recipe makes good use of them both. When using lesser cuts of lamb, I like to err on the medium side of rare.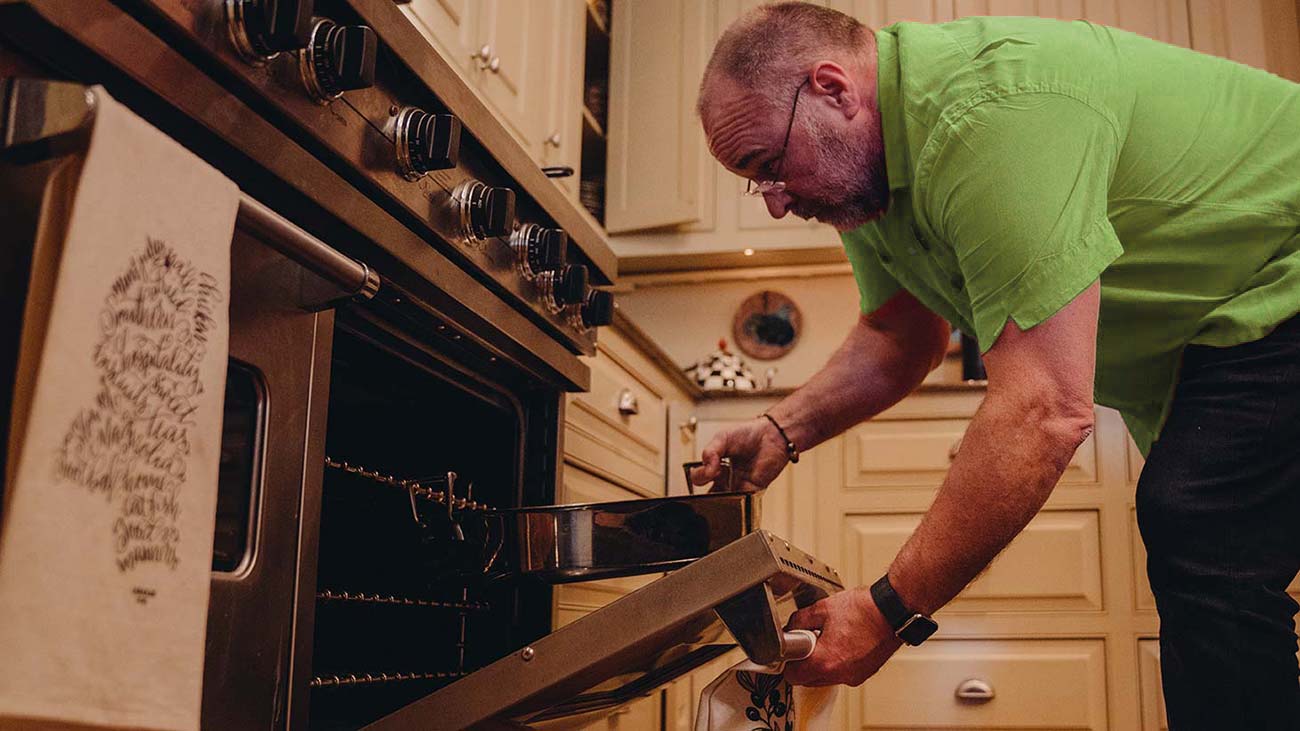 Ingredients
Skewer Soak
24 Skewers
1 cup Water
1 /4 cup Lemon juice
1 /4 cup Red wine
soak for 3-4 hours before using
Lamb Kabob
2 pounds Leg of lamb, cut into 1/2 inch cubes
Raspberry-Mint Sauce
1 Tbsp Olive oil
1 /2 cup Shallots, minced
1 Tbl Garlic, minced
1 tsp Creole seasoning
1 /4 tsp Black pepper, freshly ground
1 /2 cup Sherry
2 cups Raspberries, fresh or frozen
2 cups Chicken broth
1 Bay leaf
1 cup Mint jelly
1 /2 tsp Balsamic vinegar
1 tsp Creole mustard
1 Tbsp Fresh mint, chopped
1 /4 cup Steak seasoning
1 Tbsp Kosher salt
1 /4 cup Olive oil
Instructions
Skewer the lamb onto the soaked skewers, leaving a space at one end so that they can be easily picked up.
Season the meat on all sides with lamb rub and refrigerate for three to four hours.
Preheat oven to 375
Over high heat, heat enough olive oil to cover the bottom of a large cast iron skillet. Sprinkle the kabobs with the kosher salt, and sear six kabobs at a time. Once all kabobs are evenly seared, place on a baking sheet and finish cooking in oven. Although, at this point, kabobs can be held in refrigerator for several hours before baking.
Bake five to seven minutes to medium (a little longer if the kabobs have been refrigerated).
Serve with raspberry mint dipping sauce.
Yield 24 skewers
Raspberry-Mint Sauce
In a small sauce pot, heat olive oil over medium-high heat and cook shallots 3-4 minutes. Stir in garlic and seasonings, and cook 3-4 more minutes, stirring often. Do not let garlic brown. Deglaze with sherry and reduce by half.
Stir in raspberries, chicken broth and bay leaf and simmer 15-20 minutes, until reduced by half. Stir in mint jelly and cook three minutes more, stirring constantly. Remove from the heat and stir in the vinegar and fresh mint.
Serve at room temperature.
© Copyright 2023 unless otherwise noted. New South Restaurant Group • 3904 Hardy St Hattiesburg MS 39402 • 601.264.0657