RobertStJohn.com
Grouper Orleans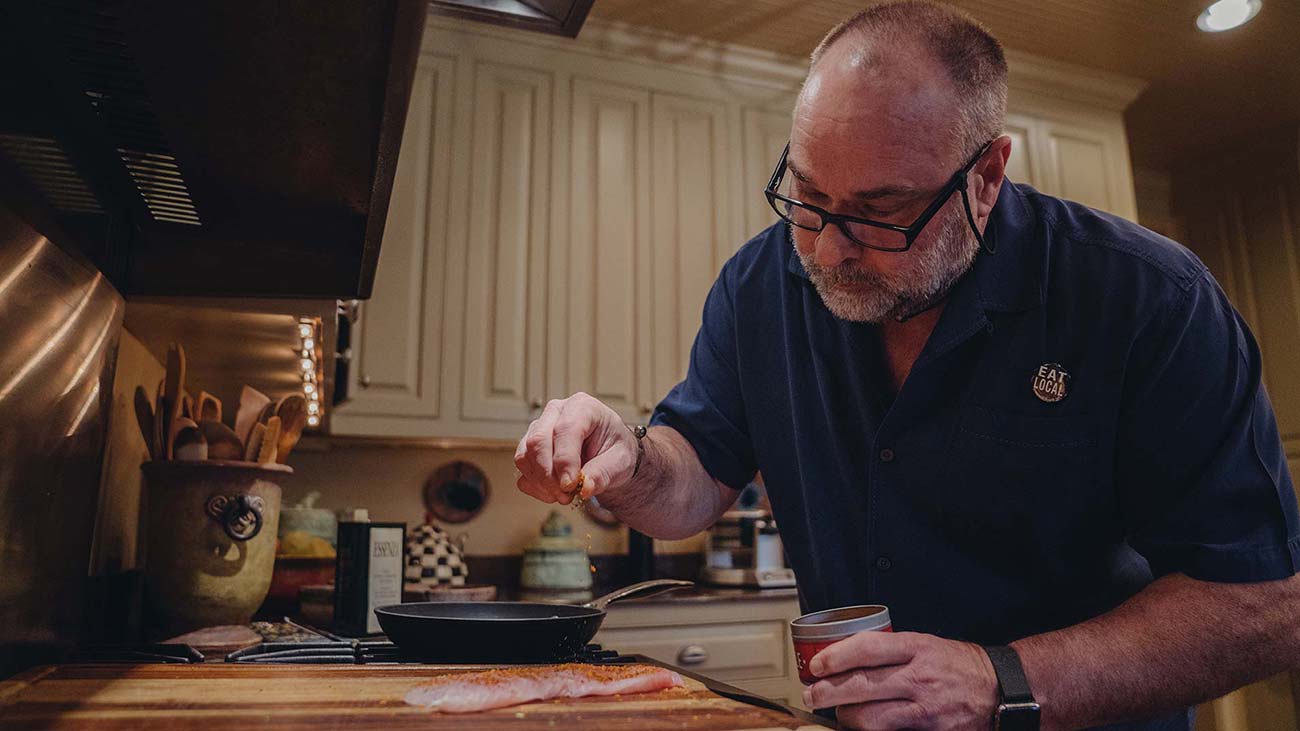 Ingredients
6 grouper filets
1/4 cup clarified butter
1 cup Seasoned Flour
1/2 pound shrimp, peeled and deveined
2 tbsp minced garlic
4 cups sliced mushrooms
1 1/2 cups sliced green onions
3 ounces white wine
Creole Cream Sauce
2 cups heavy cream
1 tbsp Creole Seasoning
2 tbsp Worcestershire sauce
2 tbsp hot sauce
1 tsp paprika
Parmesan Cream Sauce
1 quart heavy cream
1/2 pound Parmesan cheese, grated
1/3 pound Romano cheese, grated
2 teaspoons white pepper
1/8 teaspoon nutmeg
light blond roux– 3 tablespoons butter + 4 tablespoons flour
1 1/4 cups creole cream sauce
1/2 cup Romano cheese
1/4 cup parsley, chopped
1/4 cup Parmesan Cream Sauce
1/4 cup Romano cheese, grated
Instructions
Preheat oven to 350 degrees
Place seasoned flour into large shallow pan,.  Lightly flour filets.  Heater butter in a large skillet over medium high heat and lightly brown both sides of fish.  Place filets on baking sheet and cook in oven for 5- 10 minutes .
Sauté shrimp until they begin to turn pink.  Add mushrooms and cook until tender.  Add garlic and green onions and cook an additional 2-3 minutes.  Add creole cream sauce and Parmesan cream sauce and bring to a simmer.  Remove from heat; stir in cheese.  Divide evenly and spoon over fish.  Garnish with fresh parsley and grated Romano.
Yield:  6 servings
Creole Cream Sauce
Place all ingredients in a double boiler over medium high heat and reduce by 1/3 until thickened.
Parmesan Cream Sauce
Bring heavy cream to a boil.  Add cheese and stir well.  Add pepper and nutmeg.  Prepare roux.  Add roux to milk & cheese mixture and cool until thickened.
Yield:  1 quart
© Copyright 2023 unless otherwise noted. New South Restaurant Group • 3904 Hardy St Hattiesburg MS 39402 • 601.264.0657