RobertStJohn.com
Grilled Stuffed Tenderloin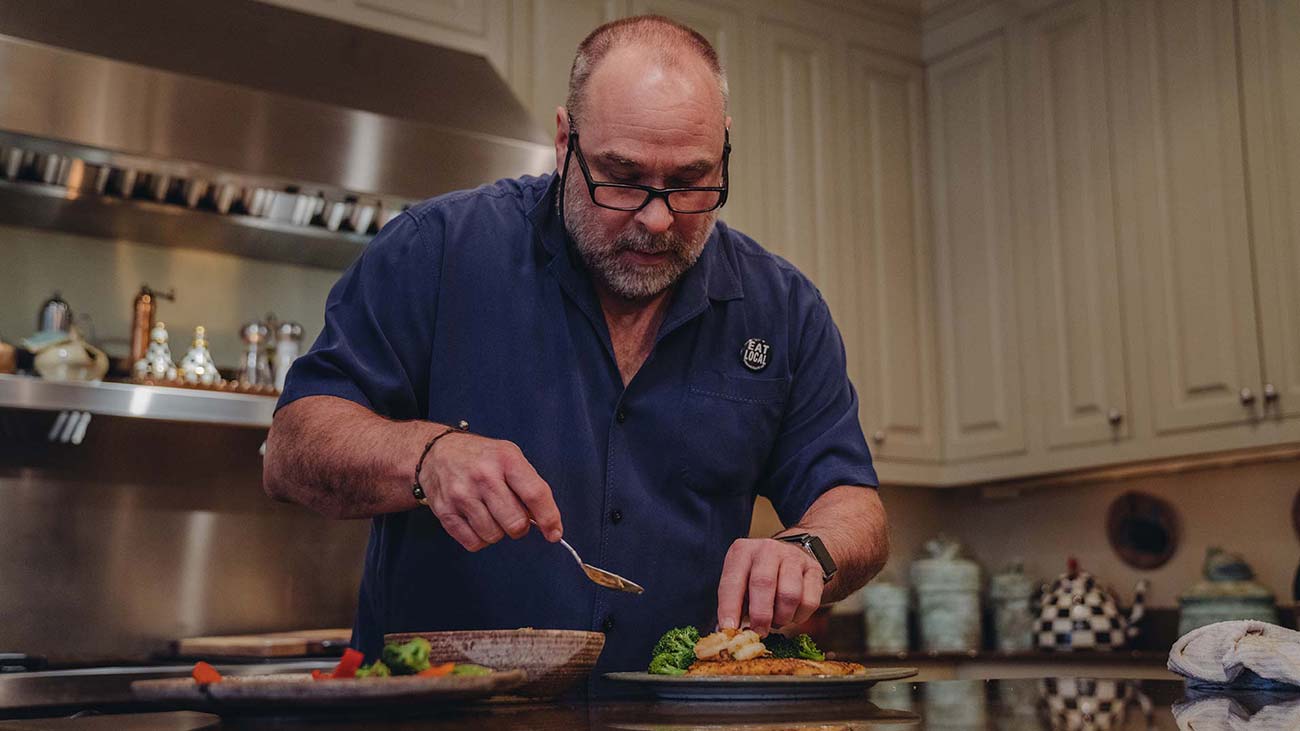 Ingredients
2 Tbl Olive Oil
1/4 cup Shallot, minced
1 Tbl Garlic, minced
2 tsp Kosher Salt
1 tsp Black Pepper, fresh ground
3/4 pound Fresh Spinach, cleaned and stems removed
1/4 cup Red Bell Pepper, roasted and peeled then small diced
1/4 cup Fresh Basil, chopped
1/4 pound Gorgonzola Cheese, crumbled
1 Center Cut Beef Tenderloin, 3 1/2-4 pounds
2 Tbl Steak Seasoning
Instructions
Heat olive oil in a large sauté pan over medium heat. Cook shallot, garlic, salt and pepper for 3-4 minutes, do not brown. Add spinach and cook until the spinach is wilted, approximately 1-2 minutes, stirring constantly.
Drain excess moisture and place spinach in a mixing bowl. Add roasted red bell peppers, basil and gorgonzola cheese.
Using a long narrow knife, make a hole tunneling through the center of the tenderloin and running the length of the meat. While the knife is still inserted in the beef, rotate it one full turn to create a larger opening. Fill the hole with the spinach mixture by stuffing the tenderloin from both ends. Use a wooden spoon to push the filling towards the center of the tenderloin.
Sprinkle the entire surface of the tenderloin with steak seasoning.
Prepare grill and sear tenderloin over direct medium heat for 15 minutes, turning one-quarter turn every 4-5 minutes during the searing process.
Once seared, move the tenderloin to cook over indirect heat until desired doneness is reached, 20-30 minutes for medium rare. Turn the tenderloin once every 15 minutes during this stage. Remove the tenderloin from the grill and allow to rest for 5-10 minutes before carving. Carefully cut tenderloin into one-inch thick slices and serve.
Yield: 6 servings
© Copyright 2023 unless otherwise noted. New South Restaurant Group • 3904 Hardy St Hattiesburg MS 39402 • 601.264.0657