RobertStJohn.com
Grilled Shrimp Tacos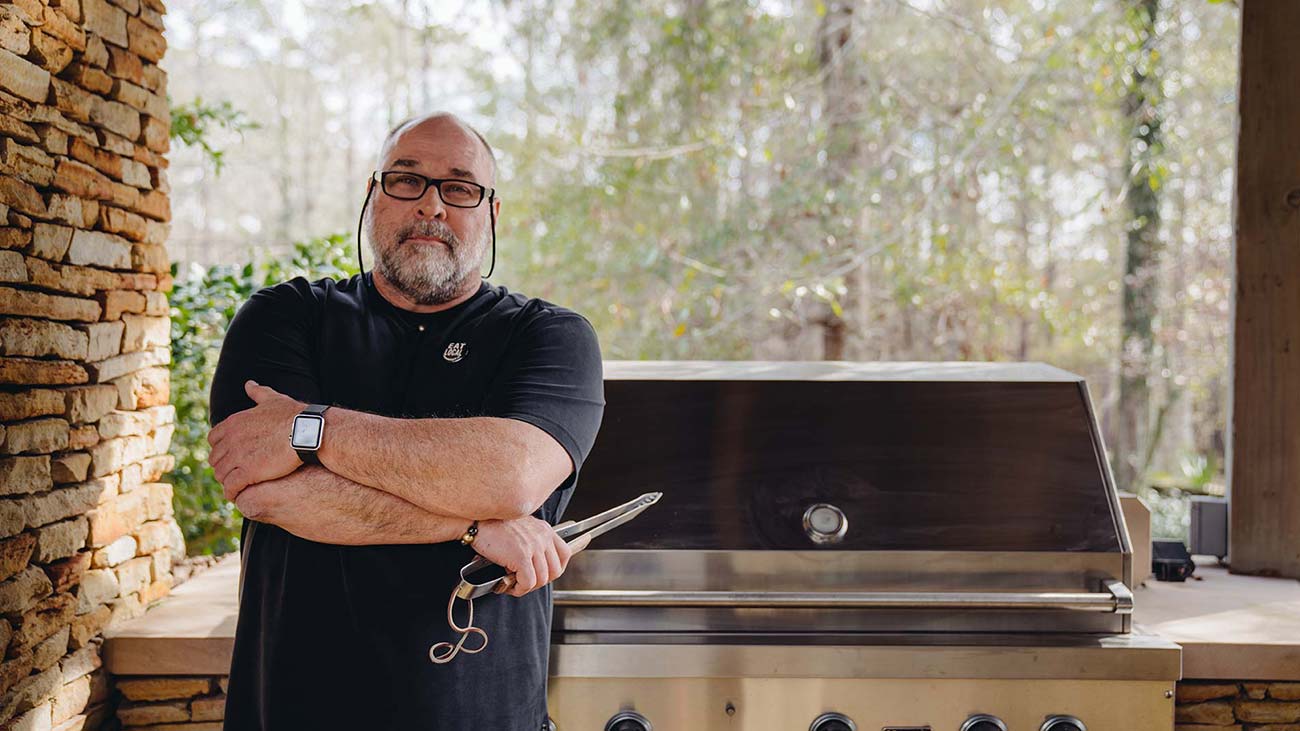 Ingredients
1/3 cup no-stick grilling marinade for shrimp
1/3 cup pineapple juice
2 tsp kosher salt
1 tsp fresh ground black pepper
1 tsp ground cumin
1 tsp chili powder
54 large shrimp, large (21-25 count), peeled and deveined
18 corn tortillas
1 1/2 cups green leaf lettuce, shredded
1 1/2 cups red cabbage, shredded
1 1/2 cups green cabbage, shredded
Fresh Fruit Pico di Gallo
1 cup                    tomatoes, small diced
1/4  cup               green onions, thinly sliced
2 Tbl.                    cilantro, chopped
2 tsp                     fresh jalapenos, seeds removed and minced
1/2 cup                 pineapple, small dice
1                          kiwi, peeled, small dice
1/2 cup                  fresh peach, peeled, small dice
1/2 cup                 orange segments
1/2 cup                 lime segments
1/2 tsp                   Salt
Jalepeno and Roasted Garlic Crème Fraiche
1 cup                   heavy whipping cream
2 tsp                    lemon juice
1/4 cup                sour cream
1 Tbl                   Canned Jalapeños, chopped fine
1/4 cup                Roasted Garlic Puree
1/2 tsp                 salt
Instructions
Prepare grill for direct high heat cooking.
In a large mixing bowl, mix the shrimp marinade and pineapple juice. Place shrimp in the bowl and toss with the marinade, coating well. Marinate for 30 minutes.
Combine the salt, cumin, coriander and chili powder and sprinkle on shrimp.
Prepare the grill. Place the grill screen on the grill and allow to get hot. Spread shrimp evenly over the screen and cook 6-8 minutes, turning once.
Wrap the tortillas in aluminum foil in groups of three. Warm the foil packages on the grill 4-5 minutes, turning once.
Combine the shredded lettuce and cabbages.
To serve, give each person a package of tortillas. Place 3 shrimp in each tortilla and fill
with shredded cabbage mixture. Add salsa and roasted-garlic crème fraiche to taste.
Fresh Fruit Pico di Gallo
Combine all ingredients together and refrigerate until ready to serve.
Jalepeno and Roasted Garlic Crème Fraiche
Combine heavy whipping cream and lemon juice in an airtight container and put it in a warm place 6-8 hours. (It should reach 85-95 degrees). Remove the cover and stir well. Refrigerate overnight.
After the crème fraiche has set, stir in the sour cream, peppers, roasted garlic and salt. Store refrigerated until ready to serve.
Yield: 6 servings
© Copyright 2023 unless otherwise noted. New South Restaurant Group • 3904 Hardy St Hattiesburg MS 39402 • 601.264.0657