RobertStJohn.com
Grilled Leg of Lamb with Raspberry Mint Sauce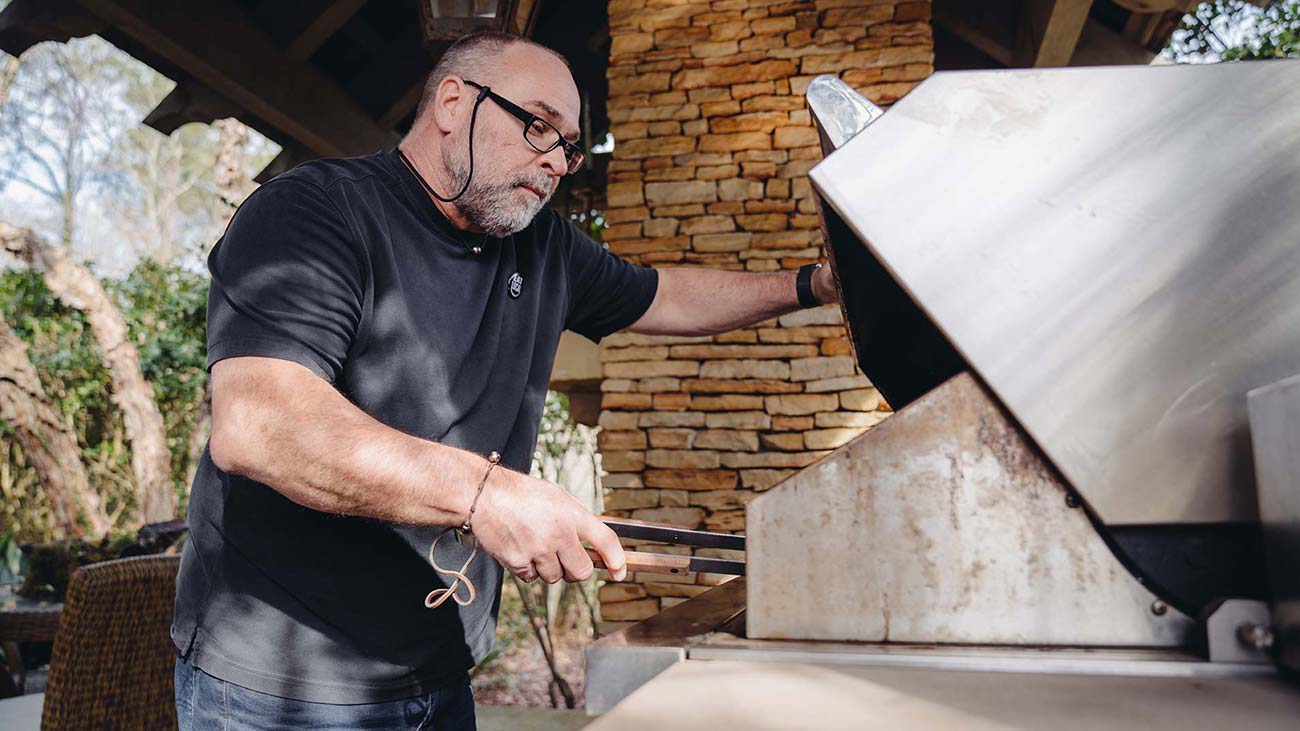 Ingredients
1/2 cup Roasted Garlic Puree (page xxx)
1/4 cup Olive Oil
1 Tbl Fresh Rosemary, chopped
1/4 cup Fresh Mint, chopped
2 Tbl Sherry Vinegar
1 Boneless Leg of Lamb, 3- 31/2 pounds, butterflied
1 Tbl Black Pepper, freshly ground
2 Tbl Kosher Salt
Raspberry Mint Sauce
3 Tbl Olive oil
2 Tbl Shallot, minced
1 cup Raspberries
1/ 2 cup Sugar
1 cup Red wine
1 1/ 2 cups Veal demi glace (page xxx)
3 Tbl Cold Unsalted Butter, cut into small cubes
1/2 tsp Kosher Salt
1 Tbl fresh Mint, chopped
Instructions
Place the garlic, oil, rosemary, mint and vinegar in a mixing bowl. Blend together using a wire whisk.
Trim any excess fat and sinew from the lamb. Lay the lamb on a flat surface, and spread half of the garlic mixture over one the surface. Roll the lamb tightly into a cylinder. Tie the lamb with butcher's twine so that it maintains the cylinder shape. Rub the outside of the lamb with the remaining garlic mixture, and sprinkle the surface with the salt and pepper. Allow the lamb to sit at room temperature 30-40 minutes before grilling.
Prepare the grill. Sear the lamb for 15-20 minutes over medium direct heat, turning every 3-4 minutes. Once the lamb has browned on all sides, continue cooking over medium indirect heat until the lamb has reached desired doneness, approximately one hour and fifteen minutes for medium rare. Remove the lamb from the grill and let rest 15 minutes before carving. Cut away the twine. Using a carving knife, cut lamb against the grain into 1/4-inch thick slices.
Serve with Raspberry Mint Sauce.
Raspberry Mint Sauce
In a saucepan over medium heat, combine raspberries, sugar, and red wine and simmer until most of the liquid is gone. Purée mixture and pass through a fine mesh strainer.
Return the strained mixture to a small sauce pot and add the demi glace. Bring the mixture to a simmer. Add the butter cubes while whisking briskly. Stir until all of the butter is incorporated. Remove the sauce from the heat and add salt and mint. Store in a warm place until needed.
© Copyright 2023 unless otherwise noted. New South Restaurant Group • 3904 Hardy St Hattiesburg MS 39402 • 601.264.0657