RobertStJohn.com
Grilled Lamb Chops with Roasted Garlic-Mint compound Butter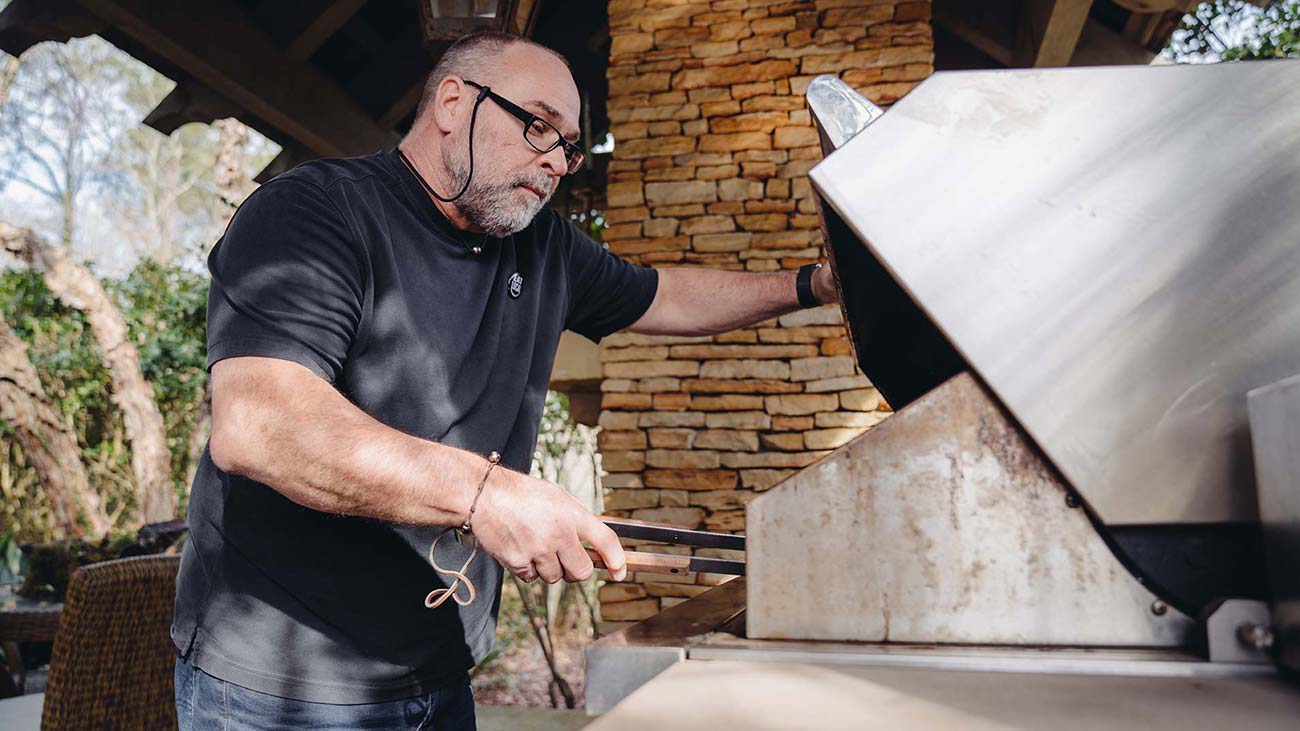 Ingredients
4 Racks of Lamb, cut into 16 double bone chops
1/3 cup no-stick grilling marinade for beef (page xxx)
1 Tbl Kosher Salt
1 tsp fresh ground black pepper
Roasted Garlic-Mint Compound Butter
1 tsp olive oil
2 tsp shallot, minced
1/2 cup roasted garlic puree (page xxx)
1 tsp kosher salt
2 Tbl Riesling wine
1/2 tsp freshly ground black pepper
1 Tbl mint jelly
2 Tbl fresh mint, chopped fine
3/4 cup unsalted butter, softened
1 tsp Worcestershire Sauce
1/2 tsp hot sauce
Instructions
Coat the surface of the lamb chops with the marinade. Marinade at room temperature 30 minutes. Sprinkle the chops with the salt and pepper.
Prepare the grill. Cook over direct medium heat until desired doneness is reached, approximately 12-14 minutes for medium rare. Remove from the grill and place on serving dishes. Top each chop with a compound-butter rosette and serve immediately.
Roasted Garlic-Mint Compound Butter
In a small sauté pan, heat the oil over low heat. Cook the shallot, garlic and salt 3-4 minutes. Add the wine, pepper and mint jelly and cook 5 more minutes, stirring often to prevent sticking and burning. Add the mint and cook for one more minute. Remove from the heat and cool completely.
Place the softened butter in a mixing bowl. Using a rubber spatula, blend together all of the ingredients.
Line a large platter or small baking sheet with wax paper. Place the butter in a pastry bag with a medium star tip attached. Pipe rosettes— approx 2-3 tsp. each— onto the waxed paper. You should have 16 rosettes when finished. Refrigerate until needed.
Yield: 8 servings
© Copyright 2023 unless otherwise noted. New South Restaurant Group • 3904 Hardy St Hattiesburg MS 39402 • 601.264.0657