RobertStJohn.com
Grilled Chicken with Peach BBQ sauce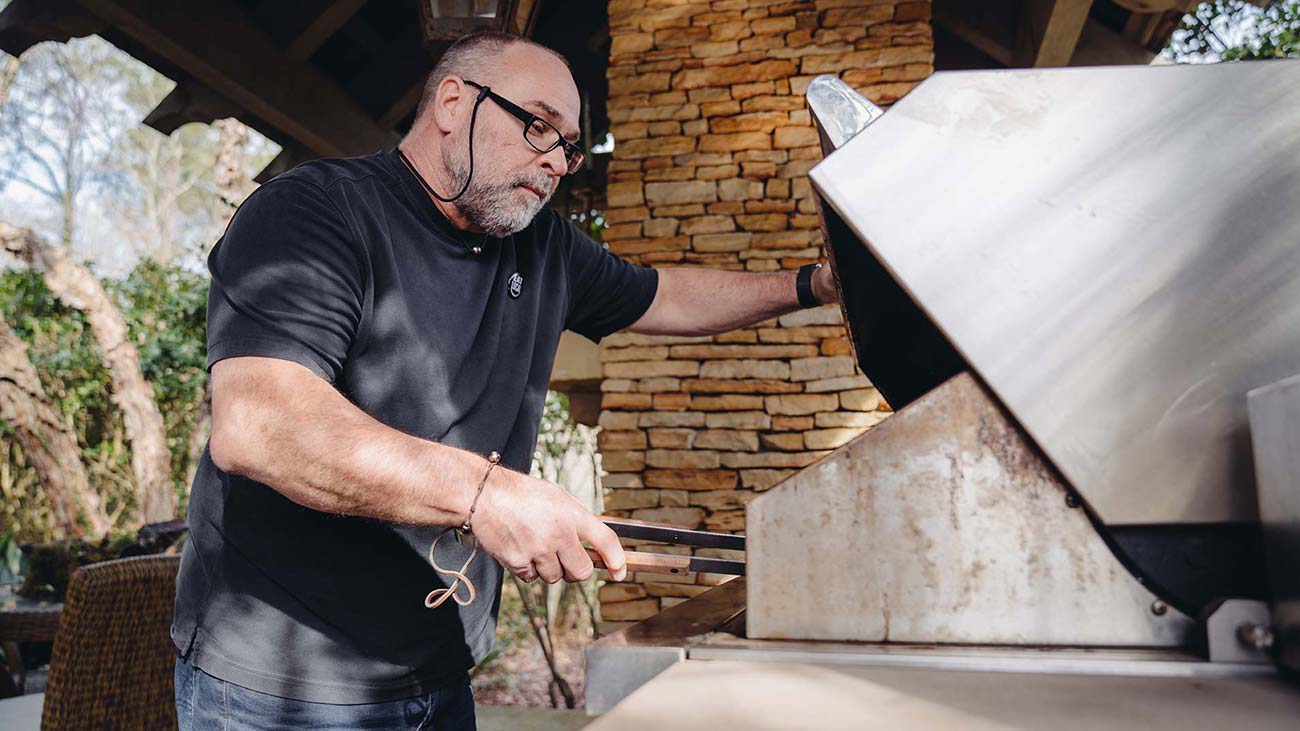 Ingredients
1 whole chicken (2 1/2-3 pounds), cut into 8 pieces
1 cup No-Stick Grilling Marinade for Poultry
1 Tbl poultry seasoning
2 tsp fresh ground black pepper
Peach BBQ Sauce
2 tsp bacon fat (or canola oil)
1/4 cup onion, small dice
2 tsp garlic, minced
1 tsp ginger, minced
2 tsp jalapeno, small dice
1 1/2 cup fresh peach, peeled diced ( frozen may be substituted)
2 tsp tomato paste
1/2 cup brown sugar
3/4 cup  ketchup
1/3 cup chicken stock or broth
1/4 cup orange juice
2 TBL rice wine vinegar
2 tsp soy sauce
1 tsp Worcestershire
1/2  cinnamon stick
1/8 tsp coriander
1/8 tsp cumin
1/8 tsp chili powder
1 tsp kosher
1/4 tsp black pepper, freshly ground
1/4 tsp dry thyme, or 1 tsp fresh chopped thyme
Instructions
Brush the skin of the chicken pieces and marinate at room temperature one hour. Sprinkle the chicken with the poultry seasoning and black pepper.
Prepare the grill. Cook chicken leg and thigh pieces over direct medium heat. Cook 5-6 minutes. Add the breast and wing pieces to the grill, skin side down and cook all chicken 6-7 more minutes. Turn the chicken over and cook 7-9 minutes more. It is important to keep the lid closed to prevent the fire from flaring up and charring the skin.
Brush the chicken with the barbecue sauce twice during the last 8 minutes of cooking and serve the remaining barbecue sauce on the side.
Yield: 4-6 servings
Peach BBQ Sauce
Preheat oven to 300.
In a 2-quart oven-proof sauce pot, heat the bacon fat over low heat. Cook onions 5 minutes, stirring occasionally. Add the garlic, ginger, jalapeno and peaches. Increase the heat to medium and cook 10 minutes, stirring often. Add the tomato paste and cook for 5 minutes more. Stir in the remaining ingredients. Cover the sauce and place in the preheated oven.
Bake for 45 minutes, stirring occasionally. Remove the cover and bake for 30 more minutes.
The sauce may be made days in advance, and best when a day or two old.
Yield: 2 1/2 cups
© Copyright 2023 unless otherwise noted. New South Restaurant Group • 3904 Hardy St Hattiesburg MS 39402 • 601.264.0657