RobertStJohn.com
Grillades & Grits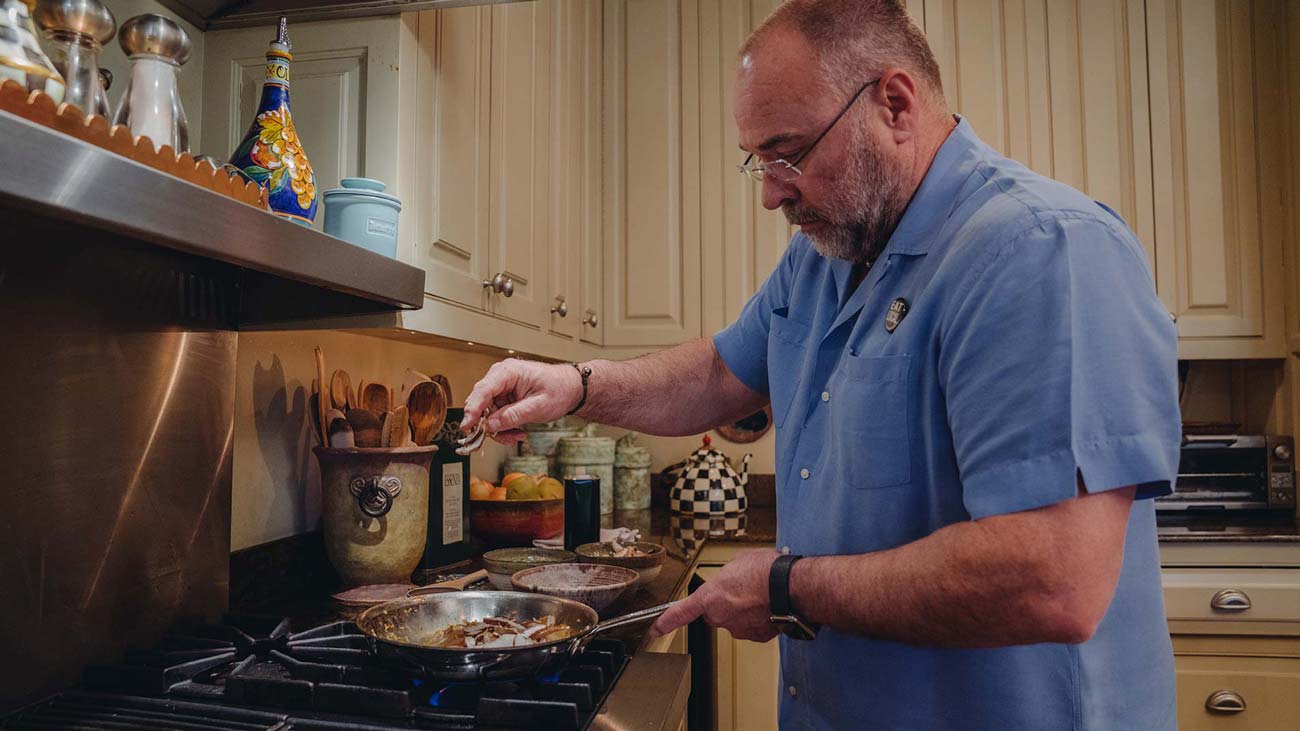 Ingredients
2 lbs Veal top round cut into two-inch strips
2 tsp Kosher salt
1 Tbl Black pepper, fresh ground
1 /2 cup Bacon grease (or canola oil)
3 /4 cup Flour
3 /4 cup Onion, diced
1 /4 cup Shallot, minced
1 /2 cup Celery, diced
Garlic Cheese Grits
1 Tbl Bacon grease or oil
1 Tbl Garlic, minced
1 tsp Salt
2 cups Milk
2 cups Chicken broth
1 cup Grits
1 tsp Creole Seasoning
1 tsp Hot Sauce
8 oz Sharp cheddar cheese, shredded
4 oz Cream cheese
1 tsp Garlic, minced
3 /4 cup Green bell pepper, diced
1 /2 tsp Dried thyme
3 cups Chicken broth, hot
1 cup Tomatoes, peeled, large dice
1 /2 cup Red wine
2 tsp Hot Sauce
1 Bay leaf
1 tsp Salt
Instructions
Place one to two tablespoons of the bacon grease in a large heavy skillet and place on high heat. Season meat with one teaspoon of the fresh ground pepper and the kosher salt. Place the meat in hot skillet. Once browned, remove meat from the skillet.
Place the remainder of the bacon grease into skillet. Once melted, lower heat and slowly stir in flour. Cook three to four minutes. Add onion, shallot, celery, peppers, thyme and garlic. Continue to cook roux mixture for four to five minutes. Using a wire whip stir in the hot chicken broth, red wine, bay leaf and tomatoes and bring to a simmer.
Add veal back to the mixture and cook over a very low heat for two to three hours, stirring occasionally. When meat is tender stir in hot sauce, the remaining black pepper and salt.
Prepare garlic cheese grits during the last 30 minutes of cooking. Spoon grits onto a serving dish and top with grillades. Yield: eight servings
Garlic Cheese Grits
Melt bacon grease over low heat in a 1 1/2 quart sauce pot. Add garlic and salt and cook for one to two minutes being careful not to brown the garlic. Add milk and broth and increase heat. Bring to a simmer and slowly pour in the grits. Lower heat and cook grits for 15 minutes, stirring often.
Add remaining ingredients and stir until cheeses are melted. Serve immediately.
Yield: eight servings
© Copyright 2023 unless otherwise noted. New South Restaurant Group • 3904 Hardy St Hattiesburg MS 39402 • 601.264.0657