RobertStJohn.com
Green Bean Casserole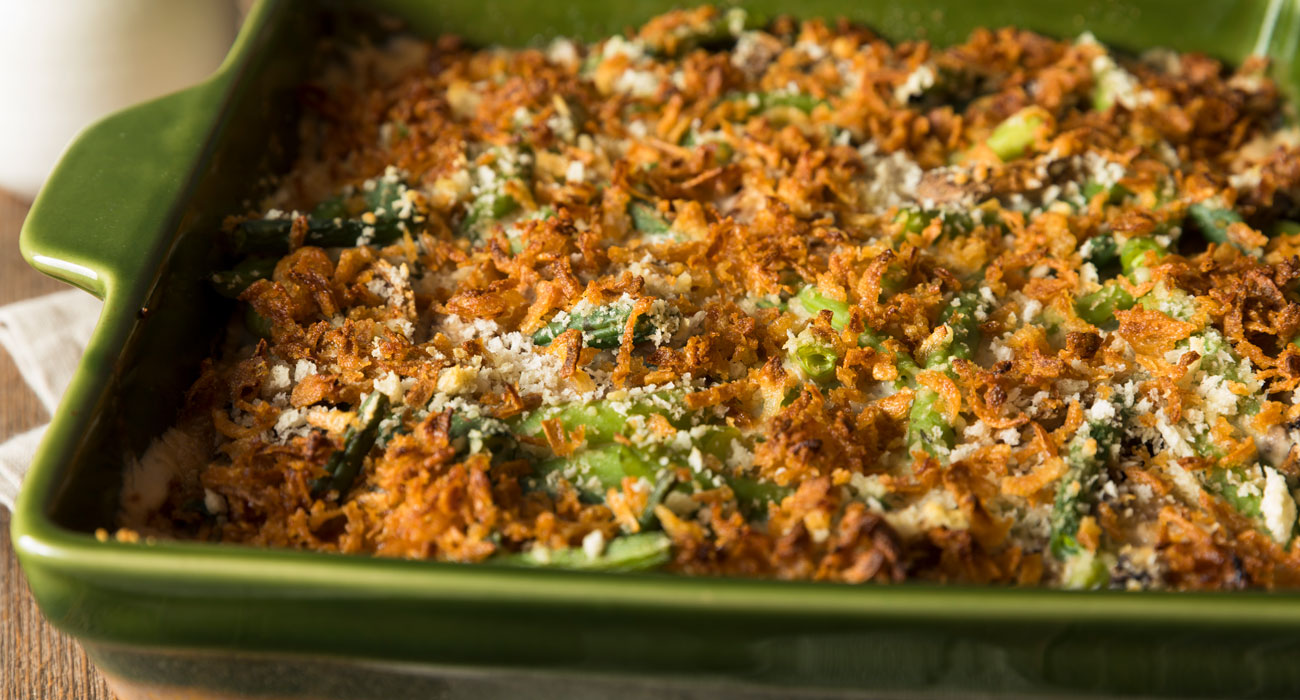 Ingredients
1 quart Chicken Broth
4 cans Green Beans, drained (14.5 oz cans)
1/4 cup Bacon, very small dice
1/2 cup Yellow Onion, small dice
1/4 cup Red Bell Pepper, small dice
1/4 cup Green Bell Pepper, small dice
2 tsp Garlic, minced
1 tsp Creole Seasoning
1 tsp Black Pepper
1 cup Sour Cream
1/2 cup Sharp Cheddar, shredded
1 cup Panko bread crumbs
1/3 cup Parmesan Cheese, grated
1/4 cup Parsley, freshly chopped
2 Tbl Melted Butter
Instructions
Preheat oven to 350.
In a large saucepot, bring chicken broth to a boil. Place green beans in the broth and gently simmer 10 minutes. Drain the green beans.
Heat a medium sized sauté pan over medium- high heat. Place the bacon in the pan and cook it until it become brown and crispy. Stir often to prevent burning. Add the onion and peppers and sauté for three minutes. Add garlic, Creole seasoning, black pepper and cook for an additional three minutes.
Combine green beans, sautéed bacon and vegetable mixture, sour cream, and cheddar in a large stainless steel bowl. Place in a 2 quart baking dish. Cover the dish with foil and bake for 20 minutes.
Combine the bread crumbs, parmesan cheese, parsley and melted butter. Remove the foil and top with the bread crumb mixture. Bake for 10-15 more minutes, until the topping is light brown in color. Let casserole sit for 10 minutes before serving.
Yield: 8 servings
© Copyright 2023 unless otherwise noted. New South Restaurant Group • 3904 Hardy St Hattiesburg MS 39402 • 601.264.0657