RobertStJohn.com
Eggplant Parmesan
I love this recipe. It's probably one of my top three recipes in this book. Unlike most Italian-American restaurant preparations, the eggplant is not fried. Yet, like most great authentic Italian dishes it uses minimal ingredients, and the procedure is simple and uncomplicated. Make sure to use the absolute best buffalo mozzarella and Parmigiano Regianno you can find.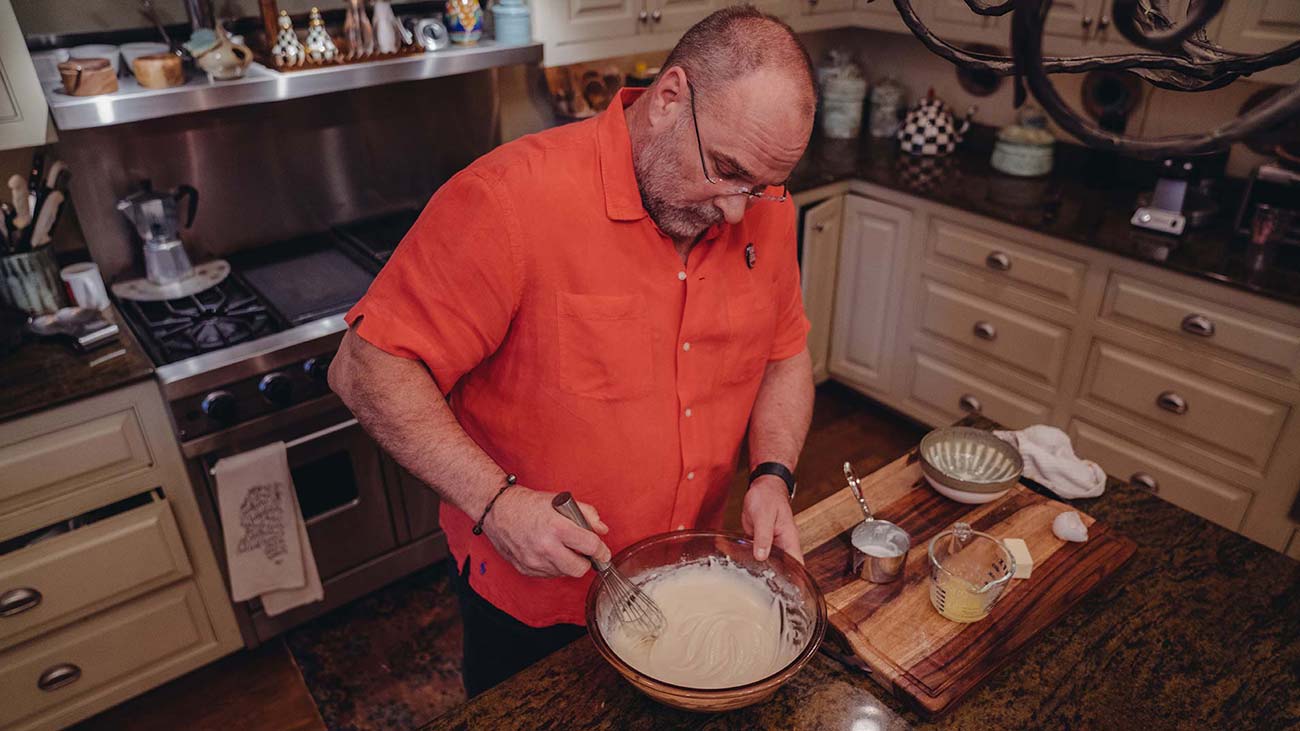 Ingredients
¼ cup Extra virgin olive oil
4 Large eggplants, about 4 lbs.
2 tsp Kosher salt
1 tsp Fresh ground black pepper
4 cups Marinara (see recipe)
1 cup Fresh basil chiffonade, loosely packed
2 lbs. Fresh buffalo mozzarella, sliced 1/8" thick
1 cup Parmigiano Reggiano, grated
½ cup Italian bread crumbs
Instructions
Preheat the oven to 450.
Peel and slice the eggplants about 1"-1 ½" thick, getting 6 pieces out of each eggplant. Sprinkle the eggplant slices with 1 tsp of the salt and set aside for 30 minutes to draw the moisture out of them. Use the oil to lightly grease a couple baking pans and season the eggplant with the remaining salt and pepper. Place the slices on the oiled pans and place in the oven until the tops begin to brown, about 10-15 minutes. Remove and transfer to a plate to cool at room temperature.
Lower the oven to 350.
In a lightly oiled 11" x 13" baking dish, place the 8 largest slices of eggplant, spaced evenly. Spoon ¼ cup of marinara over each slice, followed by 1 Tbl basil chiffonade, 1 slice buffalo mozzarella and 1 tsp grated cheese. Place the smaller slices of eggplant over this layer and repeat until all ingredients have been used.
Sprinkle 1 Tbl breadcrumbs over each stack and bake uncovered until the cheese melts and the tops begin to brown. This should take about 20 minutes. Serve immediately.
© Copyright 2023 unless otherwise noted. New South Restaurant Group • 3904 Hardy St Hattiesburg MS 39402 • 601.264.0657