RobertStJohn.com
Dr. Pepper Glazed Ham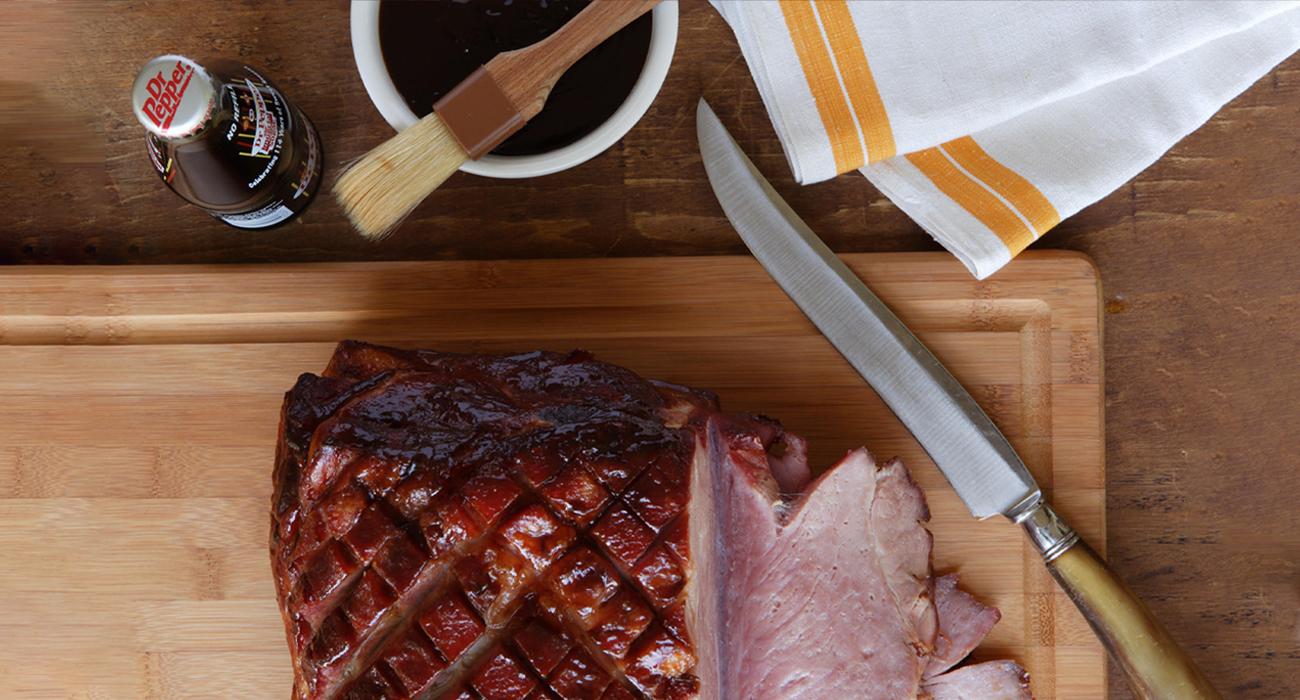 Ingredients
24 ounces Dr. Pepper
2 Tbsp Mayhaw Jelly (or Muscadine Jelly)
2 Bay leaves
2 Tbsp Pickapeppa Sauce
1 tsp garlic, minced
2 Tbsp Shallot, minced
5 Whole cloves
1 Cinnamon stick
1 Tbsp fresh orange zest
1/4 cup Orange juice, freshly squeezed
2 tsp Lemon zest
2 tsp Lime zest
1 Cured smoked ham, 10-12 lbs.
1 tsp Dry mustard
1 cup Light brown sugar
Instructions
Prepare grill for low heat cooking and soak 4 cups of wood chips.
Combine all ingredients for the glaze in a small saucepot.
Place over medium heat and simmer 30 minutes. Strain the liquid and discard the solids. Return the mixture to the stove and reduce to 3/4 cup liquid.
Place the ham on a v-shaped baking rack in a disposable roasting pan. Using a paring knife, cut shallow slits in a criss-cross pattern on the top of the ham. Spoon two tablespoons of the glaze over the top of the ham.
Combine the dry mustard and brown sugar, and press the mixture over the entire surface of the ham. Pour one cup of water into the bottom of the roasting pan.
Prepare the grill or smoker. Add wood chips to the charcoal as needed. Cook over indirect medium heat to an internal temperature of 165 degrees. Spoon 1-2 tablespoons of the glaze over the ham every 15-20 minutes until all of the glaze is gone. Cover as much of the surface of the ham as possible.
Allow the ham to rest for 20-30 minutes before carving.
Yield:
10-14 servings
If you don't have an aluminum disposable roasting pan, use a roasting pan that has been completely lined with foil
© Copyright 2023 unless otherwise noted. New South Restaurant Group • 3904 Hardy St Hattiesburg MS 39402 • 601.264.0657