RobertStJohn.com
Crabmeat Imperial
If you love crabmeat, you'll love this dish. If you don't love crabmeat, this dish will win you over. Perfect when paired with champagne. Serve with toasted French bread croutons or a buttery cracker.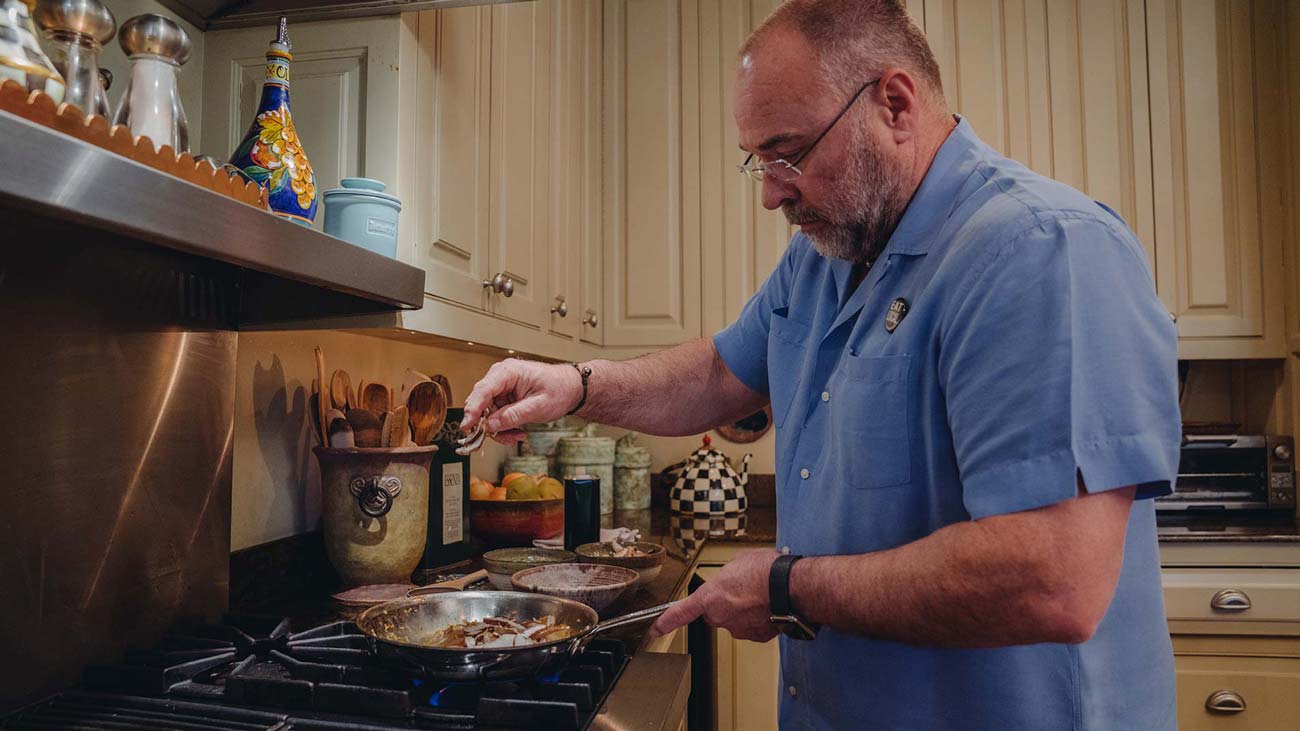 Ingredients
1 Tbsp butter
1 /4 cup small dice yellow onions
1 /4 cup minced shallots
1 /2 cup small dice red peppers
1 /4 cup small dice green peppers
1 /4 cup small dice celery
1 /4 teaspoon salt
1 /8 teaspoon cayenne
1 Tbsp minced garlic
2 tablespoons chopped parsley
1 /2  cup chopped green onions
1 1 /2  cup homemade or prepared mayonnaise
3 tablespoons Creole Mustard
1 tbsp sherry vinegar1 /4 teaspoon hot sauce
2 pound lump crab meat
1 /4 cup dried Japanese bread crumbs
3 Tbsp sour cream
2 tsp lemon juice
2 tsp creole seasoning
2 Tbsp chopped chives, garnish
Instructions
Preheat the oven to 400 degrees.
In a large sauté pan, heat the olive oil. When the pan is hot, add onions, shallots, peppers, celery, salt and cayenne. Sauté for 5 minutes or until the vegetables are soft and translucent. Add garlic, parsley and green onions, sauté for one or two minutes. Remove from the heat and cool 30 minutes.
In a mixing bowl, combine one cup of the mayonnaise, mustard, vinegar and hot sauce. Add cooled vegetables and mix until thoroughly incorporated. Gently fold in the crabmeat. Spoon the mixture into an 8"x 8"baking dish.
In a separate bowl, combine the breadcrumbs, the remaining 1 /2 cup of mayonnaise, sour cream, lemon juice and the Creole seasoning together. Spread the bread crumb mixture on top of the crab mixture.
Bake 20 minutes, or until bubbly and brown. Garnish with chopped chives.
Yield: 8-12
© Copyright 2023 unless otherwise noted. New South Restaurant Group • 3904 Hardy St Hattiesburg MS 39402 • 601.264.0657