RobertStJohn.com
Crab Bread with Tomato Basil Concasse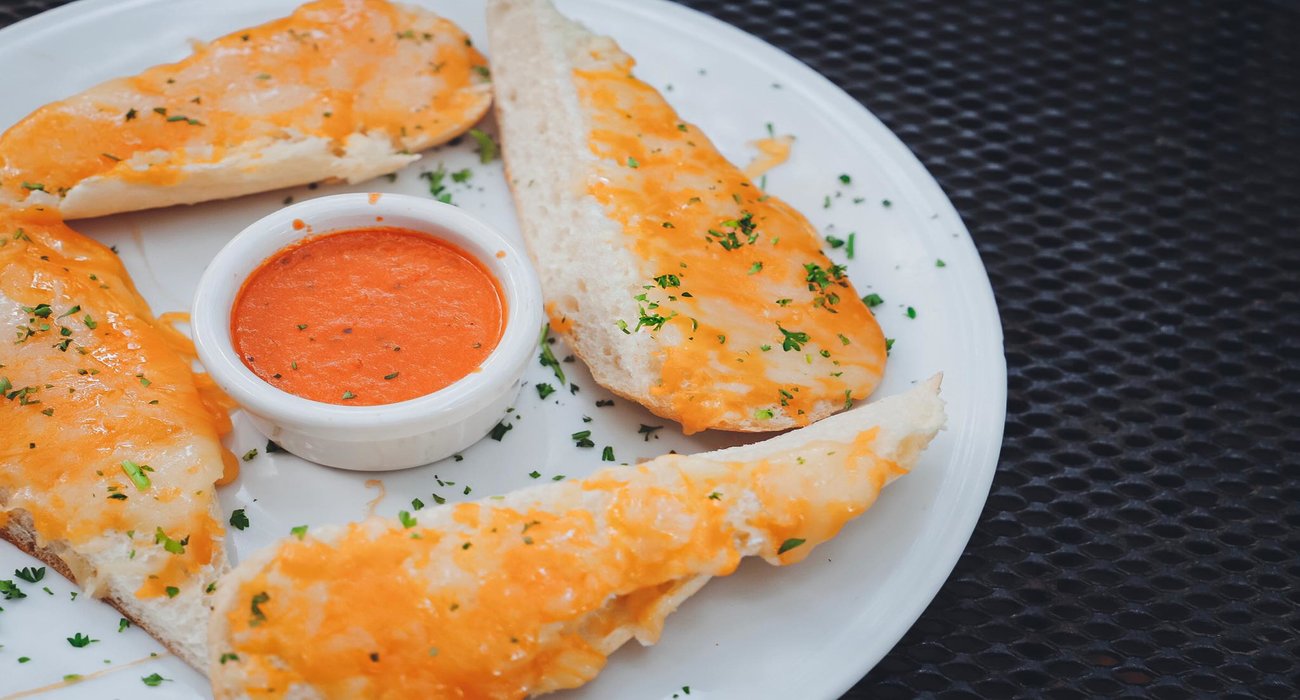 Ingredients
1 Tbsp Butter
2 Tbsp Green onions, thinly sliced
1/4 cup Diced red peppers
1 tsp Dalt
1/4 tsp Black pepper, freshly ground
2 Tbsp Butter
2 Tbsp flour
1/3 cup Hot chicken stock
2 Tbsp Sherry
1 tsp Lemon juice
1 Tbsp Hot sauce
1/2 pound Cream cheese, softened
1/2 cup Swiss cheese, grated
1/2 pound Fresh lump crab meat
2 Tbsp Parsley, chopped
1 French Baguette, 16-20 inches in length
Tomato Basil Concasse
1 1/2 cups Fresh Ripe Tomatoes, seeds removed, very small dice
1/2 tsp garlic, minced
1/2 tsp salt
1/8 tsp freshly ground black pepper
1 Tbsp freshly squeezed orange juice
1/4 cup fresh basil, chopped
2 Tbsp extra virgin olive oil
Combine all ingredients.
Yield: 8 servings
Instructions
Crab Bread
Preheat oven to 375.
Melt the first tablespoon of butter in a small sauté pan over a medium heat. Add in the green onions, peppers, salt and pepper and cook for 1 minute. Remove from the heat and set aside.
Melt the remaining two tablespoons of butter in a small sauté pan over a low heat. Stir in the flour to form a roux. Cook the roux for 3-4 minutes, stirring constantly, being careful not to burn the roux.
Whisk the hot stock, sherry and lemon juice into the roux mixture. Cook for 3-4 more minutes and remove from heat.
Place the softened cream cheese into an electric mixing bowl, and using the paddle attachment, beat it for 2-3 minutes. Scrape down the bowl using a rubber spatula, and then add the thickened stock mixture, peppers and onions and Swiss cheese. Blend until smooth.
Next gently fold in the crab and parsley using a rubber spatula.
Cut the baguette in half lengthwise and spread the crab mixture evenly over the bread.
Place the two halves on a foil lined baking sheet and bake for twenty minutes.
Remove the bread from the oven and allow cool for 3-4 minutes. Using a sharp serrated knife, cut 2" wide slices. Arrange slices on a serving dish and top each piece with a teaspoon of the tomato concasse mixture.
Tomato Basil Concasse
Combine all ingredients.
Yield: 8 servings
© Copyright 2023 unless otherwise noted. New South Restaurant Group • 3904 Hardy St Hattiesburg MS 39402 • 601.264.0657