RobertStJohn.com
Cioppino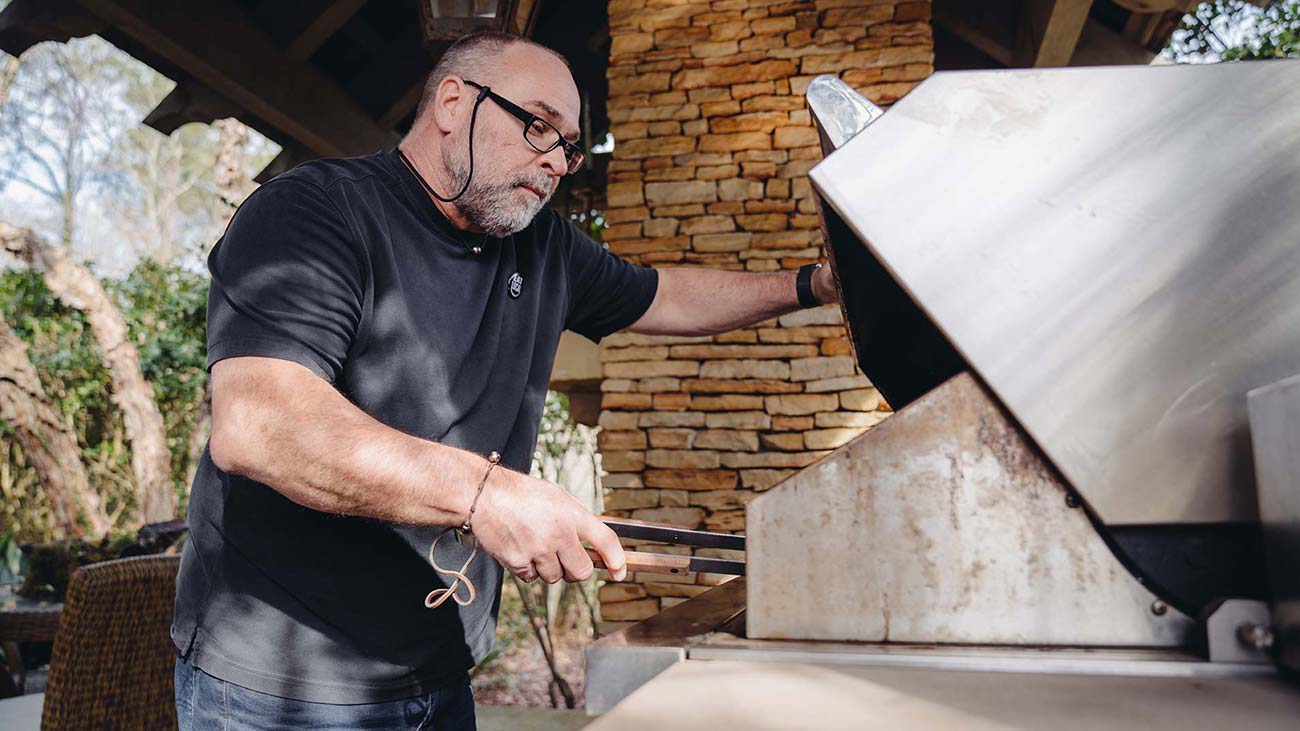 Ingredients
Cioppino Stock
1/4 cup olive oil
1/4 cup butter
1 1/2 cups onions, medium dice
1 1/2 cups leeks, hand-chopped fine, white part only
1 1/2 cups green bell peppers, medium dice
1 1/3 cups carrots, small dice
1 cup celery, medium dice
1/4 cup fresh fennel, chopped fine
2 1/2 quarts canned crushed tomatoes, highest quality, drained, liquid reserved (approximately 4 28-ounce cans drained and rough chopped)
1 6-ounce can tomato paste
2 1/2 quarts water (or stock)
2 tablespoons salt
1 1/2 tablespoons Tabasco sauce
1 tablespoon oregano, dried
1 tablespoon basil, dried
1 tablespoon thyme, dried
3 bay leaves
1 Tablespoon Creole Seasoning
Cioppino
1/2 cup No-Stick Grilling Marinade for Seafood
1 1/2 pounds shrimp, 21-25 count, peeled, deveined, and skewered
1 pound sea scallops skewered
1 pound redfish pieces
1 pound fresh mussel, cleaned and beards removed
2 Tbl Olive Oil
1 Tbl garlic, minced
1/2 cup white wine
1 1/2 quart cioppino stock
1 pound jumbo lump crabmeat
Toasted French bread
Instructions
Cioppino Stock
Sauté onions in olive oil and butter. Do not brown. Add leeks, green pepper, carrots, celery, and fennel and cook 5–10 minutes until soft. Add remaining ingredients and bring to a boil. When stock begins boiling, reduce heat immediately. Cover and simmer 2 hours stirring frequently. This stock should be made a day ahead of time and refrigerated.
Yield: 1 1/4 gallon
Cioppino
Fresh chopped parsley for garnish
Rub the surface of the shrimp, scallops and redfish with the no-stick seafood marinade and refrigerate for 20-30 minutes.
Prepare the grill. Cook the seafood over direct high heat for 6-8 minutes, turning once while cooking. Remove the seafood from the grill, and cool slightly.
Heat the olive oil in a large sauce pot over low-medium heat. Add the garlic and cook for one minute. Add the wine to the pot and reduce by half. Next, add the cioppino stock to the pot and bring it to a simmer. Remove the shrimp and scallops from the skewers and cut the grilled fish into 1/2 inch cubes. Add the mussels and cook until they pop open, about 6-7 minutes. Once the stock is simmering, add the grilled seafood and jumbo lump crab. Divide the cioppino into serving dishes and garnish with parsley.
Yield: 6–10 servings
© Copyright 2023 unless otherwise noted. New South Restaurant Group • 3904 Hardy St Hattiesburg MS 39402 • 601.264.0657