RobertStJohn.com
Chicken Pie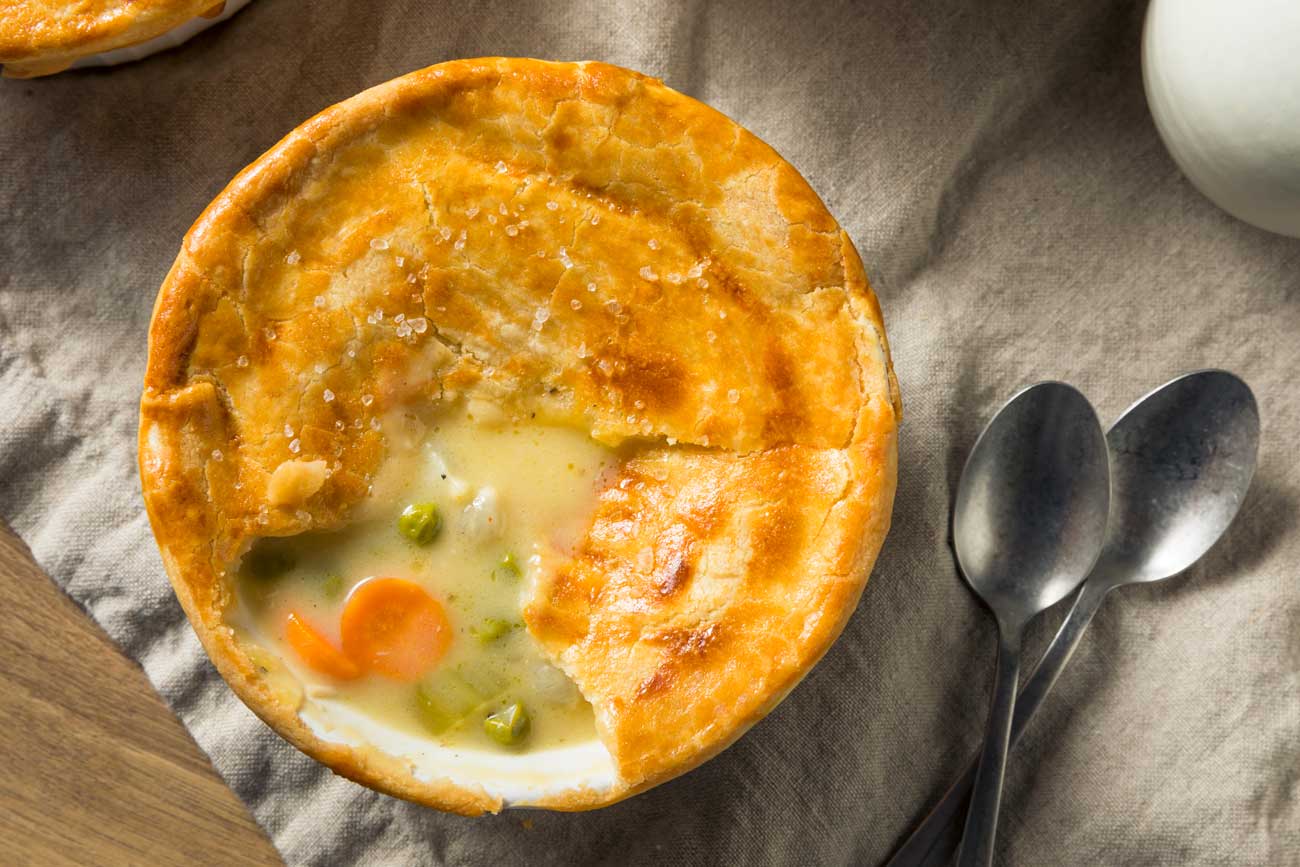 Ingredients
1 /2 cup Butter
1 /2 cup plus 1 Tbl Flour
1 tsp Celery salt
1 tsp Salt
1 tsp Black pepper
1 /4 cup Onion, minced
3 cups Chicken broth, hot
1 /2 cup Half and Half
1 Tbl. Worcestershire
1 1 /2 cups Chicken, cooked, diced
Instructions
Preheat oven to 325
Melt butter in a medium-sized skillet over low heat. Add flour to make a roux. Cook 6-7 minutes to make a light, peanut butter-colored roux. Add onion and seasonings. Cook five minutes more. Slowly add hot broth and stir until smooth. Simmer 10 minutes. Add half and half and cooked chicken. Remove from the heat and allow the mixture to cool in the refrigerator for 30 minutes.
Biscuit Topping Ingredients
1 cup Self-rising flour
1 tsp Sugar
1 /2 tsp Salt
1 /4 tsp Baking soda
1 /4 tsp Baking powder
1 /4 cup Crisco
1 /2 cup Buttermilk
1 recipe Pie Crust
For the biscuit dough: combine dry ingredients and mix well. Cut in shortening until mixture resembles coarse breadcrumbs. Gently fold in buttermilk and mix until a ball forms. Roll out piecrust and place in a nine-inch pie tin. Spoon chicken mixture into pie shell. Drop spoonfuls of biscuit mix over the surface of the pie.
Bake 45 minutes. Let cool 20 minutes before serving. Yield: 8 servings
© Copyright 2023 unless otherwise noted. New South Restaurant Group • 3904 Hardy St Hattiesburg MS 39402 • 601.264.0657