RobertStJohn.com
Chicken Parmesan
This is a dish I used to offer as a feature in the Crescent City Grill, and it made its way to the menu at Tabella. It's one of the best-selling entrees on the menu, probably due to its universal appeal.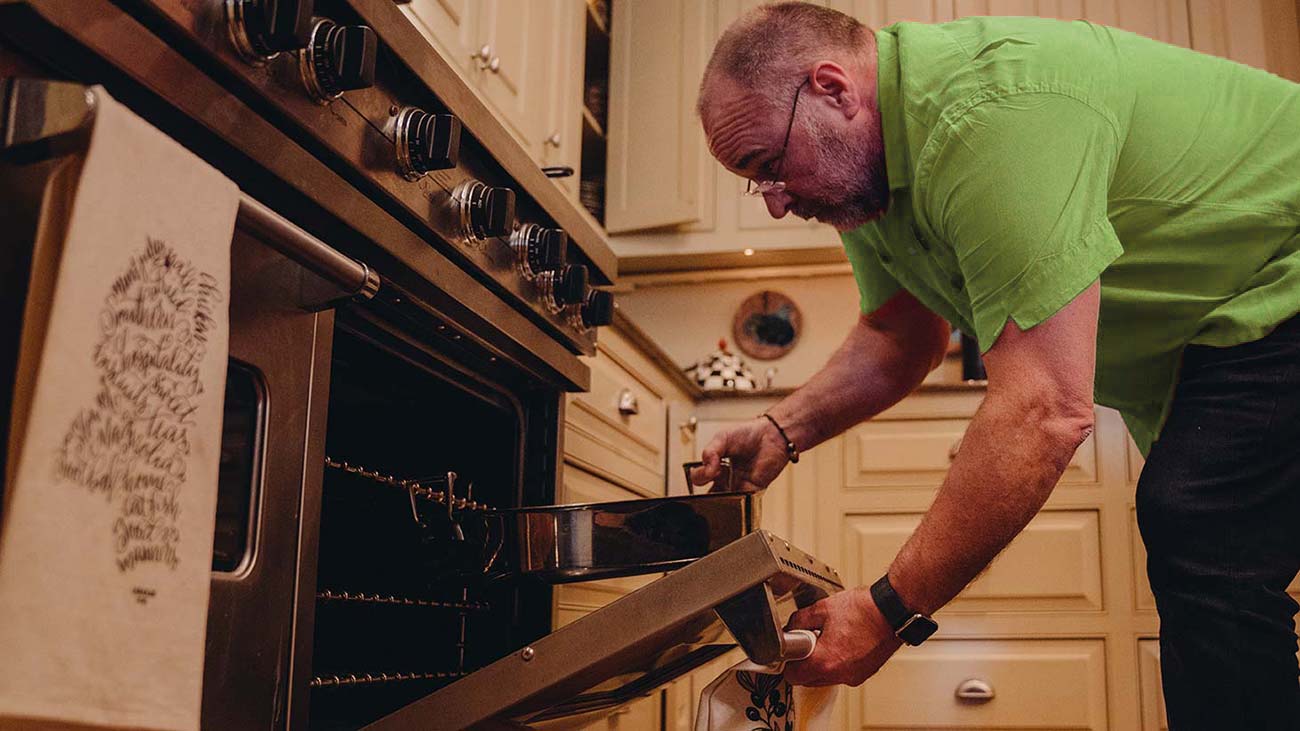 Ingredients
8 each  – 4-5 oz. chicken breasts, butterflied, split in half, pounded thin
2 tsp Kosher salt
2 tsp Fresh ground black pepper
1 cup All-purpose flour
1 Tbl House seasoning blend (see recipe)
4 Whole large eggs
1 cup Whole milk
3 cups Italian bread crumbs
2 ½ cups Parmigiano Reggiano, grated
2 Tbl Italian flat-leaf parsley, chopped
½ cup Extra virgin olive oil
3 cups  Marinara (recipe xxx)
16 – ¼" thick slices fresh Buffalo mozzarella (about 1 lb.)
¼ cup  Fresh basil chiffonade, loosely packed (about 6-8 large leaves)
Instructions
Preheat oven to 350.
Season the chicken with the salt and pepper. To setup a breading station, combine flour with the House seasoning in a bowl. In another bowl beat eggs with the milk. Combine the breadcrumbs, 1 cup of the grated cheese and parsley in a third bowl. Working in small batches, lightly coat each breast in the flour. Shake off any excess flour and transfer to the egg wash just long enough to coat and immediately transfer to the breadcrumbs, coating them thoroughly.
Heat the oil in a large skillet over medium-high heat. Add the chicken in small batches and lightly brown for 2-3 minutes on each side. Work in small batches so as not to overcrowd the skillet. Transfer them to a sheet pan lined with paper towels to drain excess oil.
Lightly oil an 11" x 13" baking dish and cover the bottom with 1 cup of the marinara. Arrange the chicken over the sauce, overlapping them if necessary. Sprinkle the chicken with ½ cup grated cheese and cover with the remaining marinara. Top with the mozzarella slices, spacing them evenly, and the remaining grated cheese. Cover with foil and bake until heated throughout and bubbling, about 20-30 minutes. Remove the foil and brown the top briefly under the broiler if desired.
Stack the basil leaves, roll them tightly and slice thin to make basil chiffonade. Allow to cool slightly before serving and top with the basil chiffonade.
© Copyright 2023 unless otherwise noted. New South Restaurant Group • 3904 Hardy St Hattiesburg MS 39402 • 601.264.0657