RobertStJohn.com
Chicken Cacciatore
As a kid, I always though Chicken Cacciatore was a dish invented by Americans and served only in the states. Though one night in the kitchen of our Tuscan villa I watched a local woman named Rosanna make the most flavorful cacciatore I had ever eaten— effortlessly. Its' chicken or rabbit cooked hunter's style in one pot, and perfect for a winter night one-dish supper (even better if you're in Tuscany).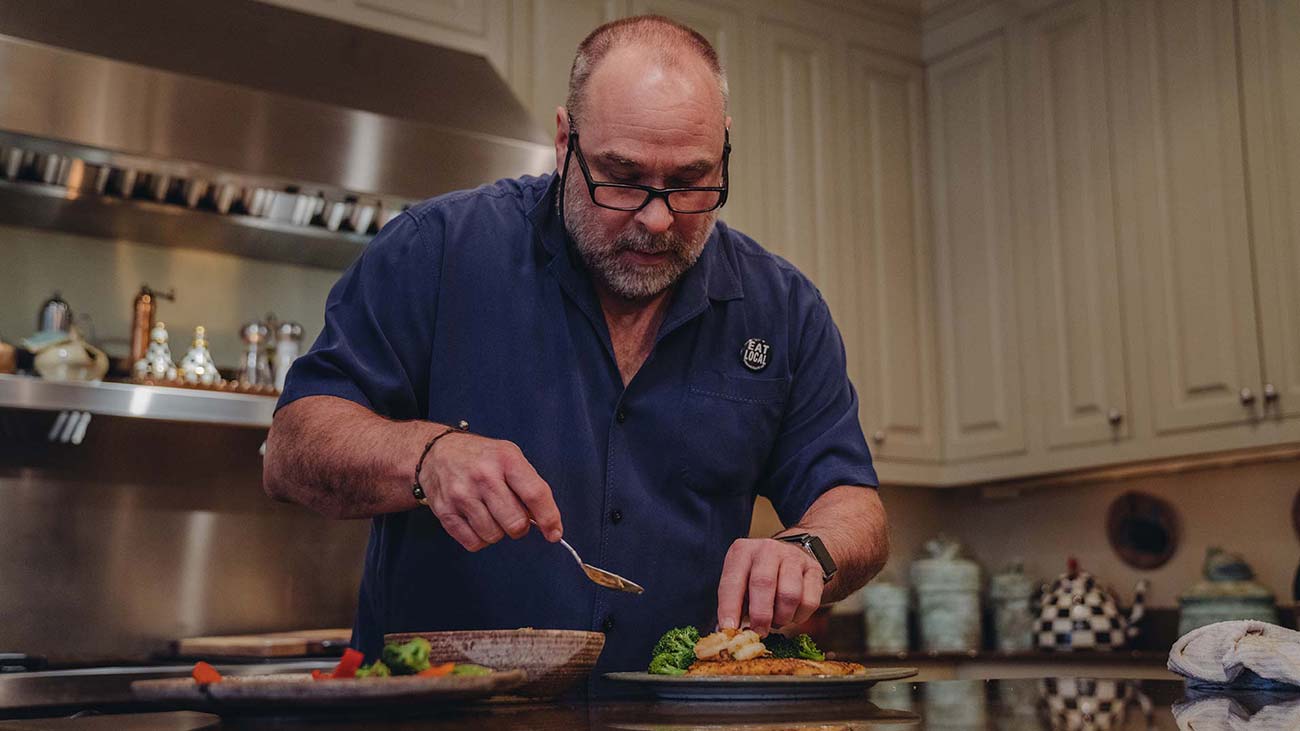 Ingredients
For the marinade:
1 tsp Garlic, minced
1 Tbl Fresh rosemary, chopped
1 Tbl Fresh sage, chopped
1 Tbl Kosher salt
1 tsp Fresh ground black pepper
¼ cup Extra virgin olive oil
For the Cacciatore:
1 each – 4-5lb. whole chicken, broken down into 8 skin-on, bone-in pieces (2 breasts, 2 thighs, 2 wings, 2 legs; reserve carcass for stock)
¼ cup Extra virgin olive oil
4 cups Yellow onion, medium diced
1 lb. Cremini mushrooms, sliced
¼ lb. Pancetta, large diced
2 cups Celery, small diced
2 cups Marinara (see recipe)
1 cup Dry white wine
1 cup Chicken stock (see recipe)
1/8 tsp Sugar
1/8 tsp Crushed red pepper
Instructions
For the marinade:
Combine all ingredients in a mixing bowl and reserve.
For the Cacciatore:
Using the marinade above, coat the chicken pieces thoroughly and rub into the meat under the skin. Cover and refrigerate for 2 hours.
After chicken has marinated, remove and discard any remaining marinade in the container. Heat olive oil in a large skillet over medium-high heat. Sear the chicken on each side for 2-3 minutes, being careful not to burn. Transfer chicken to a 9" x 11" baking dish. In the same skillet, add pancetta and cook until crispy, about 4-5 minutes, stirring frequently to avoid burning. Add the onion, mushroom and celery and continue cooking until tender, about 3-4 minutes. Deglaze with the wine and reduce by half. Add the marinara, stock, sugar and crushed red pepper and bring to a boil.
When it comes to a boil, reduce the heat to low and return the seared chicken. Cover and cook until chicken reaches an internal temperature of 160, about 20-30 minutes. Allow to cool slightly before serving.
© Copyright 2023 unless otherwise noted. New South Restaurant Group • 3904 Hardy St Hattiesburg MS 39402 • 601.264.0657