RobertStJohn.com
Andouille Stuffed Prime Rib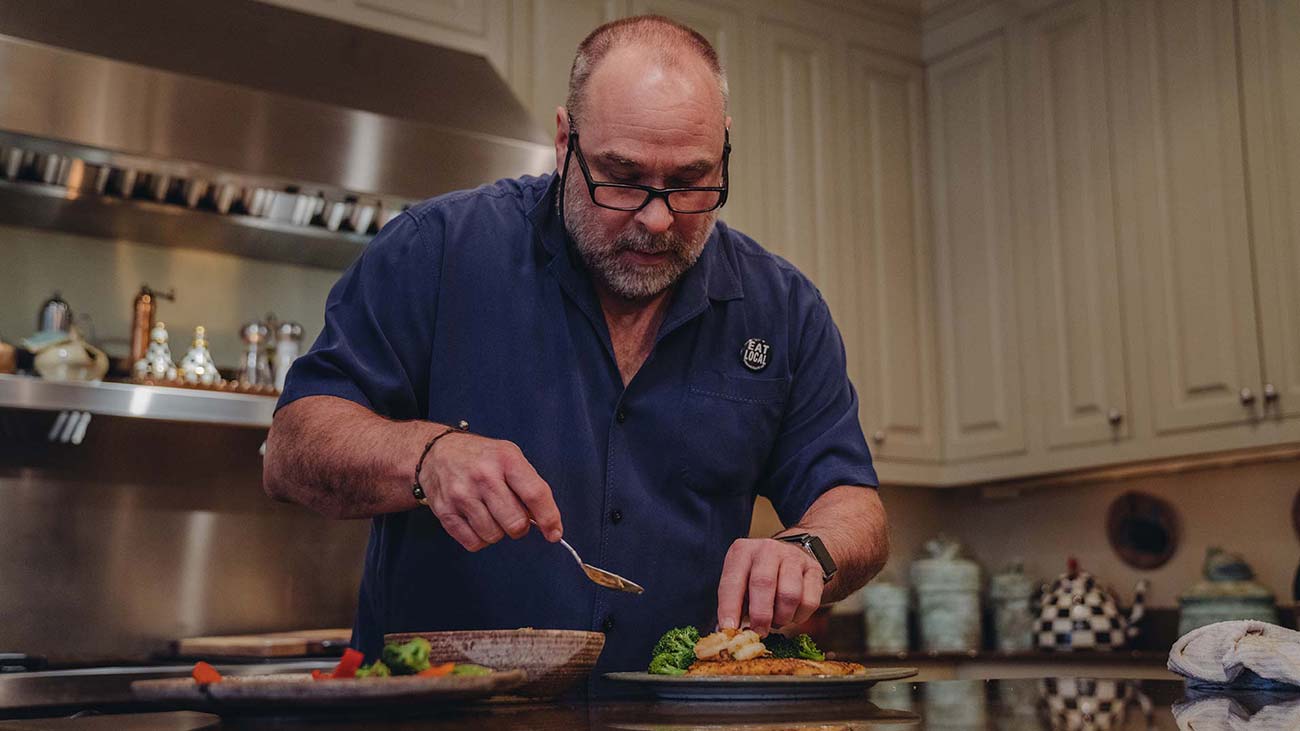 Ingredients
1 Tbsp Bacon Fat (or Canola oil)
1/2 pound Andouile Sausage, 1/2-inch dice
1/2 cup Yellow Onion, small dice
1/2 cup Celery, small dice
1/4 cup Red Bell Pepper, small dice
1 cup Domestic Mushrooms, small dice
1 Tbsp Fresh Garlic, minced
2 tsp Creole Seasoning
1 tsp Black pepper, freshly ground
1/2 tsp Dried Basil
1 Egg, slightly beaten
1/2 cup Panko, Japanese Bread Crumbs
1 Prime Rib Roast, 4-4 1/2 pounds
1/4 cup Olive Oil
1 1/2 Tbsp Steak Seasoning
1 Tbsp Black Pepper, freshly ground
Instructions
Heat the bacon fat over high heat in a large sauté pan. Brown the andouille sausage in the hot fat. Drain excess fat, leaving approximately one tablespoon in the pan. Reduce heat to medium and add onions, celery, red bell peppers and mushrooms. Cook 6-8 minutes, stirring occasionally. Add garlic, Creole seasoning, black pepper and basil; cook 2-3 minutes more. Remove mixture from the heat and place in a large mixing bowl. Allow mixture to cool completely. Once cooled, add egg and bread crumbs.
To stuff the prime rib: Trim excess fat from the prime rib. Using a long narrow knife, bore a hole, approximately 3-inches wide, in the center of the prime rib that runs the length of the meat. Fill the hole with the andouille mixture by stuffing the prime rib from both ends. Allow the roast to sit at room temperature for one hour before cooking.
Brush the outside of the prime rib with the olive oil and season with the steak seasoning and black pepper.
Preheat the grill. Sear prime rib on direct high heat for 20 minutes, turning once. Transfer to indirect high heat and continue cooking until desired doneness is reached, approximately 1 1/4 hours for medium rare.
Allow the prime rib to rest for 15 minutes before slicing and serving.
Cut into 1" thick slices and serve.
Yield: 6-8 servings
© Copyright 2023 unless otherwise noted. New South Restaurant Group • 3904 Hardy St Hattiesburg MS 39402 • 601.264.0657