Over the past 30 years, I have met a lot of people in my line of work. A lot of them are foodies. Many tell me they have the "best recipe" for this, that, or the other. In the 20-plus years I've been writing this column I have received countless cookbooks, old family recipes, and various cooking secrets, from hundreds of readers and restaurant customers. I appreciate them all.
Through this column, I have been sent hundreds of prepared dishes and/or canned food items over the past 20 years. People bake cookies for me, send me soup, chili, and all manner of culinary oddities. I once received a gift of canned possum from a reader. My favorite time of year is during fig season, as I have a half dozen fig preserve enthusiasts scattered throughout my readership who bring fresh jars of fig preserves to my office every year.
I love getting goodies. It tells me that my readership is engaged and tuned in every week. Though I will be honest— and I don't want to sound ungrateful or unappreciative— but occasionally the food I receive is, well, just ok. Taste is a very subjective thing, though I am always appreciative of the thought and, especially the effort, of someone who took the time to make me a small part of their day.
A few weeks ago, after opening our new restaurant, I was approached by a nice man named Billy Slay. He told me he had the best hushpuppy recipe in the world. He was a very kind and polite older gentleman who seemed genuine. It was a similar conversation that I have had hundreds of times.
He said "I am 89 years old. I've been cooking hushpuppies for over 40 years. It took me two years to perfect this recipe. People tell me they are the best they have ever eaten. The other day my son told me, "Dad, you're going to die one day, and your hushpuppy recipe is going to go with you. You need to share it with someone." Good or bad, I was honored that I was the one that had been chosen for this distinction.
Then Mr. Slay said, "After my son told me that, I decided I would take my hushpuppy recipe to the place that makes the worst hushpuppy in town." I cringed for an instant and waited to hear which of our restaurants makes "the worst hushpuppy in town" in his view. Then I remembered that we don't serve hushpuppies at any of our restaurants. He named another restaurant in town, and said, "Their hushpuppies are like hard, flavorless, deep-fried rocks." His son said, "No, dad. You don't give that recipe to anyone but Robert St. John."
Several weeks ago, Mr. Slay pulled me aside in the donut shop next to our new restaurant and said, "I'm ready to cook hushpuppies for you." It was the third time we had that exact conversation. I was swamped with the business that a new restaurant's honeymoon brings, and I asked him if we could wait a couple of weeks. We were busy, but to be honest, part of me expected the same result I get with many of the "food gifts" I receive— an average product that— even in its mediocrity— makes me appreciative and grateful of someone's effort to go to all of the trouble to share a food item or recipe with me. Though in the end, most of the time they are nothing that we could serve at any of our restaurants.
Mr. Slay told me, "OK, just let me know which day you would like me to come. It's a two-day, overnight, process." I was a little skeptical at that comment and wondered why a quick-bread recipe such as hushpuppies would need two days of prep. We make everything from scratch in all of our restaurants, but would we even be able to use a recipe for a secondary side item such as hushpuppies that took more than 15 minutes to prepare? Slay was persistent and seemed sincere, enthusiastic, and determined, so we set a date for the following week, for Billy Slay's hushpuppy class.
Last week Mr. Slay came up to the restaurant carrying a shopping bag. In the bag, he had two eggs, a tablespoon, some tongs, a Ziploc baggie filled with flour, and a mixing bowl that had been filled the previous night with cornmeal, onion, bell pepper, salt, and pepper. He was prepared. I wanted to tell him that we already had all of the equipment needed to make his recipe— especially a recipe as ostensibly easy as hushpuppies— but he seemed pretty sure in what he was doing, so I went with it.
To be honest, I expected an average-to-pretty-good hushpuppy. About what one would expect from someone who spent their entire life working in the university system and not in a restaurant. The session was probably not going to be a complete bust because he has been cooking hushpuppies for so long and was willing to go to all of that effort to share his recipe. Though if truth be told, I was partially just doing my duty and pacifying a nice, older gentleman who seemed passionate about a recipe he had developed.
All thoughts of pacifying an older gentleman were washed away— instantly— when I took the first bite of the first hushpuppy. Billy Slay's hushpuppy recipe yielded the lightest, most flavorful ball of deep-fried perfection I have ever tasted. Seriously. Ever. This wasn't some fly-by-night recipe or one-off preparation of an heirloom family dish. This was the crème de la crème, the ultimate, the paragon, and the last word when it comes to the goshalmighty hushpuppy. If Thomas Keller or Paul Bocuse ever made a hushpuppy, neither could match the flawlessness of this preparation. What Alan Benton is to bacon, Billy Slay is to hushpuppies. He is the master, the king of the hill, the top dog (or top puppy).
Seriously, Billy Slay is the hushpuppy whisperer. I was so excited about the quality of Mr. Slade's hushpuppies that I fried the entire batch and began passing them around to the kitchen staff and servers. There was a chorus of "oohs" and "ahs," but no one said too much because they were all busy eating. Time after time, the comment from our staff was, "This is the best hushpuppy I have ever eaten."
I ended up eating NINE hushpuppies in one sitting. Nine!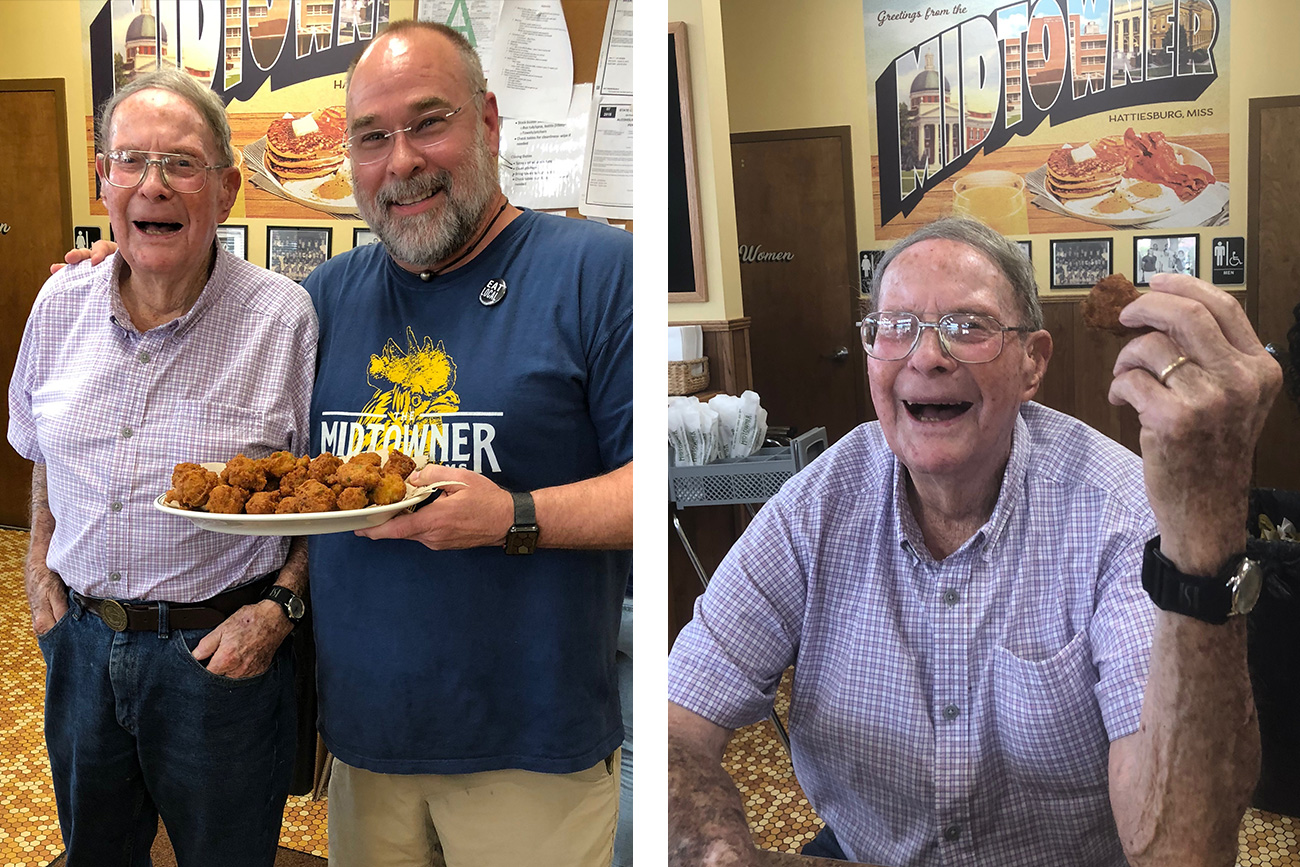 Mr. Slay's hushpuppies are light and flavorful. I would never grate an onion for any recipe, but I would be wrong when it comes to this recipe because I think that has a lot to do with the flavor profile of the finished product. There is no dairy product anywhere in the recipe— no milk, no buttermilk. I think that, too, has a lot to do with the lightness of the finished product. The only liquid in the recipe is a small amount of water and two eggs (unless you count the juice that is rendered from grating the onion).
Billy Slay grew up in Mendenhall, Mississippi on a farm where he fed the pigs and gathered eggs every morning before the school bus arrived. His mother worked for Primos in Jackson during the depression, so he had cooking in his DNA. His father passed away when he was 10-years old and he had to learn to cook. In addition to hushpuppies, he claims to cook excellent venison and cornbread. After tasting his hushpuppies, I believe him.
After serving in Korea, Slay was married in 1951, then enrolled at the University of Southern Mississippi and received his Bachelor's degree and Master's degree in two and one-half years. He tried coaching for a few years and then started teaching at his alma mater in 1961 while earning his doctorate at LSU. He spent most of his career as the head of the department of athletic administration and coaching in several universities.
Over 40 years ago he cooked his first hushpuppy. "I took me two years to perfect the recipe," he recalled. "The key is adding the salt into the cornmeal with the onions and bell peppers the night before. And the white cornmeal absorbs moisture better than the yellow cornmeal."
His grandkids call them "Daddy B's Hushpuppies." I call them perfect.
I have eaten a lot of hushpuppies in my life. Given Mr. Slay's recipe, I'd rather eat a plate full of hushpuppies and forget the catfish. To my thinking, there is no catfish on the planet that makes me happier than this hushpuppy.
I know there are hundreds of people out there who think they make the best hushpuppy. Many of you reading this have already decided to send me a copy of your recipe. Trust me. Save the postage stamp. THIS is the best.
After my staff and I had quickly devoured all of the hushpuppies we cooked, I asked Mr. Slay, "Do you mind if I publish the recipe?"
He answered, "I hope the whole world gets it, because everyone needs a good hushpuppy" So true. So true.
Onward.