RobertStJohn.com
White Bean Soup
This recipe is Creole New Orleans meets Tuscan white bean soup.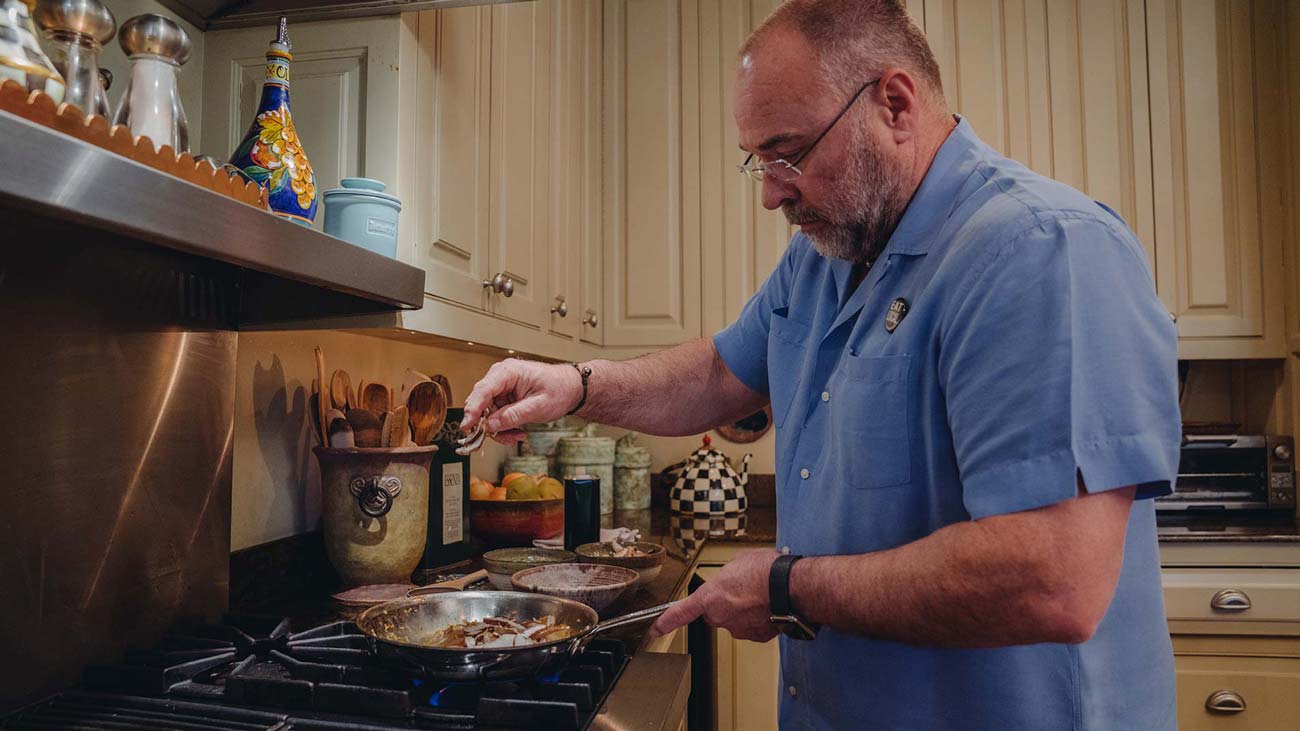 Ingredients
¼ cup Bacon fat
3 cup Onion, diced
3 cup Carrot, diced
3 cup Celery, diced
½ cup White wine
½ cup Ham, diced
2 tsp Poultry Seasoning
2 tsp RSJ Herb Blend
2 tsp RSJ Seasoning Blend
1 Tbl Worcestershire sauce
2 Tbl Kosher salt
2 tsp Hot sauce
1 tsp White pepper
1 15 oz. can white navy beans, drained, rinsed and pureed with 4 c. pork stock
5 15 oz. can white navy beans, drained, rinsed, kept whole
2 cup Pork stock
¼ cup Pesto
Reserved hock meat from Pork Stock recipe
RSJ Herb Blend
2 Tbl Dried oregano
2 Tbl Dried basil
2 Tbl Dried thyme
1 Tbl Dried rosemary
1 Tbl Dried marjoram
RSJ Seasoning Blend
2 Tbl Iodized salt
2 Tbl Fresh ground black pepper
2 Tbl Garlic powder
1 Tbl Onion powder
1 Tbl Lemon pepper
Pork Stock
3 Ham hocks
1 Medium onion, quartered
1 Bay leaf
1 Tbl Whole black peppercorn
2 Garlic cloves, smashed
1 Sprig fresh thyme
1 ½ gallons Cold water
Instructions
White Bean Stufato
In a stockpot, sauté onion, carrot and celery in bacon fat for 5-7 minutes over medium heat, stirring frequently.  Add wine and cook 3-4 more minutes.
Add ham and seasonings and cook 7-8 minutes.
Add the pureed beans, whole beans and the 2 cups of pork stock and bring to a boil.  Immediately reduce heat and add the chopped hock meat and pesto. Stir well and simmer for 30-45 minutes.
Yield: 1 gallon
Pork Stock
Combine all ingredients in a stockpot. Simmer gently for 3 hours, skimming any impurities that rise to the top. Strain, reserve meat from hocks for another use and discard the rest.
Yield: 1 gallon stock
© Copyright 2023 unless otherwise noted. New South Restaurant Group • 3904 Hardy St Hattiesburg MS 39402 • 601.264.0657