RobertStJohn.com
Tobacco Onion Caesar Salad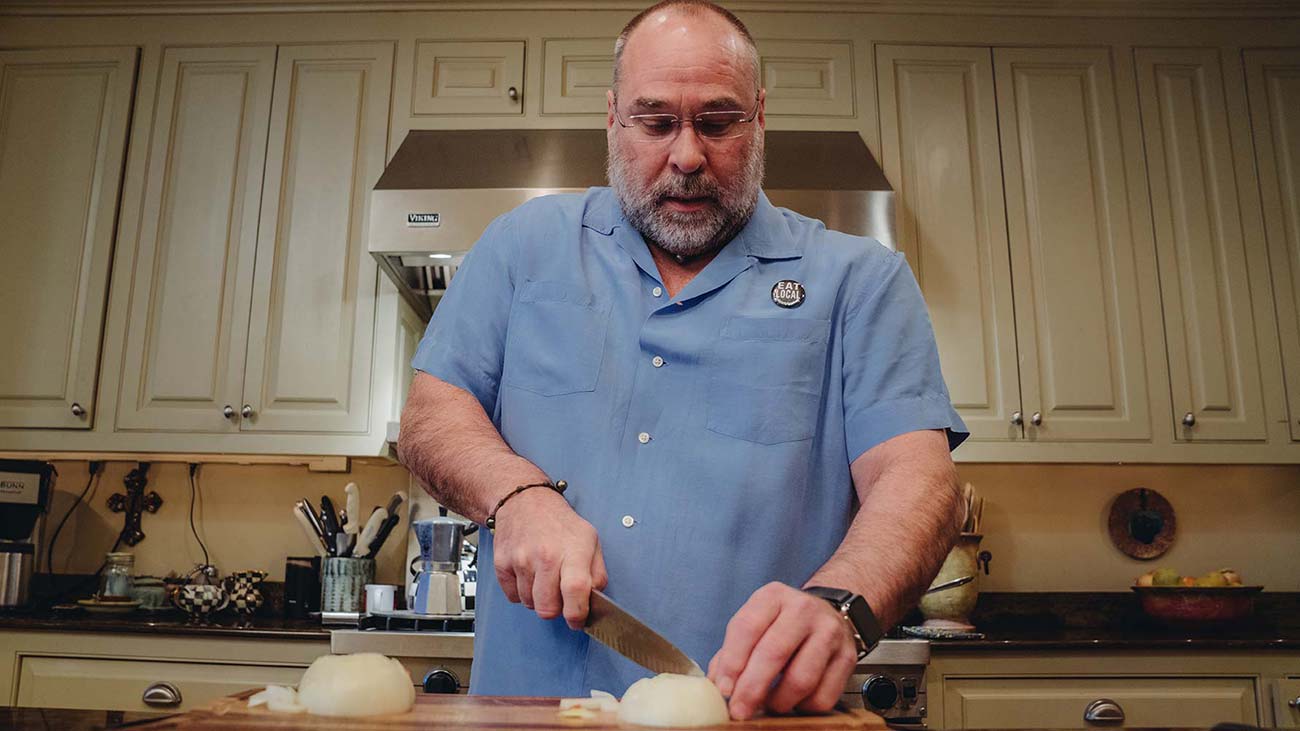 Ingredients
Dressing 
2 egg yolks
1/4 cup fresh lemon juice
2 Tbl fresh garlic, minced
3 anchovies
2 Tbl red wine vinegar
1 Tbl Worcestershire Sauce
2 Tbl Dijon mustard
1 cup light olive oil
Garlic Croutons
2 cups French bread, cut into 1/2" cubes
3 Tbl olive oil
2 tsp garlic powder
1/2 tsp kosher salt
Tobacco Onions
1 large red onion, shaved into VERY thin circles ( about 1 1/4 cups)
2 Tbl white vinegar
1/2 Tbl kosher salt
1/8 tsp fresh ground black pepper
1/2 cup milk
1 whole egg
1 1/2 cups seasoned flour
1 quart vegetable oil for frying
For the Salad
3 romaine hearts or 1 large head of romaine (outer leaves discarded)
2 cups garlic croutons
1 1/2 cups Caesar Salad dressing
Tobacco onions
1/2 cup parmesan cheese, freshly grated
Instructions
Dressing 
Combine the yolks, lemon juice, garlic, anchovies, vinegar, Worcestershire sauce and Dijon mustard in a blender or small food processor. Puree for 1-2 minutes and then slowly begin drizzling in the olive oil while the blender is still running. If the mixture becomes too thick, you may add a 1-2 Tbl of warm water, then continue to add the oil.
Store refrigerated until ready to use.
Garlic Croutons
Preheat oven to 275
Place the cubed bread into a mixing bowl and drizzle the olive oil over the bread. Sprinkle the garlic powder over the bread, and toss the uncooked croutons well, evenly distributing the oil and garlic. Place the cubed bread on a baking sheet and toast for 8-12 minutes, stirring them every 3 minutes. Remove from the oven and sprinkle them with the kosher salt. Allow croutons to cool completely, then store in an airtight container until needed.
Tobacco Onions
Combine the onions, vinegar, salt and pepper in a medium sized mixing blow and let marinate for 30 minutes.
Heat the oil to 350 degrees in a 6-quart heavy duty sauce pot, or a large cast iron skillet.
Whisk together the milk and egg in a mixing bowl.
Place the onions in the milk mixture then drain them well.
Place the seasoned flour in another mixing bowl, and toss the onions in the flour, making sure the onions are all coated with flour. Remover the onions from the bowl and shave off any excess flour.
Place the coated onions in the hot oil, and using a slotted spoon, gently turn them 2-3 times. Fry for 3-4 minutes. Remove the onions and place them on a paper towel lined baking sheet to drain.
For the Salad
Place the clean lettuce in a large mixing bowl. Add in the croutons and dressing and mix well, making sure the lettuce is well coated. Gently fold in half of the tobacco onions. Divide the salad onto serving plates. Use the remaining tobacco onions to top each salad. Sprinkle with parmesan cheese and serve immediately.
© Copyright 2023 unless otherwise noted. New South Restaurant Group • 3904 Hardy St Hattiesburg MS 39402 • 601.264.0657