RobertStJohn.com
Sicilian Tuna Salad
My friend David Trigiani ate a version of this on a trip to Sicily and prepared it for lunch one day in his home. I fell in love with it and adapted my version for use on a regional Italian menu at Tabella. It's perfect for hot summer days. I use fresh, seared yellowfin tuna here (it can be grilled too), but high quality, imported Italian canned tuna works as well. Many don't' mix cheese and seafood. If that offends you, then just omit the cheese and carry on.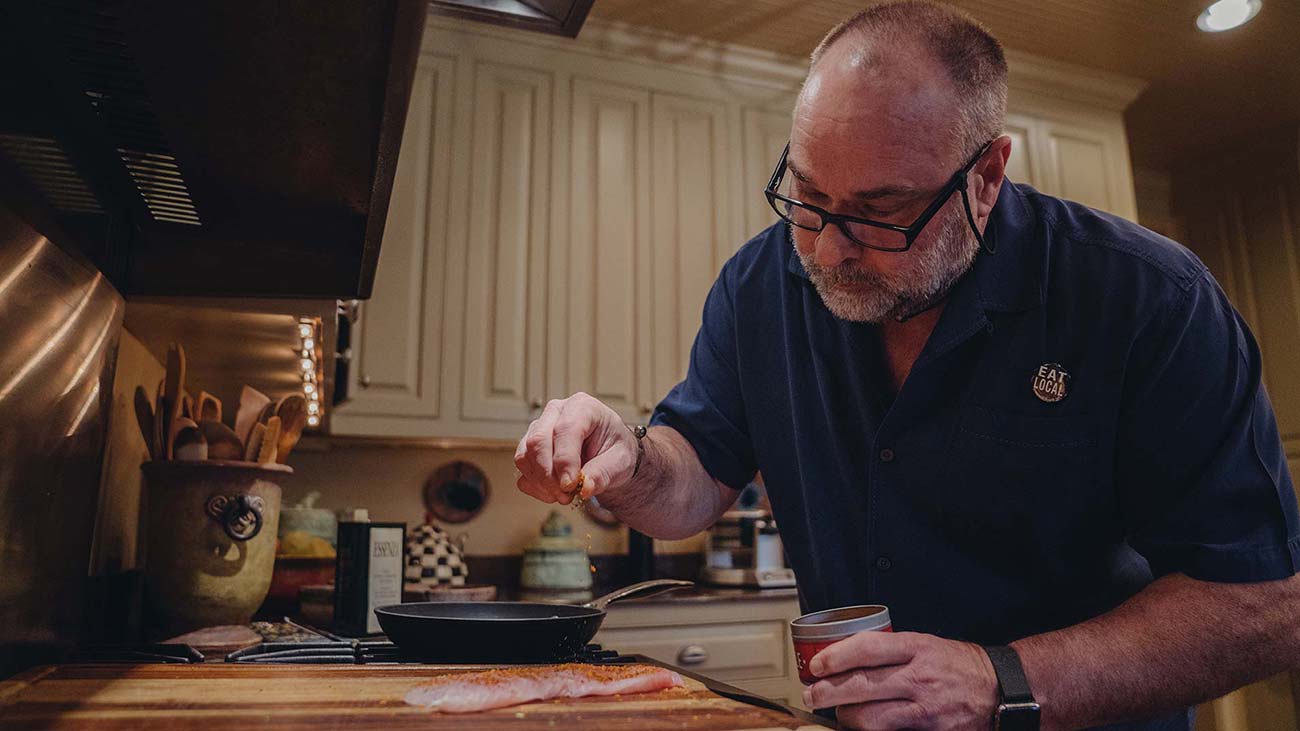 Ingredients
2 pounds Red B-size potatoes, quartered
2 quarts Chicken stock, cold
¼ cup + ¾ tsp Kosher salt
1 pound Yellowfin tuna steak, highest quality
1 tsp House seasoning blend
2 Tbsp + 1 TB Extra virgin olive oil
½ cup Red onion, thinly sliced
1 pint Grape tomatoes, halved
3 Tbsp Capers
¾ cup Green Castelvetrano olives, pitted and sliced
¾ tsp Fresh ground black pepper
½ cup White vinegar
2 – 5 ounce bags mixed greens
6 Tbsp Parmigiano Reggiano, grated
½ cup House dressing
4 Roma tomatoes, quartered (2 per person)
1 Large lemon, quartered and each quarter halved (1 per person)
House Salad Dressing
3/4 cup Tarragon vinegar
6 Tbsp Apple cider vinegar
6 Tbsp Grated Pecorino Romano cheese
1 Tbsp Minced garlic
1 Tbsp Fresh ground black pepper
2 tsp Kosher salt
1 1/2 cups Pure olive oil
Instructions
Bring the cold stock, ¼ cup salt and red potatoes to a boil in a large pot. As soon as it comes to a boil, drain immediately and spread out on a baking pan. Allow to cool completely in the refrigerator.
Heat 1 TB of oil in a 10" skillet over medium heat. Season the tuna with the house seasoning. Once oil is heated, sear the tuna for 2-3 minutes on each side, being careful not to burn. The tuna should still have a warm pink center. Do not cook past that point. If you prefer, you may cook the tuna less. Remove from the skillet and let rest at room temperature until cooled. Once cooled, shred the tuna into large pieces by hand and set aside.
In a large mixing bowl, add the shredded tuna, remaining oil and salt, onion, chilled potatoes, tomatoes, capers, olives, pepper and vinegar and combine thoroughly.
In a separate large mixing bowl, toss the mixed greens, shredded cheese and house dressing thoroughly.
Divide the salad green mixture among 6-8 plates. Divide the composed tuna salad mixture on top of each plate of greens. Garnish each with 2 quartered tomatoes, lemon wedge and additional grated cheese if desired.
House Salad Dressing
Blend first 6 ingredients in a mixing bowl using a wire whip. Whisk in olive oil.
Stir well before each use.
It can also be divided into Mason jars and shaken before application.
Yield: 3 cups
© Copyright 2023 unless otherwise noted. New South Restaurant Group • 3904 Hardy St Hattiesburg MS 39402 • 601.264.0657