RobertStJohn.com
RSJ's Seafood Gumbo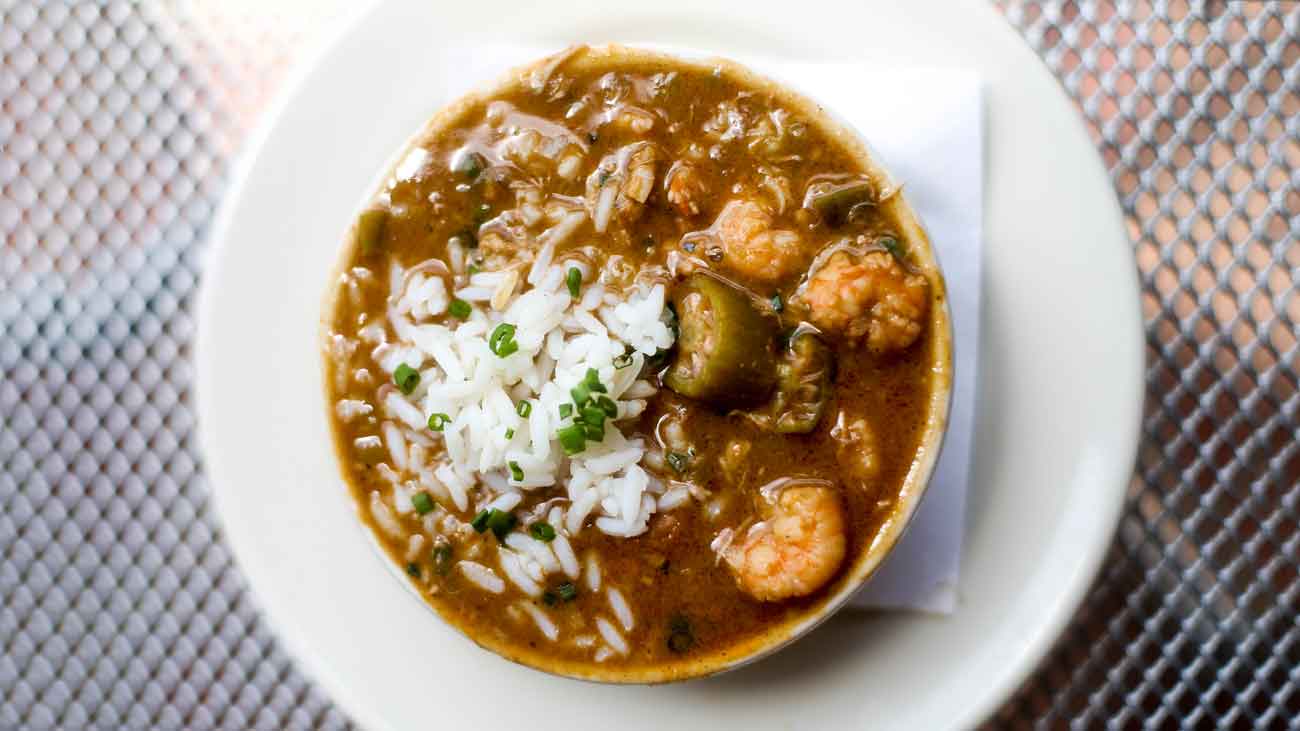 Ingredients
5 cups Shrimp stock
5 cups Chicken stock
5  Gumbo crabs
3 1/2 cups Tomatoes, diced with juice
2/3 cup Tomato sauce (one 8-ounce can)
2 Tbl Worcestershire
1 tsp Black pepper
2 Bay leaves
2 1/2 tsp Basil
1 tsp Oregano
3/4 cup Cottonseed or canola oil
1 1/4 cups Flour
2 cups Okra, sliced
3 cups Yellow onion, medium dice
1 1/2 cups Celery, medium dice
1 cup Green onion, chopped
1 cup Bell peppers, medium dice
1/2 cup Parsley, chopped
3 tsp Garlic, minced
2 tsp Cayenne pepper
2 tsp Creole Seasoning
3 tsp Cayenne and Garlic Sauce
2 lbs lLarge shrimp, peeled and deveined
1 lb Oysters, with juice
1 lb Claw crabmeat, picked of all shell
1 lb Lump crabmeat, picked of all shell
Instructions
In a large stockpot, bring first 10 ingredients to a boil. Reduce heat to a brisk simmer and continue to cook, skimming the tomato foam from the top of the stock.
While the stock is simmering, make a dark roux using the cottonseed oil and flour. To the roux, add the okra, stirring constantly. Once the okra is incorporated into the roux, add the onion, celery, green onion, bell pepper, parsley, garlic, Creole Seasoning, and Cayenne and Garlic Sauce, stirring well to incorporate. Cook until the vegetables become soft. Add the shrimp and continue stirring until shrimp turn pink. Add the oysters.
Turn up the heat on the simmering stock. Transfer the seafood-roux mixture to the hot stock and stir vigorously until the roux is completely dissolved. Bring the stock to a boil once more and then reduce to a simmer. Add the crabmeat.
Remove the gumbo crabs and serve over rice.
Yield: 1 gallon
© Copyright 2023 unless otherwise noted. New South Restaurant Group • 3904 Hardy St Hattiesburg MS 39402 • 601.264.0657