RobertStJohn.com
RSJ's Italian Cream Cake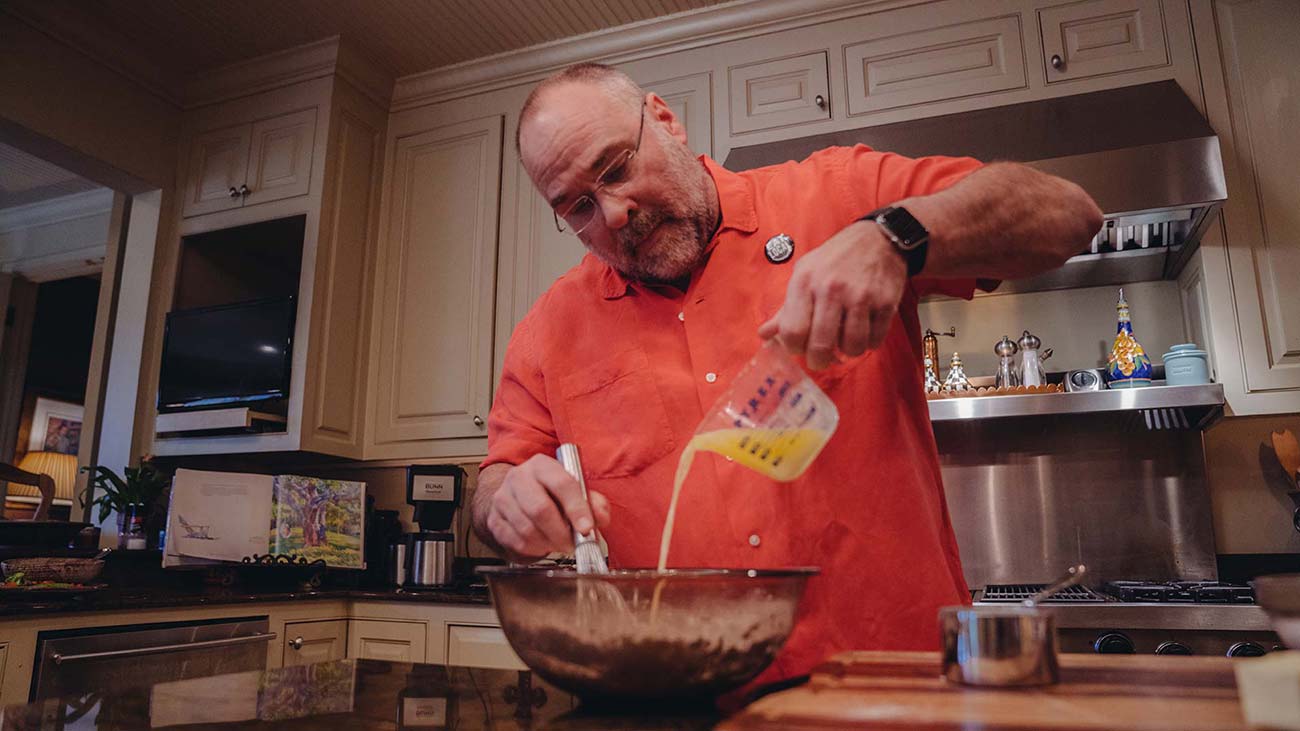 Ingredients
1 cup ​Butter, softened
2 cups ​Sugar
5 large ​Eggs, separated
2 1/2 cups ​All-purpose flour
1 tsp ​Baking soda
1 cup ​Buttermilk
2/3 cup ​pecans, finely chopped
1 tsp ​Vanilla extract
1 can ​Flaked coconut (3 1/2 oz.)
1/2 tsp ​Cream of Tartar
3 Tbl ​Grand Marnier
1 recipe ​Cream Cheese Frosting
Instructions
Grease and flour three nine-inch round cake pans.  Line pans with wax paper; grease paper and set aside.  
Beat butter at medium speed of an electric mixer until creamy; gradually add sugar, beating well.  Add egg yolks, one at a time, beating after each addition.  Combine flour and baking soda.  Add buttermilk and flour alternately, beginning and ending with flour mixture.  Stir in pecans, vanilla, and coconut.  
Beat egg whites at high speed in a large bowl until foamy.  Add cream of tartar; beat until stiff peaks form. Gently fold beaten egg whites into batter. Pour batter into prepared pans.  
Bake at 350 degrees for 25 or 30 minutes or until a wooden pick inserted in center comes out clean.  Let cool in pans 10 minutes, remove from pans; peel off wax paper; and let cool completely on wire racks.  Brush each cake layer with 1 tablespoon Grand Marnier.  Let stand 10 minutes.  Spread cream cheese frosting between layers and on sides and top of cake.
Cream Cheese Frosting
1 (8 oz.) pkg ​Cream cheese, softened
1 (3 oz.) pkg ​Cream cheese, softened
3 /4 cup ​Butter, softened
1  1 /2  ​Powdered sugar, sifted
1 1 /2 cups ​Pecans, chopped
1 Tbl ​Vanilla extract
Beat first three ingredients at medium speed of electric mixer until smooth.
Gradually add powdered sugar, beating until light and fluffy; stir in pecans
and vanilla.
© Copyright 2023 unless otherwise noted. New South Restaurant Group • 3904 Hardy St Hattiesburg MS 39402 • 601.264.0657