RobertStJohn.com
Roasted Tomato Soup
Perfect on a cold day with a soft-cheese Panini.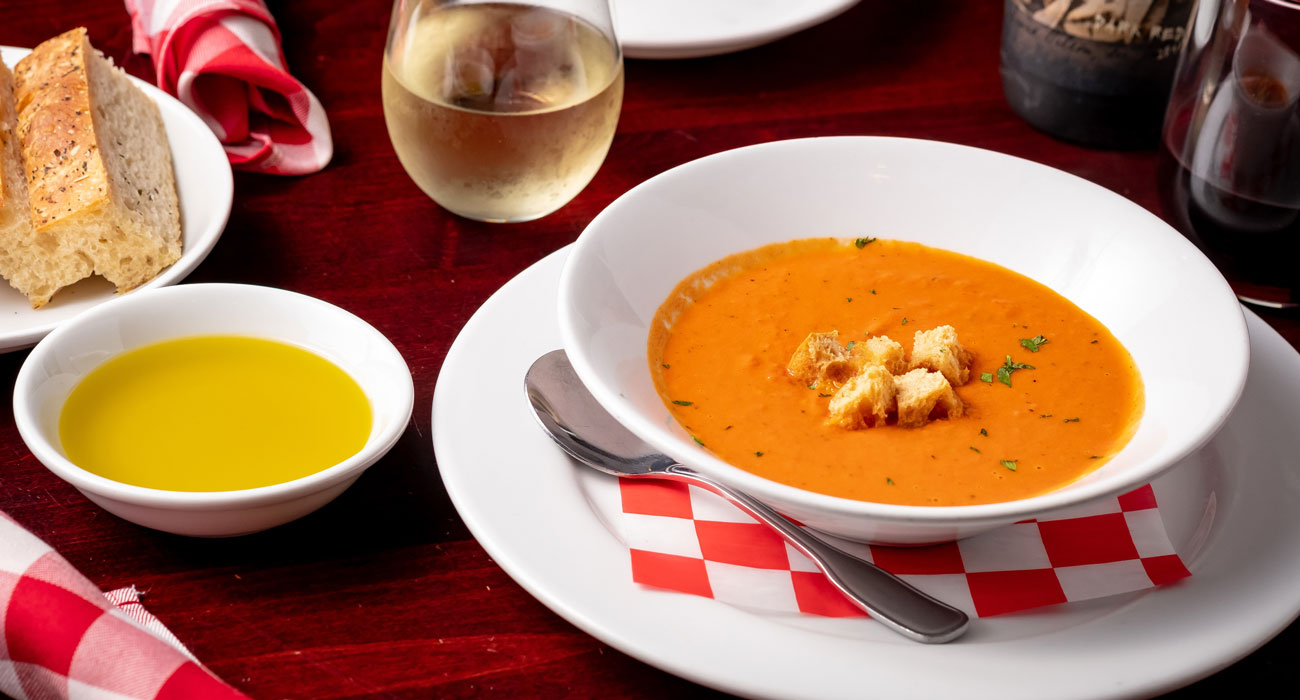 Ingredients
10 lbs. Roma tomatoes
¼ cup Bacon fat
3 cup Onion, diced
¼ cup Minced garlic
1 Tbl Dried basil
1 Tbl Dried oregano
1 Tbl Kosher salt
2 tsp Fresh ground black pepper
1 each – 6 oz. can tomato paste
4 cup Chicken stock
1 Bay leaf
1 cup Heavy cream
1 Tbl Sherry vinegar
Instructions
Preheat oven to 400.
Lightly coat the tomatoes with vegetable oil and place on a baking sheet in the oven for 30-45 minutes, turning them every 10 minutes. Remove from oven when the skin begins to crack and the tomatoes are soft.  Allow to cool just enough to handle and remove and discard the skins.
In a stockpot, sauté onions in the bacon fat for 8-10 minutes over medium-high heat, stirring frequently.  Add garlic, basil, oregano, salt and pepper and continue stirring for another 4-5 minutes. Add tomato paste and stir constantly for 5-6 minutes until caramelized, being careful not to burn.
Add Chicken stock, roasted tomatoes and bay leaf and bring to a simmer for 30 minutes.  Remove the bay leaf and add cream and sherry vinegar and simmer for 10 more minutes.
Puree until smooth using an immersion blender or in small batches in a countertop blender.
Yield: 1 gallon
© Copyright 2023 unless otherwise noted. New South Restaurant Group • 3904 Hardy St Hattiesburg MS 39402 • 601.264.0657