RobertStJohn.com
King Cake Bread Pudding
Celebrating Mardi Gras in the best way know how: KING CAKE! This is the recipe that is served in the Crescent City Grill every Mardi Gras season.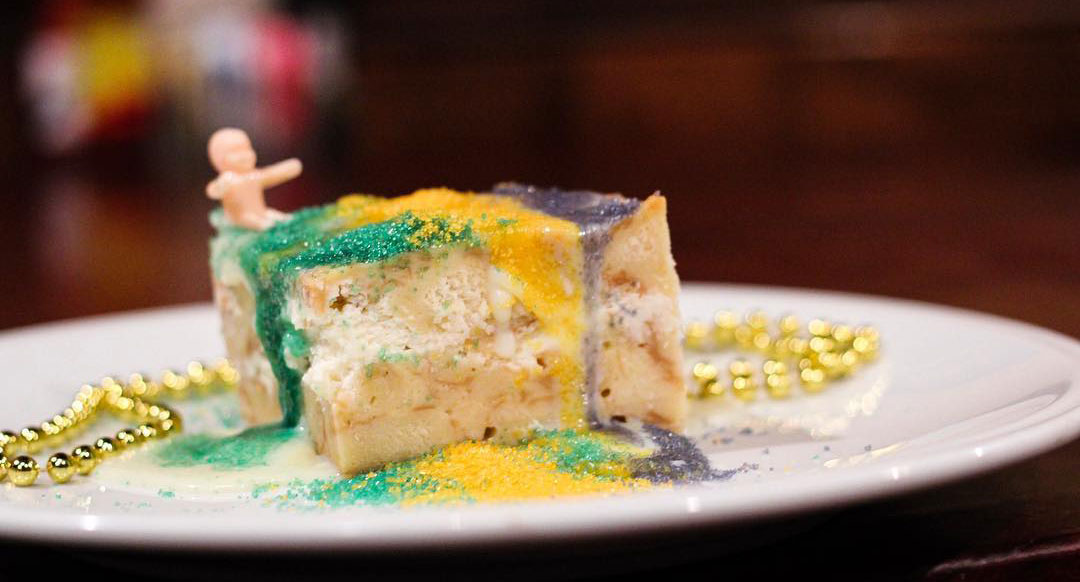 Ingredients
King Cake Bread Pudding
2 cups milk
2 cups heavy whipping cream
3/4 cup sugar, divided
4 egg yolks
8 eggs
2 tsp vanilla
⅛ tsp salt
1 tsp cinnamon
Brandy Crème Anglaise
1 cup cream
½ cup half and half
¼ cup brandy
¾ cup sugar, divided
4 egg yolks
1 tsp vanilla extract
1 8-10" round cream cheese filled King Cake
Instructions
King Cake Bread Pudding
Place the milk, cream and half of the sugar in a small sauce pot and place over medium heat. Bring this mixture to a simmer, stirring occasionally to prevent the sugar from burning. While the milk mixture is heating, place the remaining sugar, egg yolks, whole eggs, vanilla and salt into a stainless steel mixing bowl. Using a wire whisk, beat the egg mixture until it become light yellow in color. Slowly begin adding the hot milk to the beaten eggs, whisking constantly to prevent the eggs from cooking.
Cut the King Cake into two inch thick slices.
Pour half of the custard into a two-quart round Pyrex baking dish (nine-inch diameter).
Submerge the King cake slices into the custard. Pour the remaining custard over the top and cover the baking dish. Cover and refrigerate over night.
Preheat oven to 325 degrees.
Remove the covering from the refrigerated bread pudding and gently press down the King Cake so that the custard completely covers the surface. Cover the bread pudding with a piece of parchment paper, and then cover the paper with a piece of aluminum foil.
In a roasting pan large enough to hold the Pyrex dish, place two inches of hot water. Place the Pyrex dish in the water and bake for 40 minutes. Remove the foil and parchment paper and bake for 10 additional minutes.
Remove from the oven and allow the pudding to rest for one hour before serving.
Garnish with sugar that has been colored with purple, green, and gold food coloring and serve with Brandy Crème Anglaise
Yield: 8-10 servings
Brandy Crème Anglaise
In a stainless steel pot bring the cream, half and half, brandy, half of the sugar and to vanilla a simmer. While it is heating, combine the yolks and remaining sugar in a mixing bowl and whip until pale yellow in color.
Slowly begin adding the cream mixture into to yolks, stirring constantly until all the milk has cream mixture has been added. Pour the mixture back into the sauce pot and cook over a low-medium flame stirring constantly. Cook until the mixture becomes thick enough to coat a spoon or spatula.
Remove from the heat and cool down in an ice bath.
This sauce may be made two-three days in advance.
Yield: 8-10 servings
© Copyright 2023 unless otherwise noted. New South Restaurant Group • 3904 Hardy St Hattiesburg MS 39402 • 601.264.0657