RobertStJohn.com
Hearts of Palm and Artichoke Salad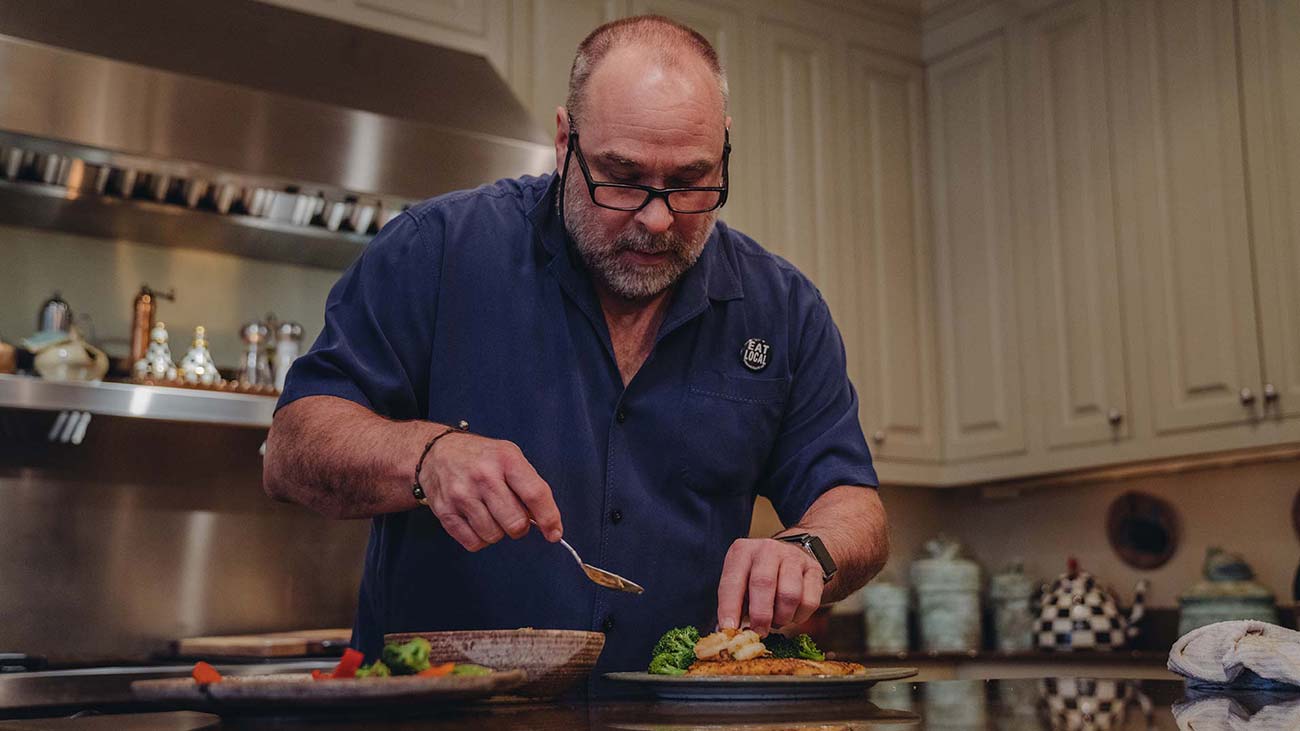 Ingredients
Salad Dressing
1 Tbsp Dijon mustard
1 tsp Sugar
1 Tbsp Shallots, minced
3 Tbsp Balsamic vinegar
1/4 cup Cottonseed oil
1/2 cup Virgin olive oil
1 tsp Fresh black pepper
1 tsp Kosher salt
1 Tbsp Fresh basil
1 cup Tomato, finely diced
Garlic Croutons
1/2 cup Olive oil
1 Tbsp Fresh garlic, minced
3 cups French bread cubes (1")
1/2 Tbsp Kosher salt
For The Salad
2-14 ounces cans Hearts of palm, 1/4 inch slice on a bias
2-12 ounce jars Marinated artichoke hearts, drained
1 cup Red onion, thinly shaved
3 cups Romaine lettuce, cut into thin pieces
3/4 cup Romano cheese, shredded, divided
3 cups Garlic croutons
Instructions
Salad Dressing
Place all ingredients into a mixing bowl and blend together using a wire whisk. Refrigerate until needed. This dressing will hold for 4-5 days refrigerated.
Garlic Croutons
Preheat oven to 250 degrees.
Place the oil in a small sauté pan over low heat. Add the garlic to the war oil and cook for two minutes. Place the bread cubes into a large mixing bowl and drizzle the garlic oil over the bread. Toss the bread several times to ensure that all bread has been mixed well with the oil. Place the bread on a baking she and sprinkle the kosher salt over the unbaked croutons. Bake for 10 minutes. Gently turn the croutons on the baking sheet and bake for another 15 minutes. Remove from the oven and cool.
For The Salad
Place the hearts of palm, artichoke hearts, red onions, romaine lettuce, half of the cheese and the croutons in a large mixing bowl. Pour the dressing into the bowl and toss the ingredients with the dressing, making sure to coat everything completely. Place in a large serving bowl, or on individual serving plates and top with the remaining romano cheese. serve immediately.
Yield: 8 servings
© Copyright 2023 unless otherwise noted. New South Restaurant Group • 3904 Hardy St Hattiesburg MS 39402 • 601.264.0657