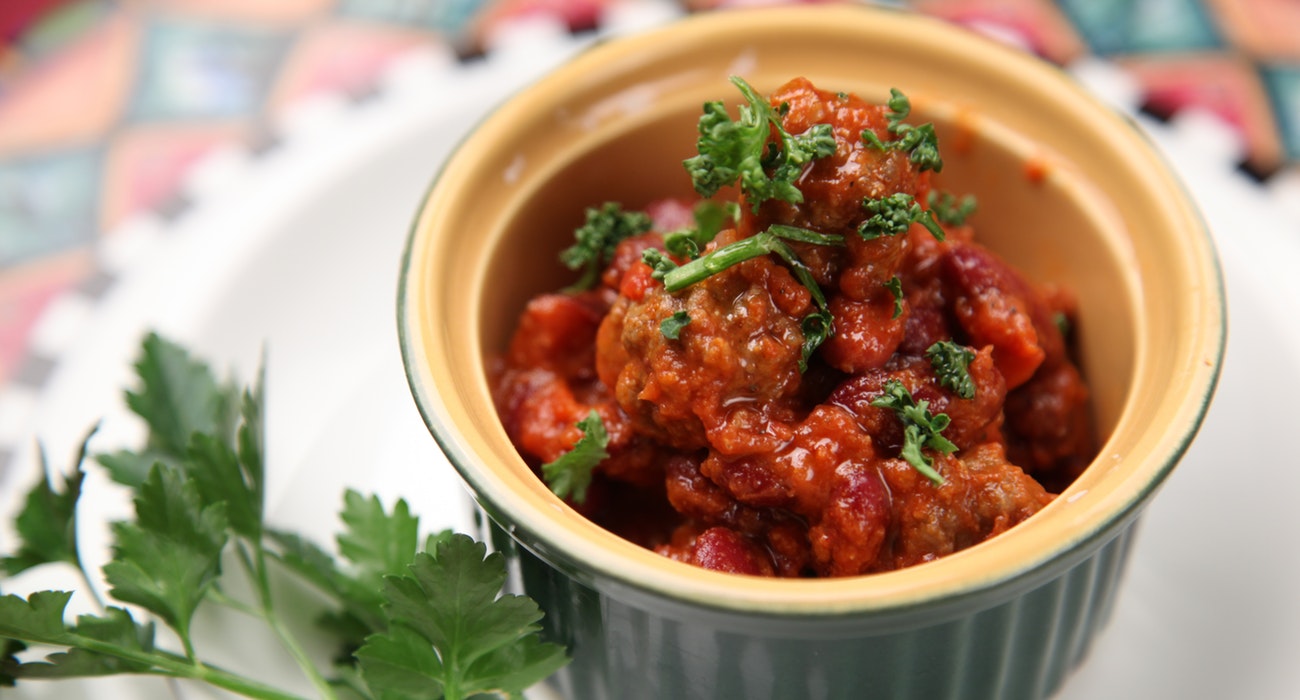 Ingredients
1 tsp olive oil
1 tsp bacon Fat
2 pounds beef sirloin, cut into ½-inch cubes
2 ½ tsp Kosher Salt
1 ½ tsp Fresh ground black pepper
3 cups yellow onion, medium dice
1 cup carrot, finely shredded
1 Tbs Ground  Cumin
2 tsp Ground Coriander
1 tsp Oregano
1 ½ tsp  Chili powder
¼ cup fresh garlic minced
1 6 ounce can tomato paste
2 28 ounce cans diced tomatoes
1 quart V-8 juice
1 quart hot chicken broth
2 Bay leaves
2 14 oz cans kidney beans, drained and rinsed
2 tsp  corn flour*
½ cup water
1 tsp fresh lime juice
¼ cup fresh cilantro, chopped
Instructions
Heat the oil and bacon fat in an 8- quart, heavy duty sauce pot over high heat. Sprinkle the meat with salt and black pepper. Place half of the meat in the very hot oil. DO NOT MOVE THE MEAT FOR 3-4 MINUTES, you want to achieve a nice golden brown sear. Turn the meat over and brown the other side the best you can. Remove the meat with a slotted spoon and place it on a paper towel to drain. Repeat this process with the remaining meat. Turn the heat to medium and add the onion, carrot and garlic to the pot. Cook for 3-4 minutes. Using a wooden spoon, stir in the spices and tomato paste. Cook for 10 minutes, stirring constantly to prevent burning. This step is very important, caramelizing the sugars in the tomato paste and vegetables with really make a difference in the outcome of the chili.
Return the meat to the pot and add in the canned tomatoes, V-8 juice, chicken broth and bay leaves. Simmer VERY slowly for 2-3 hours. Stir often to prevent sticking. Add the beans and simmer for 15 more minutes.
Combine the corn flour with the water to make a paste. Turn up the heat up so that the chili reaches a slow boil and stir in the corn flour mixture. Allow the chili to cook for 2-3 more minutes. Remove from heat and stir in the lime juice and cilantro.
Yield: 1 gallon
*Note:  Zatarain's Regular Fish Fry is 100% corn flour.  You can also use masa flour.
© Copyright 2023 unless otherwise noted. New South Restaurant Group • 3904 Hardy St Hattiesburg MS 39402 • 601.264.0657