RobertStJohn.com
Caramel Cake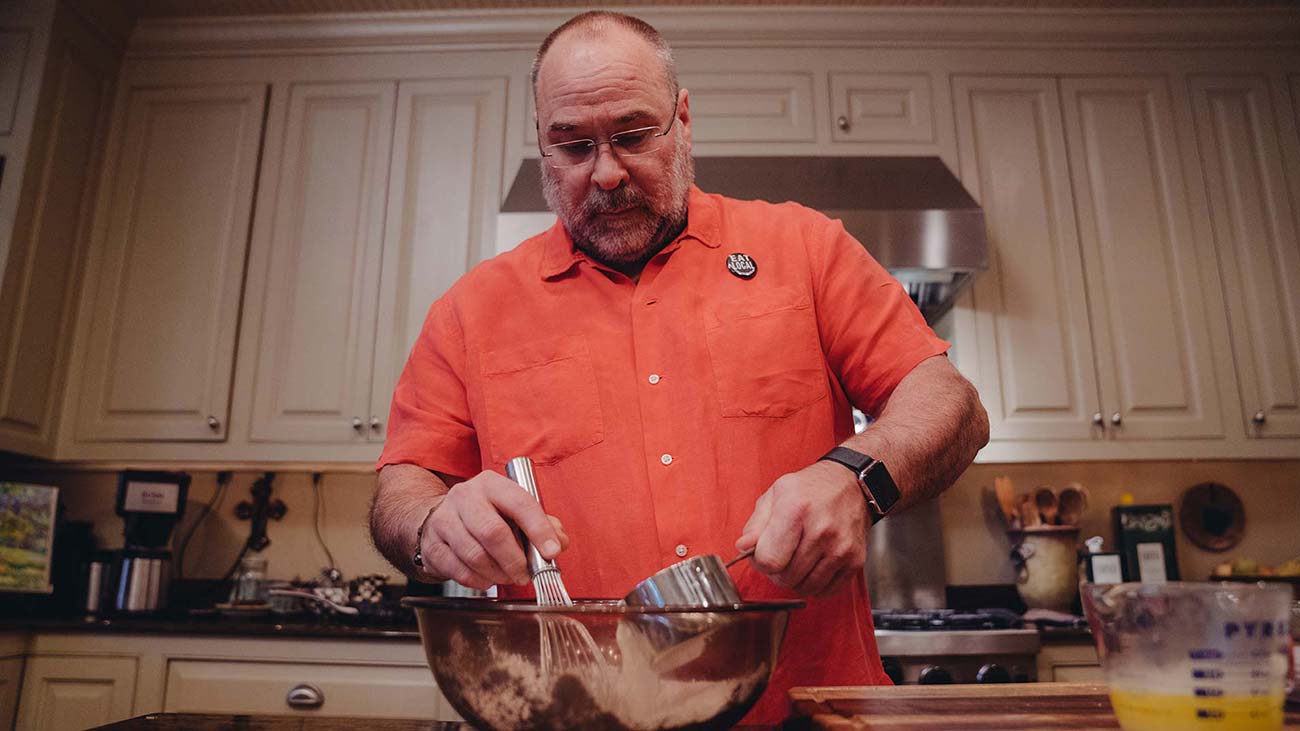 Ingredients
Cake:
2 1/2 cup cake flour
2 teaspoons baking soda
1 teaspoon baking powder
1/2 teaspoon kosher salt
2 eggs
2 cups sugar
3/4 cup melted butter
1 cup buttermilk
1 cup milk
1 teaspoon vanilla extract
Butter 2 9-inch layer cake pans and line the bottom with wax or parchment paper.
Caramel Frosting:
4 cups firmly packed brown sugar
2 cups whipping cream
1/2 cup unsalted butter
2 tsp vanilla extract
Instructions
Cake:
Preheat oven to 350 degrees F.
Lightly butter 2 (8-inch) cake pans and line with parchment. Butter the parchment and flour pans, shaking out the excess.
Sift together flour, baking soda, baking powder, and salt.
In a mixer with a whip attachment, beat eggs and sugar until thick and lemon-colored. Beat in the melted butter. Alternately add dry ingredients with buttermilk, milk and vanilla scraping the bowl once or twice to form a thin batter. Divide between prepared cake pans.
Bake until a toothpick inserted in the center of a cake comes out clean, about 40 to 45 minutes. Cool in pan for 15 minutes. Invert onto cooling racks, peel off paper and cool completely.
Once the cakes have cooled completely, use a sharp knife to cut each layer in half, leaving you with 4 thin layers of cake.
Caramel Frosting:
Combine the brown sugar and milk in a heavy duty 3-4 quart saucepot. Bring to a boil and cook until the mixture reaches softball stage ( 234-238 degrees on a candy thermometer), stir frequently during this stage to prevent burning. Remove from the heat, and using an electric mixer, blend in the butter and vanilla. Continue beating until the icing becomes thick enough to spread, this process takes about 10-15 minutes, so be patient. Should the frosting become too thick to spread, beat in a few drops of very hot water. Spread a little less than one quarter of the frosting over the top of one cake layer. Place the next layer atop the iced layer, and repeat the icing process until all layers have been iced. Spread remaining icing around the sides of the cake.
The cake is best when served at room temperature, but if it is not being served soon after making, refrigerate it until one hour before serving.
Yield: 10-14 servings
© Copyright 2023 unless otherwise noted. New South Restaurant Group • 3904 Hardy St Hattiesburg MS 39402 • 601.264.0657