RobertStJohn.com
Calamari Salad
It's no great shock that the restaurants in western Sicily specialize in seafood. The fresh catch is typically displayed in the dining room. The local fish varieties that were caught that day are displayed as whole fish on a platter, cart, or small buffet table. One chooses the fish he would like to eat and the preparation by which it will be cooked, and a server takes it to the kitchen where the chef cleans it, cooks it, and sends it to the table. Beautiful. Most of the restaurants in this area have dozens of antipasto trays displayed in the dining room. Marinated eggplant, squid salad, artichokes, mushrooms, cous cous, rustic savory pies and tarts, olives, pickled vegetables, anchovies prepared several ways, and a dozen other antipasti are available. One could make a meal out of antipasto, but one never does.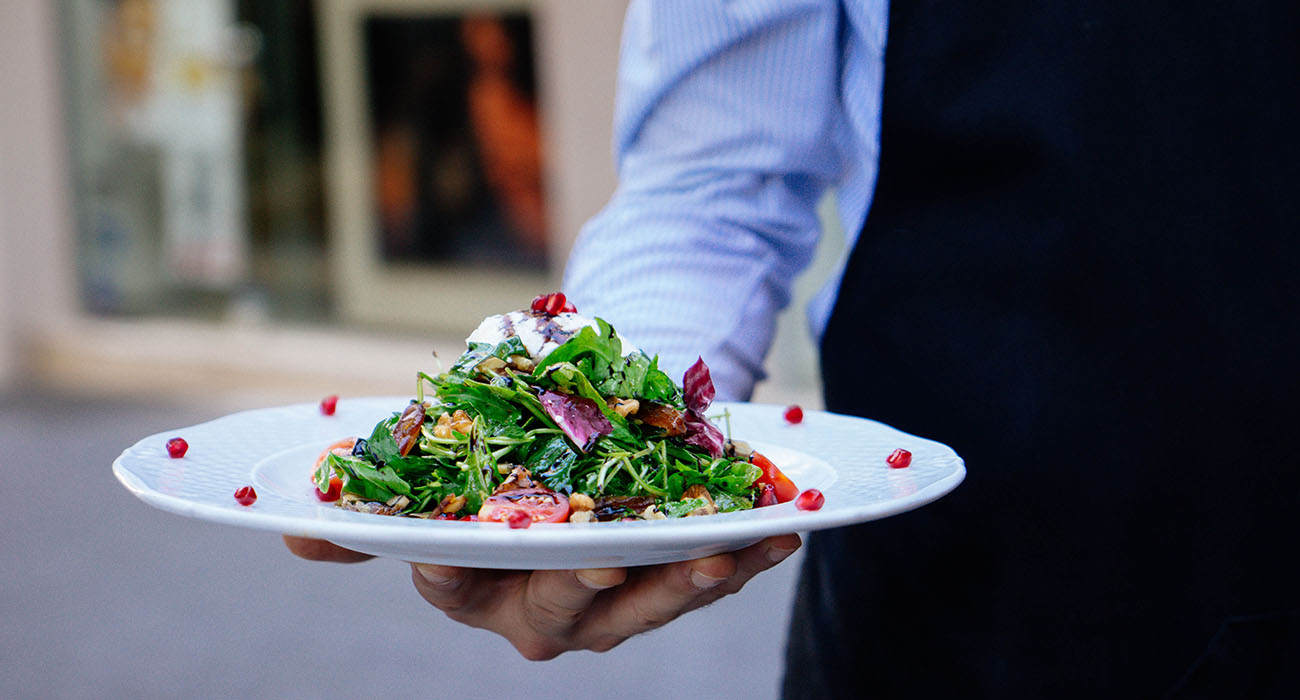 Ingredients
2 ½ lbs.  Calamari, sliced tubes and tentacles
½ gallon Water
¼ cup Dry white wine
¼ cup White vinegar
4 Lemons
2 Tbl + 1 tsp Kosher salt
1 Tbl Whole black peppercorns
1 sprig Italian flat leaf parsley
1 sprig Fresh thyme
2 Tbl Red wine vinegar
1 Tbl Tarragon vinegar
¼ cup Extra virgin olive oil
¼ tsp Fresh ground black pepper
½ tsp Fresh garlic, minced
¼ cup Italian flat-leaf parsley leaves, loosely packed
2-3 each Large leaves fresh basil, chiffonade
Instructions
In a 2 quart stock pot, combine water, wine, white vinegar, 2 lemons, 2 TB salt, peppercorns and the sprigs of parsley and thyme. Bring to a boil, reduce to a simmer and add the calamari. Leave in the water for 3-4 minutes to partially cook the calamari. Strain and spread out on a pan to cool completely. Discard the poaching liquid.
Stack the basil leaves, roll them tight, and slice thin with a sharp knife (chiffonade)
Once the calamari has cooled, combine with the juice of the remaining 2 lemons, red wine vinegar, tarragon vinegar, oil, 1 tsp salt, black pepper, garlic, parsley leaves and basil. Cover and marinate in the refrigerator for a couple hours. Serve chilled.
© Copyright 2023 unless otherwise noted. New South Restaurant Group • 3904 Hardy St Hattiesburg MS 39402 • 601.264.0657